Puna lava flow breakout pushes past stalled front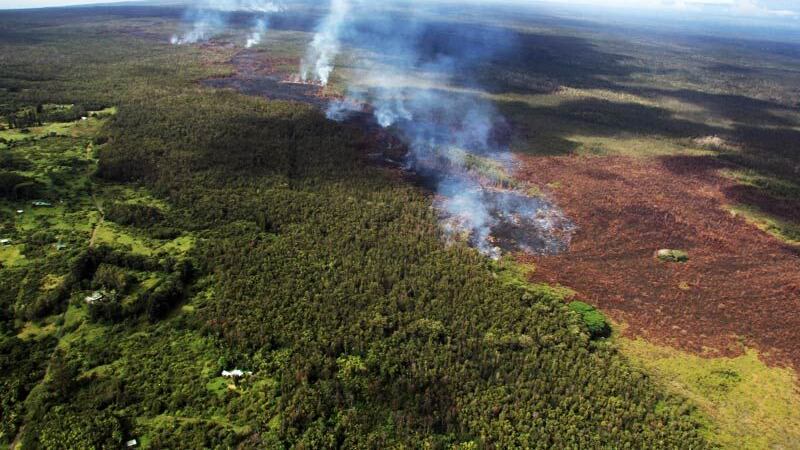 Published: Oct. 2, 2014 at 2:47 PM HST
|
Updated: Oct. 3, 2014 at 12:25 AM HST
PUNA, HAWAII (HawaiiNewsNow) - Hawai'i County Civil Defense officials say a breakout upslope of the Puna lava flow has advanced another 100 yards since overtaking the stalled leading edge on Wednesday. Officials say they observed scattered lava activity along the perimeter of the flow and some burning along the forest line area on the southeast edge of the flow, resulting in moderate to heavy smoke conditions in the area – however, there is no brush fire threat.
USGS geologists with the Hawaiian Volcano Observatory say the breakout is moving northeast at a rate of about 245 ft/day since September 29. It pushed past the stalled flow front, which remains sluggish, Tuesday. Scientists say they also observed other breakouts coming from the lava tube about 5 miles behind the flow front near where lava entered a crack system on August 18.
Hawai'i County Civil Defense officials say currently all lava flow activity does not pose an immediate threat to area communities.
Hawai'i County Civil Defense Director Darryl Oliveira says no evacuation is needed at this time and residents will be given adequate notice to safely evacuate should that be necessary.
USGS says the leading edge is 1.4 miles upslope from Apa'a St. and 2.1 miles from Pahoa Village Road -- measuring approximately 10.2 miles straight-line distance from the vent. USGS scientists say because the flow is moving very slowly and lava discharge from the vent remains low, they're not able to offer a projection of its future movement at this time. The next HVO overflight is scheduled for Friday.
County officials say the Railroad Avenue emergency route is not open to the public at this time. They say no public vehicles, persons, or activity is allowed on the roadway until the route is opened, which will only be I n the event Highway 130 is unusable due to the lava flow. In the meantime, HELCO crews are continuing their work along the Government Beach Road. Officials say access will be limited to Beach Road residents only to minimize disruption and delays as they work to re-route the power distribution north to south.
Officials also want to remind people that the flow is not visible and cannot be accessed from any public areas. The Ka'ohe Homesteads subdivision is still restricted to property-owners and residents only.
The next lava flow community update meeting will be held with representatives from Hawai'i County Civil Defense and the Hawaiian Volcano Observatory on Thursday, October 2 at 6:30 p.m. at the Pahoa High School Cafeteria.
In addition, the County of Hawai'i has established an Incident Command Center and Informational Resource Center at the Pahoa Community Center. Residents are invited to the information center from 8 a.m. to 4 p.m. Monday through Friday next week for answers to their questions.
More details tonight on Hawaii News Now.
Copyright 2014 Hawaii News Now. All rights reserved.