Hawaii restaurant owners feel pressure of placards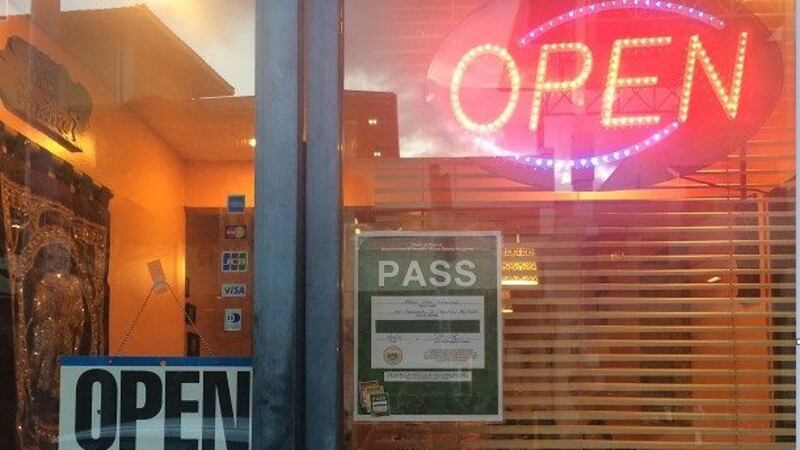 Published: Sep. 30, 2014 at 3:43 AM HST
|
Updated: Sep. 30, 2014 at 9:03 AM HST
HONOLULU (HawaiiNewsNow) - Food safety placards are putting the pressure on Hawaii restaurant owners.
"It's a good thing in one way, but at the same time, it's gonna hurt a lot of businesses," said Suman Basnet.
Basnet is the owner of Masala, an Indian food restaurant on Oahu. He hasn't received a color-coded inspection placard yet, but the restaurant next door, Malee Thai, earned a "Pass."
"It's good because when the customer come in and they see we have a green placard and the customer feels safe to eat here," said restaurant owner Supawadee Areeya Phan.
Out of the 6,000 eateries on Oahu, the Hawaii State Department of Health (DOH) has inspected only about 500 of them. Of those, nearly 150 received a yellow conditional pass, meaning they had two or more critical violations. The department says 95-percent of them fixed their issues to earn a green "Pass" placard. No restaurants received red placards.
"The law says that once we post the placard, the facility is not to mark, deface, hide, take down or camouflage the placard in any way. The whole idea is to notify the public what the inspection results were at the facility," said Peter Oshiro, DOH spokesman.
The health department has already dealt with its first case of tampering. On Friday, Iyo Seimen USA, Inc (d.b.a. Iyo Udon) at Ala Moana Center received a yellow conditional pass for seven major violations.
Iyo Udon is located on the mauka side of Ala Moana Shopping Center at 1450 Ala Moana Blvd.
Iyo Udon was cited for improper employee health and hygiene violations including employees not properly their washing hands, hand washing conducted in sinks reserved for food preparation, hand washing sinks blocked and inaccessible, no soap or paper towels available at hand washing areas, ready-to-eat foods not protected from cross-contamination by raw uncooked foods, and no sanitizer used to disinfect dishes.
The food establishment admitted to taking the card down over the weekend. Now the restaurant is being cited $11,000.
"I can see why it might cause them some concern. First time around, it's new, what do I have to do? But as a customer, I like it," Stephen Hazam said.
Inspectors say the new system is working and they are already making their rounds to the neighbor islands.
The department initially said these reports will be available online. However, that is taking longer than expected. No telling when that will be in place.
Copyright 2014 Hawaii News Now. All rights reserved.