Hannemann's multi-millionaire sister and brother-in-law give big to independent party
Published: Sep. 8, 2014 at 9:25 PM HST
|
Updated: Sep. 9, 2014 at 4:25 AM HST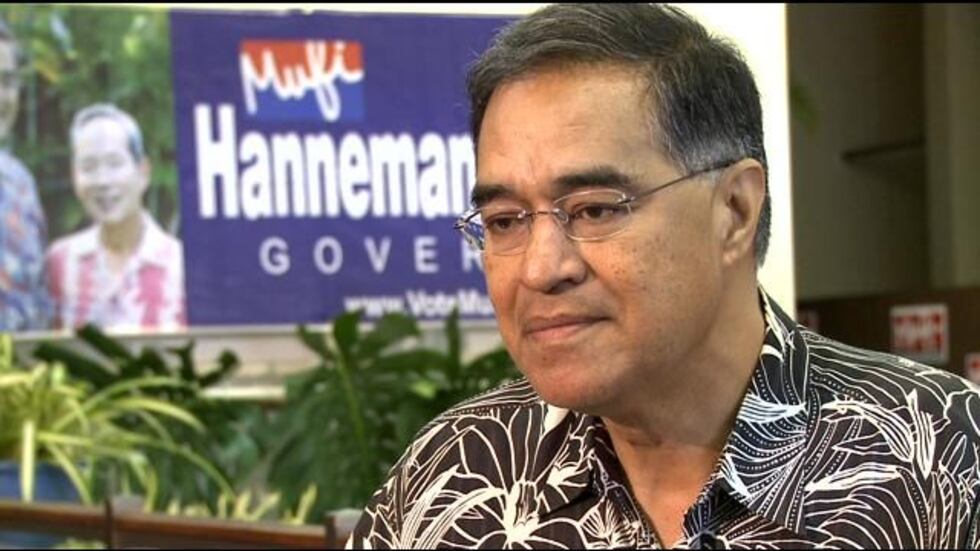 HONOLULU (HawaiiNewsNow) - Independent candidate for governor Mufi Hannemann, who has raised six percent of the money this year compared to his last gubernatorial race four years ago, is getting some big financial help from his multi-millionaire sister and brother-in-law.
When then-mayor Hannemann last ran for governor in 2010, he raised 15 times more money than he has this year. Four years ago, he brought in $3.6 million in his unsuccessful primary battle with Neil Abercrombie. This year, Hannemann's campaign raised about $223,671 as of primary election day.
No longer a Democrat, Hannemann is running as a candidate for the Hawaii Independent Party.
Hannemann's sister Vaofua Maughan and his brother-in-law, New York financial executive Deryck Maughan are multi-millionaires, and have given the Hawaii Independent Party $40,000. That's 66 percent of the funds raised by the party.
"This is a party that is playing by the rules. This is a party that is accepting contributions, legal contributions from individuals," Hannemann said.
The Maughans each gave another $6,000 to Hannemann's campaign fund. Deryck Maughan is a former executive at Solomon Smith Barney as well as Citigroup.
The other major contributor to Hannemann's political party is Howard Higa, owner of The Cab taxi company. Higa gave the party $25,000 and he and his wife each gave $6,000 to Hannemann's campaign.
"I believe that we need to pick a candidate who has experience who can carry the state to the next level," Higa said. "Mufi gets it. He was the mayor and he knows what to do."
Asked if he is involved in deciding where the party will spend the money, Hannemann said, "It's a decision made by party officials led by Michelle Del Rosario, our chairperson."
Hannemann said he is not involved in those decisions.
The independent party is fielding just three candidates, Hannemann, his lieutenant governor running mate Lester Chang and one state senate candidate.
This is the same tactic taken 20 years ago by the late former Honolulu Mayor Frank Fasi, who created what he called "the Best Party" and ran for governor as an independent, coming in second in a three-way race.
"The public shouldn't be fooled that this is a political party in the way that we think of political parties," said UH Manoa Political Science professor Colin Moore.
"Sometimes people perceive this as grassroots support, that lots of people are giving money, that there's some sort of broad mandate for the Hawaii Independent Party when that isn't the case here," Moore said.
Kristin Izumi-Nitao, the executive director of the state Campaign Spending Commission, said the contributions to the Hawaii Independent Party are all legal.
In fact, Hannemann's sister and brother in law have not given the maximum allowed by law to the party. They could still each give another $5,000 before they max out under campaign spending laws, Izumi-Nitao said.
Hannemann is running against Democrat David Ige and Republican Duke Aiona in the governor's race.
As of August's primary, Aiona reported raising just 22 percent of the campaign funds he had raised through the last gubernatorial primary in 2010. Aiona's latest campaign spending report said he had raised $627,652, significantly less than the 2010 primary report which listed he had brought in $2.8 million when he was the lieutenant governor running for governor.
Ige reported raising $672,288 before the primary and spending most of it to beat Abercrombie.
Copyright 2014 Hawaii News Now. All rights reserved.
?