Albizia trees rooted on Oahu, looming over major highways
Published: Aug. 20, 2014 at 3:18 AM HST
|
Updated: Aug. 20, 2014 at 9:25 AM HST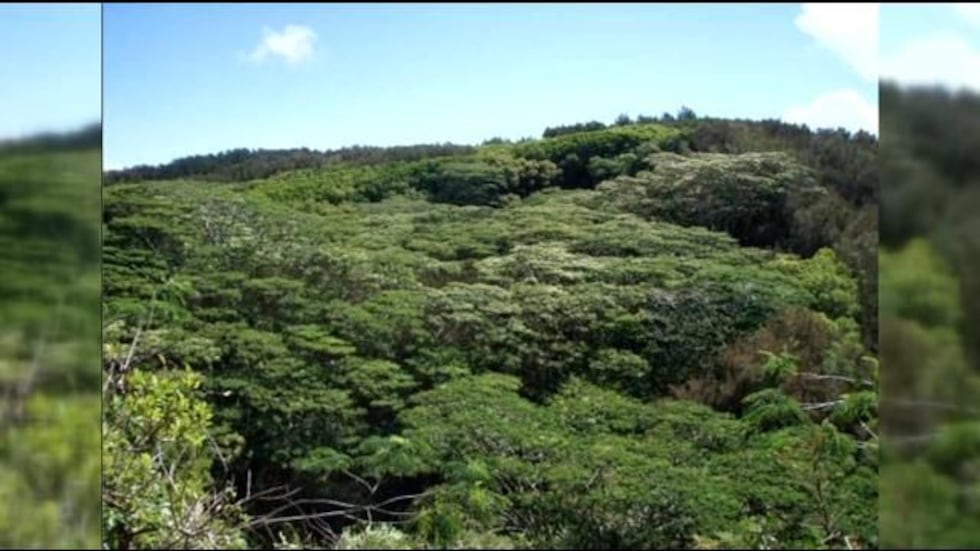 HONOLULU (HawaiiNewsNow) - Albizias may be most menacing on Oahu where they loom over major highways.
Arborists say the city would look much like Puna if a hurricane were to hit.
"It would look like a lot of match sticks. It would just be pick-up sticks of 3-4 foot diameter trucks lying across the highway," said Steve Nimz, a consulting arborist.
The trees from Asia were first brought to Hawaii in the 1920's to provide shade. Since then, they've spread to every major Hawaiian island. The trees grow up to an inch a day and can reach heights of more than 200 feet. They are particularly dangerous during high winds because they are brittle and can fall easily.
"See how it's leaning this way," said Andrew V. Kendall, owner of Kendall Landscape Services, pointing at an Albizia.
"It's just simple physics. There's only one tap root back here that's holding this whole thing up. So as this gets bigger and bigger, it's just gonna eventually just fall apart," Kendall said.
Nimz says the Hawaii Department of Transportation is working on putting together a tree management plan. But he says there is a fine line between beauty and safety.
"To clear cut the Likelike and Pali highway back 50-100 feet would be an astronomical job and would be pretty breathtaking to see what it would look like," Nimz said.
Besides, he says, it would be difficult to eradicate the trees and astronomically expensive.
"To remove an Albizia tree with a 3-4 foot trunk, 100-120 foot tall, you're talking $8,000 maybe $10,000. You multiply that by 1,000 trees, it adds up pretty quick," he says.
Some efforts are showing results. A team on Molokai has killed trees through a process called "girdling". In six months, 98-percent of the Albizias had died.
Nimz says this may be a turning point. He says the state may look at biological control or scientific studies to sterilize the trees.
The DOT released this statement:
?
The Hawaii Department of Transportation routinely inspects its corridors statewide for any maintenance issues including those from trees with branches that may be overhanging or deemed a potential hazard to motorists. The HDOT Highways crews identify & assess the most hazardous Albizia and other types of trees along the H-2, H-3, Pali Hwy, and Likelike Hwy and all of our corridors. The work to remove trees or prune them is then consulted with the Outdoor Circle to keep them in the loop of any large scale removals. Sometimes when the public sees trees being removed they may become concerned with our work and that is why we like to keep the Outdoor Circle informed. The trees that are deemed to be a hazard to motorists or diseased either marked for removal or directionally pruned away from the travel lanes, always for safety reasons.
?
Follow Chelsea Davis:
Copyright 2014 Hawaii News Now. All rights reserved.