Mayor Caldwell endorses Abercrombie for governor
Published: Jul. 21, 2014 at 6:22 PM HST
|
Updated: Jul. 22, 2014 at 12:41 AM HST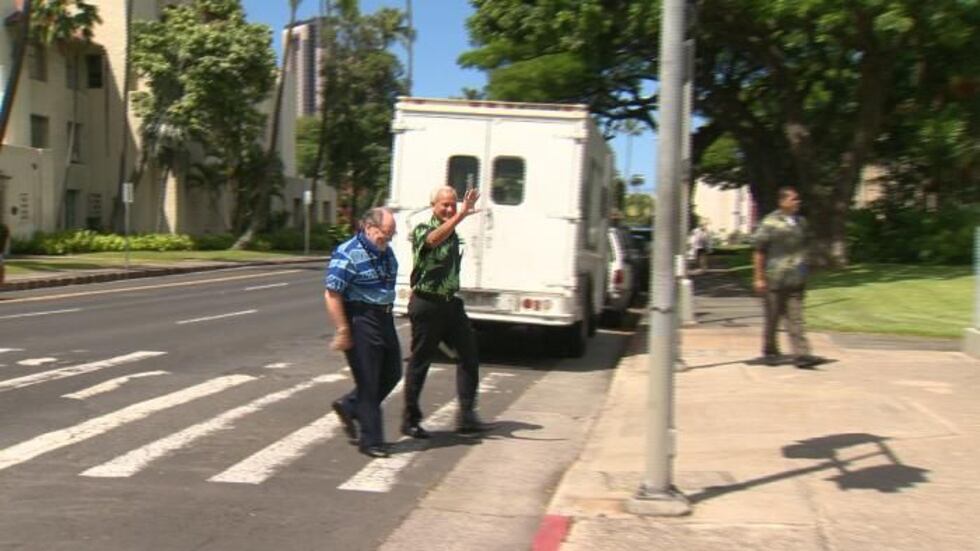 HONOLULU (HawaiiNewsNow) - In a symbolic and theatric display, Honolulu Mayor Kirk Caldwell and Governor Neil Abercrombie met in the middle of the Punchbowl Street crosswalk Monday as a sign of unity between Honolulu Hale and the State Capitol.
At the ensuing press conference, Caldwell formally announced his endorsement of Abercrombie in his re-election bid.
"In the year and a half that I've been mayor, I've formed a very strong close working relationship with Governor Abercrombie that has produced tangible results" said Caldwell.  He cited the rail project, the fight to end homelessness and environmental issues as examples.
"I'm very, very pleased to build on the relationship of trust and friendship that Kirk and I have had since we both represented the same areas" said the Governor.
Caldwell said he called both Democratic challenger David Ige, and Independent candidate Mufi Hannemann to inform them of his decision.
Both men stressed the endorsement was about their relationship, both professional and personal, and not a knock against anyone else.
"This is a matter of our working relationship that has been established over a long period of time, and has been enhanced since and improved upon since we've had the responsibilities of being mayor and governor" said Abercrombie.
Copyright 2014 Hawaii News Now. All rights reserved.