Current and former principals call for DOE leadership change
Published: Jun. 2, 2014 at 10:12 PM HST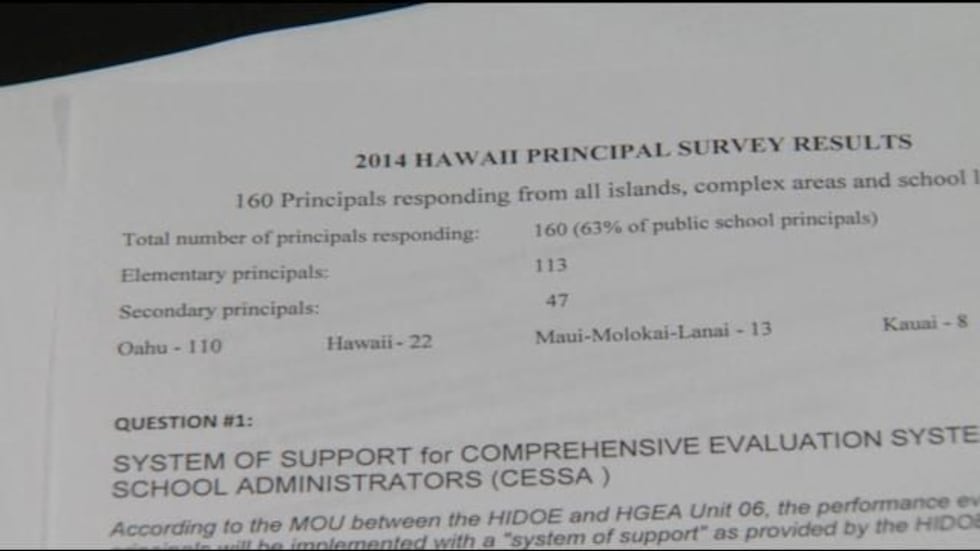 Some current and retired public school principals are calling for the replacement of top education leaders. They said the Department of Education has ignored the results of a recent survey of principals that identified problems such as fear of retaliation and poor implementation of new evaluations. The group is urging the Board of Education to replace Superintendent Kathryn Matayoshi once her contract expires on June 30. The educators also want Deputy Superintendent Ronn Nozoe removed from his position.
"We feel it's shocking that the leader of the education system and her leadership deny and disregard such serious problems expressed by principals," said retired principal Darrel Galera. "You would need to have leadership that embraces the idea that you have to change the system. You have to empower schools. You have to empower principals parents and students so that change will happen."
Matayoshi earned the top rating of "exceptional" from the BOE in her job performance evaluation last year. The push for reform comes after a recent survey of 160 public school principals. Galera said the results identified several serious problems, but the DOE never addressed the concerns despite receiving emailed copies.
"The most significant being the impact of flawed implementation of department initiatives and how it is negatively impacting students in schools," said Galera.
The group said Hawaii's highly centralized system is ineffective and that the new teacher and principal evaluations take excessive amounts of time.
"If you don't have time to do it and now it's going to negatively impact everything else that you were doing, something has to give," Galera said.
Another issue is fear of retaliation for critical comments, according to the group.
"This culture of fear has permeated the department. Teachers feel it, principals feel it, state level administrators feel it," said Galera.
BOE members are expected to discuss Matayoshi's contract in executive session during their meeting on Tuesday.
"The Board of Education continues to have confidence in the Superintendent and the management team. We have a clear and comprehensive strategic plan that was developed with input from all stakeholders. The plan and the hard work of the entire professional staff are demonstrating solid progress. Change is not easy and requires listening, collaboration and adjustments, as well as, accountability. The Board will continue to monitor the plan's progress and together, we shall support the positive change within our schools," said BOE chair Don Horner in a statement.
Copyright 2014 Hawaii News Now. All rights reserved.