Senate president calls on UH to re-start presidential search; sets up online petition
Published: May. 20, 2014 at 10:47 PM HST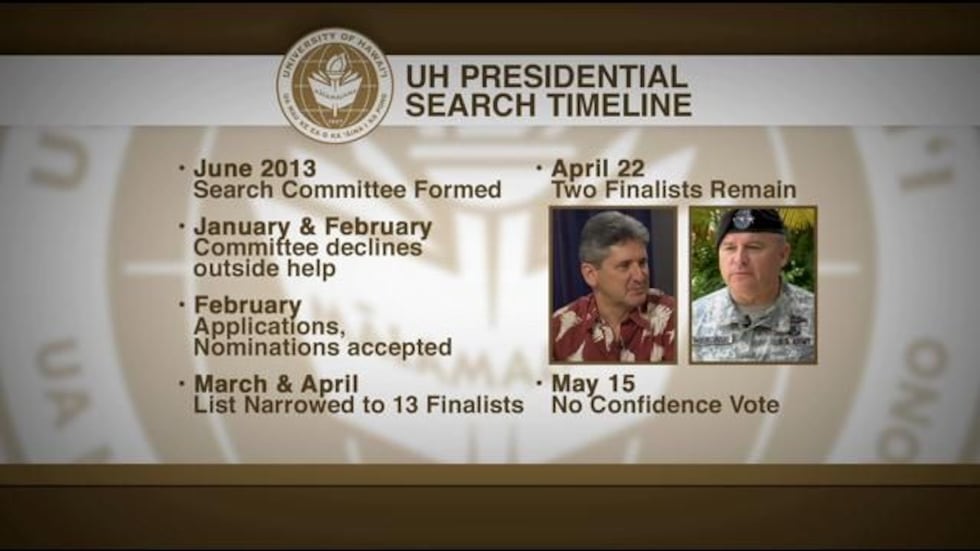 HONOLULU (HawaiiNewsNow) - State Senate President Donna Kim called on the University of Hawaii Board of Regents to re-open its search for a president, setting up an online petition Tuesday to try to pressure regents to keep searching after three finalists dropped out, leaving just two finalists for UH's top job.
"There have been enough problems with this whole search that I think it's only right that they open it up again," Kim told Hawaii News Now in her State Capitol office Tuesday afternoon.
On Monday, Hawaii News Now revealed the regents failed to consider Columbia University dean Jeanette Takamura -- a Hawaii raised UH graduate -- for the UH president's job, after she was nominated by former Gov. Ben Cayetano. UH officials said the Ivy League executive and former Hawaii state Health Department and Clinton administration official was not considered because Cayetano nominated her in July 2013, before the board began accepting applications and nominations in February of this year.
"After learning from Hawaii News Now that UH failed to consider a viable presidential candidate that was recommended to them, I can no longer remain silent on this issue," Kim said. "It seems as though they missed valuable candidates, that they had people drop out at the last minute."
Kim said the regents also changed the rules and allowed incumbent UH President David Lassner to apply for the permanent job.  He's now one of two finalists.
"They also made a policy decision that they would not allow the incumbent interim president to be considered and yet they've done that and that's caused other people to drop out," Kim said.
UH Board of Regents Chairman John Holzman said the regents considered re-opening the search, but decided they wouldn't be able to find better candidates than the two finalists, Lassner, and retired General Frank Wiercinski, the former commander of the Army in the Pacific.
"No one on the search committee nor do I think on the board, felt that there would be a wider diversity or more qualified candidates than we've already gone through," Holzman told Hawaii News Now Thursday.
"If they do the search again the same way, they're probably right," Kim said.  "If they miss people, if they use technicalities on why they're not going to reach out to certain people. Then yeah, they might do the same thing.  So we certainly need a new search committee."
"We've looked hard, we've encouraged people to apply, we've encouraged people to nominate, and you work with what you have," Holzman said.
"Why are we settling for the best we got?" Kim asked. "What happened to the old adage of if at first you don't succeed, try, try again.  Why do we settle just because they did this for a year, and obviously they didn't to a good job."
Kim set up a petition asking regents to re-open the president search at the Change.org web site at about 3 p.m. Tuesday afternoon and as of 6 p.m., it had collected 45 signatures.
"I'm going to quote Holzman who said the board takes feedback from the community very seriously, so let's see how seriously they're going to take this feedback from the community," Kim said.
The UH Manoa Graduate Student Organization, which represents 4,000 graduate students at UH's flagship campus, has already said it has "no confidence" in the search process.
The search, which began in June 2013, received 60 applications and 42 nominations of candidates to be the UH president, according to a regents' report on the search process.
Kim said three outgoing regents whose terms end June 30 are insisting the vote happens before then so they have a say in who the president is, including Holzman and James Lee, the vice chair.
"I say that they need to let their terms expire and the three newly-confirmed board members should be the ones to make the decision because they are the ones who will need to work with the president for the next three to five years," Kim said.
Kim said UH could keep Lassner as interim and keep searching.
"What is the harm in keeping the interim there, if in fact he is a finalist, then what's the problem with leaving him there for another eight months to a year?" Kim said.
Kim says she knows there are members of the Board of Regents who believe UH should re-open the search, but they have been outnumbered by regents who want to vote on the two finalists.
Related Links:
Copyright 2014 Hawaii News Now. All rights reserved.