Catholic priest sued over alleged assault of Kailua teen
Published: Apr. 24, 2014 at 2:21 PM HST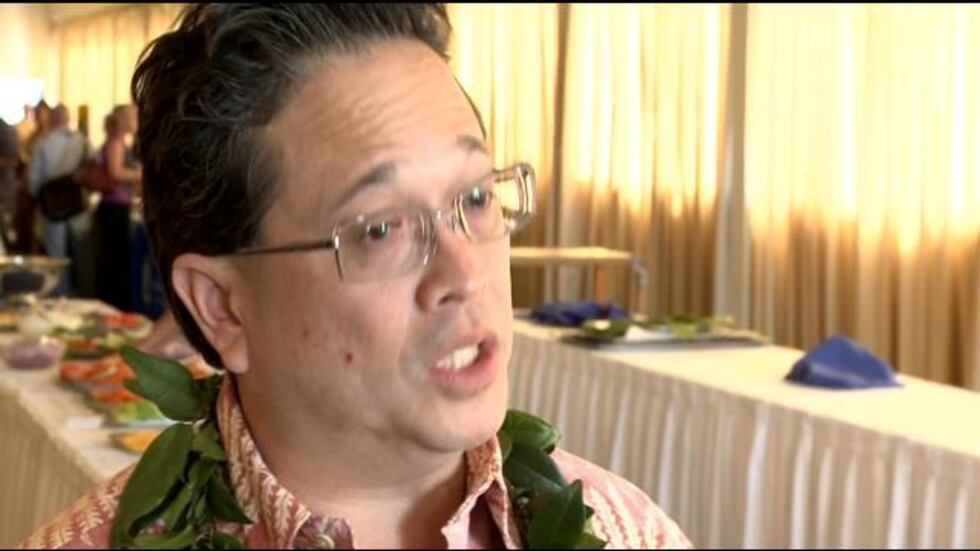 HONOLULU (HawaiiNewsNow) - There are more troubling accusations against the Roman Catholic Church of Hawaii. The main defendant is Father Marc Alexander who has already had a brush with controversy.
Marc Alexander is still technically a priest although the Diocese of Honolulu suspended all his priestly service in 2011. Now he and the church are named in a new lawsuit filed today.
"We are also very much aware we have a crisis in our midst," said Marc Alexander, back on March 3, 2011 when he was the State Homeless Coordinator.
Homeless crisis aside, Marc Alexander has a controversy of his own.
"This was an assault. It was not invited or permitted conduct," said Mark Gallagher, Plaintiff's Attorney.
The lawsuit specifically says there was "unpermitted, harmful and offensive sexual contact." It was 1984. The anonymous accuser says she was 16 years old and a member of St. John Vianney Church in Kailua. She claims Marc Alexander forced himself upon her.
"It certainly was a sexual assault that had to be fought off," said Gallagher. "This was an assault. It was not invited or permitted conduct."
Some discrepancies have already been found in the case dating back 30 years ago. It says 1984 and that Alexander, who would've been in his mid 20's, used his authority to his advantage. The lawsuit says Alexander was a Catholic priest at all times material. Although the Church says he wasn't an ordained priest until October 1985. He was a deacon September 1984. He was also in Belgium studying from 1980 through 1985. However he did spend summers in Kailua.
"If he is a member of the church regardless of what his position is whether a deacon or whether ordained into the priesthood it does not make a difference," said Gallagher. "It's just a question of his position with the church, but he was with the church at St. John Vianney at the time of the abuse."
"We are not concerned about the validity of the complaint. We know it didn't happen. We will be able to prove that," said Bill McCorriston, Alexander's Attorney.
Alexander now works as a program director for the Hawaii Community Foundation. He was the State Homelessness Coordinator under Governor Neil Abercrombie. He resigned that position after news broke he was having an affair with a consenting woman when he was an ordained priest.
"I know they're going to try and leverage that situation but it doesn't apply here," said McCorriston.
Alexander's attorney says the lawsuit is a smear campaign and says they will not settle this case.
"We're going to fight it. We're going to fight it hard and for you attorneys on the other side we're coming," said McCorriston. "One thing Marc Alexander has is a lot of friends and a lot of supporters and a lot of people who know this is not his character and he did not do it. We're going to help him. We're going to get him to the finish line. And for those behind this frivolous lawsuit, we're coming."
This lawsuit was made possible by legislation that allows adults who were sexually abused as children a two year window to bring civil actions against their offenders and any institution that may have allowed the abuse.
That deadline expires Thursday afternoon. The complaint must be filed with the court clerk's office by the time it closes at 4:15. There have already been dozens of lawsuits filed against churches, schools and individuals. The State is exempt from being named in a lawsuit. It does not matter when the alleged crime occurred, however the victim does need to be alive.
The Catholic Church Diocese of Honolulu issued the following statement in regard to the lawsuit:
Today the Diocese of Honolulu learned of the filing of a lawsuit against Marc Alexander and the Roman Catholic Church in the State of Hawaii alleging that he abused a female minor about 1984. We are distressed by this allegation. Notwithstanding a much-publicized previous allegation about inappropriate conduct with an adult woman, this is the first time that anyone has alleged that she was abused by Marc Alexander when she was a minor.
When such an allegation is reported to the Diocese, we take it very seriously and thoroughly investigate it. No credible allegation is disregarded and, when abuse of minors is alleged, appropriate reports are made to public authorities as well. When an allegation is first brought to our awareness through the legal system, we also work within that process to find the truth of the matter. Either way, if the allegation is found credible, the cleric is permanently removed from ministry, no matter when the abuse took place.
Marc Alexander was either a seminarian or a deacon in 1984. He was ordained a priest in October, 1985, served in various parishes and ministries, and was Vicar General of the Diocese of Honolulu from early 2006 until he was suspended from priestly service in January, 2011. He has not served as a priest in this Diocese or anywhere else since that time. He is without authorization to exercise the priestly ministry here or elsewhere, but until now the reason for the suspension had nothing to do with any alleged sexual abuse of a minor.
When we learned of Marc Alexander's relationship with an adult woman, the Diocese acted on the information it had, sought counsel and advice, and gave him the chance for professional evaluation and assessment at the Saint Luke Institute near Washington, DC. Although many associate the Institute with treatment of priests accused of abusing minors, in fact, it provides a broad range of medical and psychological services for clergy and religious for a variety of situations.
Plainly, all abuse is wrong. Any abuse of minors by priests and religious is wholly unacceptable. It violates the laws of God and society. It is also abuses the trust of the people to whom they minister. We are firmly resolved to address and remedy all instances of abuse for which we have responsibility. We take all claims of abuse seriously and work collaboratively with law enforcement, child protection and medical resources to address all instances. We ask anyone, regardless of when, where and by whom that person has experienced abuse, to report the abuse and seek assistance.
Copyright 2014 Hawaii News Now. All rights reserved.