Weeknight Waikiki parade draws big crowd, traffic
Published: Apr. 17, 2014 at 3:16 AM HST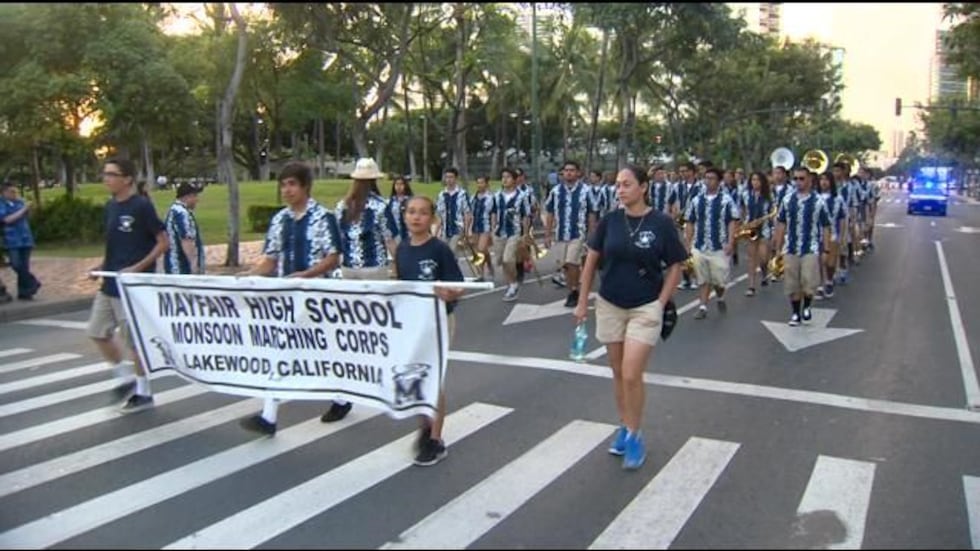 WAIKIKI (HawaiiNewsNow) - A Wednesday night parade went through Waikiki, drawing crowds who applauded the marchers, along with a lot of post-rush hour traffic.
The cars and buses snaked back on Ala Moana Boulevard and Kalakaua Avenue, funneled onto Kuhio Avenue. Many motorists didn't even know why they were stuck.
"We've been in there, like, 15, 20 minutes," said one woman on Kalakaua Avenue.
"Too long," said her passenger.
"It's a little wild, man," said another driver, on Ala Moana.
"It's a lot of traffic," said his passenger.
It was a workday traffic jam for the "Salute to Youth" parade, sponsored since 1979 by Coastline Travel of California, which sells tour packages to the high school bands who come from the mainland to participate.
It's good for the hotels.
"It's very important to our visitor industry. Tourists love it.  Local residents love it," said Honolulu City Councilman Stanley Chang, who represents the area. But even he knows that last part can be debatable.
"I think that sometimes the cumulative impact of all of the events that are taking place on certain heavily used streets and side streets can provide an inconvenience to the local residents," he also said.
Because it has been held for more than 15 consecutive years, the Salute to Youth event is one of 14 so-called "legacy" parades, which automatically get their Waikiki parade permits approved by the city.
"We were fortunate enough -- and felt very lucky -- to have ours grandfathered in as a legacy parade, so were allowed to keep that parade," said parade coordinator Kim Philips.
But Wednesday night's parade was actually the company's second one in two weeks. A Salute to Youth parade held on April 2 was the legacy parade, while Wednesday night's was a bonus, won through a lottery.
Besides the 14 legacy parades, there are 15 other Waikiki parade permits each year, issued by lottery. "Five parades per trimester in Waikiki. And then the mayor can do waivers. He can do ten waivers," said city Transportation Services Director Michael Formby. That means there can be up to 39 Waikiki parades each year, but Formby noted that Mayor Kirk Caldwell approved only two waivers in 2013, for a total of 31.
Salute to Youth organizers said the parade has been traditionally scheduled for Wednesday because the bands are traveling to and from Hawaii on the weekend. It also used to be held at 10 a.m., but about eight years ago switched to the evening.
"We discovered there was a lot of people on Kalakaua that time of night, about 6 p.m., right about dinner time. It was just after rush hour. And the city permitted it," said Philips.
"The streets get blocked at six, the parade doesn't start until 6:30," said Formby. "So p.m. peak hour for Waikiki is the normal 3 to 6 p.m. It will have some impact. I mean you can't say that it won't. It will."
But there are also obvious benefits  "Bands come in, they stay in hotels, they eat at restaurants, they go see sights. That's the positive," said Formby.
Formby said the city is in discussions to determine whether changes need to be made to the city ordinance regarding parades in Waikiki. Leaders admit they are still trying to find the balance between a Waikiki parade's benefits and the frustration of people trying to get through Waikiki.
Copyright 2014 Hawaii News Now. All rights reserved.