Motorcyclists Take to the Streets to Help Hawaii's Young People
Published: Mar. 27, 2014 at 2:09 PM HST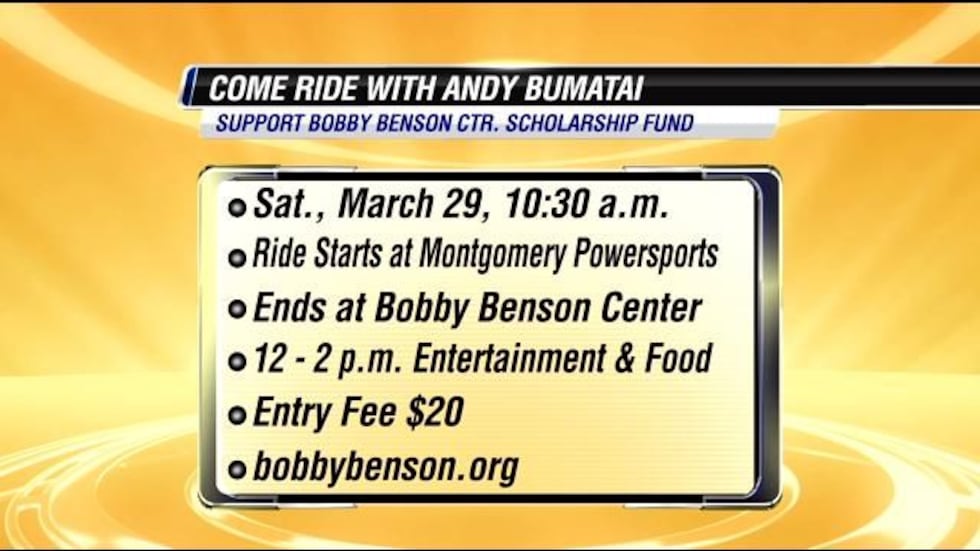 (Hawaii News Now) - Motorcyclists are invited to ride with Hawaii actor and comedian Andy Bumatai from Honolulu to the Bobby Benson Center in Kahuku on Saturday, March 29, 2014. The ride is free and will be followed by a fundraising concert to benefit the Bobby Benson Center's Scholarship Fund, which provides financial support to enable young people to participate in the center's addiction treatment programs. The entrance fee to the concert at the Bobby Benson Center in Kahuku is $20, and entry wristbands will be available for this amount before the start of the ride and at the center.
The motorcycle ride will start at 10:30 am at Montgomery Powersports, located at 550 N. Nimitz Highway, and arrive at the Bobby Benson Center, 56-660 Kamehameha Highway in Kahuku, at noon. Live entertainment will include Kailua Bay Buddies and Taimane, and giveaways will take place on the grounds of the center from noon to 2 pm. Food will be available for purchase, and parking will be available outside the center.
For more  information, click here.
Copyright 2014.  Hawaii News Now.  All Rights Reserved.