3 killed, others injured in plane crash near Lanai Airport
Published: Feb. 28, 2014 at 9:31 AM HST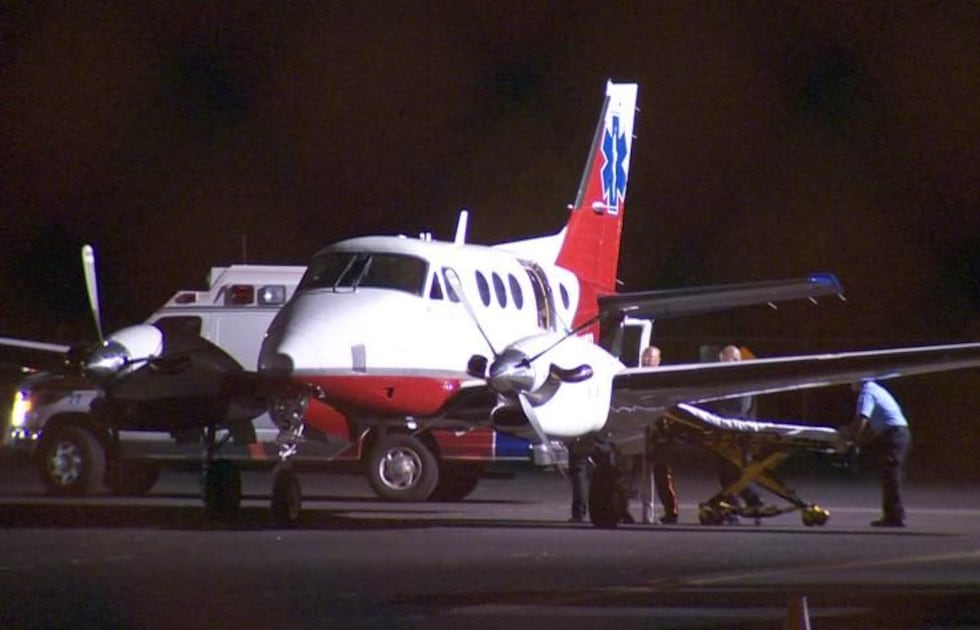 Lanai (Hawaii News Now) - A chartered plane carrying five Maui County employees crashed moments after attempting to take off from the Lanai airport Wednesday night, killing three, critically injuring two and seriously injuring a sixth person, county officials say.
According to emergency dispatchers, the plane crashed just before 9:23 p.m. in an area about one mile southwest, known locally as the Miki Basin.
Officials indicated early Thursday morning that one of the survivors of the plane crash called 911 and first notified emergency responders about the accident.
A Maui County spokesperson confirmed early Thursday morning that two Maui Department of Planning employees were killed in the crash, along with the plane's pilot. Two other Planning Department employees were reported to be in critical condition after the crash, and a Deputy Attorney for Maui Corporation Counsel was seriously injured.
The three survivors of the crash were airlifted to the Queen's Medical Center on Oahu for emergency medical attention.
"They've sustained some broken bones and burns," said Rod Antone, Maui County's Communications Director. "All three of them are being treated for burns, I believe on their hands and face."

Officials say the aircraft crashed into an area of brush and caught fire, but its remote location made rescue efforts difficult. Officials said the plane was only visible to responders due to the fire's glow.
"They heard a big explosion toward the Miki Basin area," said Chris Harvey, who witnessed the fire. "It's devastating. I couldn't hardly sleep last night. The families that will be impacted, the county, all of us are going to be impacted," said Ron McOmber, Lanai resident.
When crews arrived, they found three people dead at the scene. Preliminary reports indicate that one of the survivors, believed to be the Deputy Attorney, was able to pull two passengers who were unable to walk away from the wreckage.
Crews from Goodfellow Bros., a construction company, brought heavy equipment to the scene, assisting first responders, police officers and ambulance, a Maui fire battalion chief said.

According to the Maui Fire Department, the three survivors are all men. Two of the victims, both female, were found inside the aircraft, while the male pilot was outside.  Officials say that the bodies were recovered from the scene Thursday afternoon.
Authorities have not yet released the names of the three who died in Wednesday night's crash, but friends and family have identified them as Richard "Dick" Rooney, Kathleen Kern and Tremaine Balberdi. The three survivors are Doug Miller, Mark King and James Giroux.
Thursday evening, James Giroux, Deputy Corporation Counsel with Maui County, asked the media to help reassure his family members and friends.  He said that he would like to let them know that he does not have life-threatening injuries, and that he is recovering.
Officials say  the contingent was on Lanai to staff a Lanai Planning Commission Meeting, scheduled to run from 5:30 to 8:30 p.m.  Maui County chartered a return flight on Maui Air, which officials say is not unusual because of the three separate islands under Maui County jurisdiction.
"We've got different commissions and different meetings," Antone said. "We're the only county that has three islands, so there's a lot of back and forth. Sometimes they take the ferry, if it works, but if it's night meetings then usually our people have to take a plane. It's the only way to get back."
The Maui Airport manager told Hawaii News Now that the last commercial flight leaves the Lanai Airport at around 8:00 p.m.
"I don't think there is anybody that hasn't been touched by this that know these people," said Maggie Masicampo, Lanai Senior Center Director where the County holds meetings.
Lanai residents know the victims because they often fly over for community meetings, although last night they say one of the victims hasn't been over in awhile.
"I hadn't seen her for two years at least. I saw her last night and my eyes lit up and I said hey how are you doing sweetie?" said McOmber.
Grief counselors will be on Lanai on Friday for anyone needing some help.
Officials say that last Wednesday's meeting was cancelled because of bad weather, but yesterday's meeting went on as planned. There were some 30 mile per hour gusts last night, however it's unknown if that was a factor.
Federal investigators are looking into the cause of the crash.
"This is the third public servant to lose a life in the past few weeks, engaged in committing themselves to the public good," said Hawaii Governor Neil Abercrombie. "Our hearts go out to their families and to the community. We reach out to their families, we reach out to their friends, we reach out to the community and know that we're all family."

Click to view more photos on a mobile device - http://bit.ly/1fu5jBI
Copyright 2014 Hawaii News Now. All rights reserved.