Researchers tag more tiger sharks off Maui
Published: Feb. 5, 2014 at 9:29 PM HST
|
Updated: Feb. 6, 2014 at 4:29 AM HST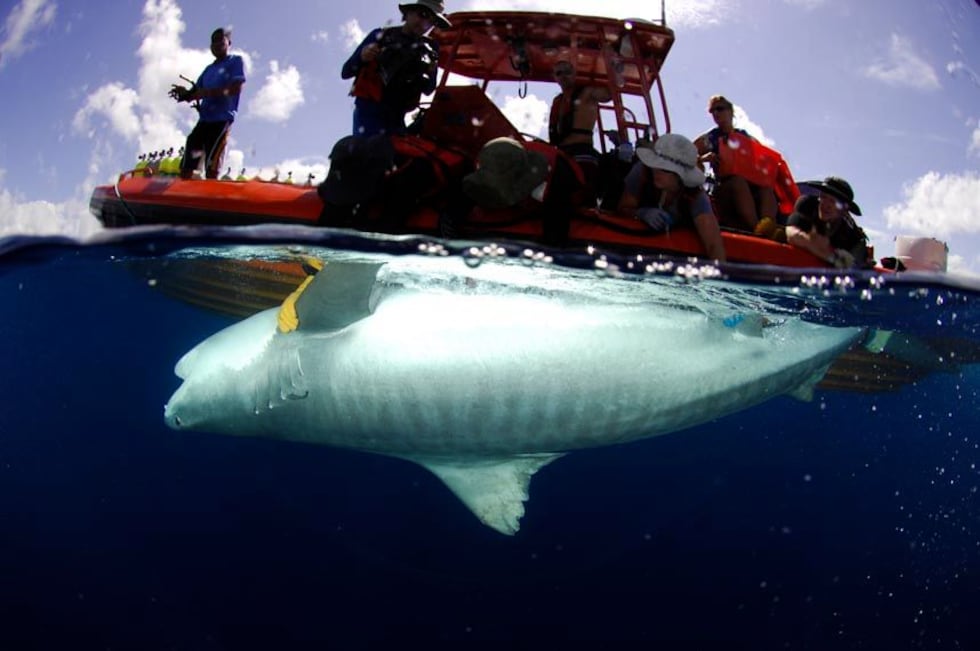 HONOLULU (HawaiiNewsNow) - Researchers from the University of Hawai'i at Mânoa's Hawai'i Institute of Marine Biology have tagged six more tiger sharks off West Maui – bringing their total to 21 sharks since last October.
The state Department of Land and Natural Resources is funding a study on the movement of tiger sharks in response to the uptick in the number of bites and attacks reported last year on Maui.  Researchers are hoping the data they collect will help them clearly understand how tiger shark movement is interacting with human behavior so they can determine strategies for reducing bite incidents or attacks.
Shark experts working on the project have more than 20 years experience and previous research has taught them to time their tagging trips with known biological events, like pupping or mating season, which is currently underway.
Catching and tagging a large male tiger shark is difficult for all the reasons you may imagine, and one you might not have considered… most of the time, researchers have no idea where they are – unless it's mating season.
"They do come into these coastal habitats around the main Hawaiian islands during mating season because they want to find the females.  This is the time of year that it's easiest for us to pick up these big adult males," explained Carl Meyer, a Hawai'i Institute of Marine Biology lead scientist and researcher.
Meyer says the team got lucky on this last trip to Maui – tagging two large tiger shark males.
Six months into the two year project, scientists say it's crucial to have data from both sexes.
"They routinely visit shallow waters used by people, but they also move between islands and occasionally roam hundreds of miles off-shore out into the open ocean," said Meyer, describing the movement researchers have tracked so far.
Experts say for the most part tiger sharks lack patterns to their movement, but they have identified core areas where they appear to be spending a large proportion of their time.
"These frequently visited habitats off South Maui overlap with areas that are heavily used by people for ocean recreation," explained Meyer.
What scientists haven't determined yet is why the sharks keep coming back to those spots.  They're especially interested in whether they'll notice the same overlap in shark movement and human interaction when they start tagging tiger sharks off O'ahu.
"O'ahu is close to Maui, it's got lots of people in the water, but it hasn't seen the recent number of shark bite incidents as we've seen around Maui," Meyer described.
Researchers say side-by-side comparisons of the O'ahu and Maui satellite tagging movement will allow them to detect any similarities.
"It's important to do these kind of studies so that we can really understand what's going on and come up with better strategies for keeping people safe," Meyer said.
Meyer says researchers have already tagged one tiger shark off Kaneohe in January, but they plan to start tagging tiger sharks off Honolulu, Waikiki and the North Shore in the next few months, as soon additional satellite tags are manufactured.
Near-real-time tracking of the sharks is available on the Pacific Islands Ocean Observing System (PacIOOS) Hawai'i Tiger Shark Tracking webpage (http://pacioos.org/projects/sharks/).
Copyright 2014 Hawaii News Now. All rights reserved.