New documentary video shows danger of little fire ants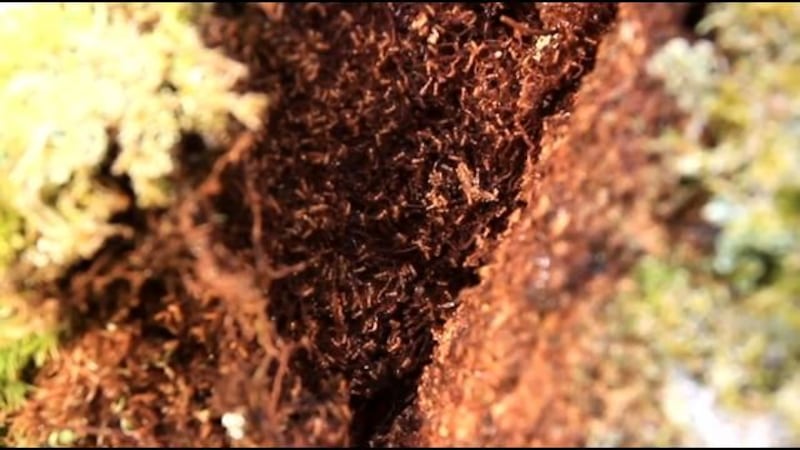 Published: Dec. 8, 2014 at 6:10 PM HST
HONOLULU (HawaiiNewsNow) - Maui County officials said they are working with the state Department of Agriculture to alert residents to an infestation of Little Fire Ants.
Maui Mayor Alan Arakawa said that the department originally believed the ant arrived on the Valley Isle in December, but further investigation revealed that the ants may have been coming over on interisland shipments for the past year.
The alert was issued on the same day that the Maui Invasive Species Committee released a new half-hour documentary video, talking about the spread of the little fire ant.
According to the experts, new colonies of the stinging ant can be spread very easily.
"That can happen just with one queen and two workers. So a new colony can fit in a mac nut shell, or in your car," said Maui Invasive Species Committee manager Teya Penniman.
The ants on Maui hitched a ride on Big Island hapu'u, or Hawaiian tree ferns, that had been shipped to Lowe's and Home Depot, according to the mayor's office.
"We need to help the Department of Agriculture to identify possible infestation sites so that they can contain the situation," said Arakawa. "We don't want another invasive species on our island if we can help it."
Experts say there's a chance the tiny ant got into other plants in garden shops statewide, without buyers knowing it.
"And so we're asking the public if they've made recent garden purchases, to inspect the plants and see if they have any instances of unexplained insect bites that have hurt really bad," said Julia Parish of the Oahu Invasive Species Committee.
The ants have been on the Big Island for more than a decade. They also were found on Kauai in 1998, where it had been thought that were eradicated. But then they made a resurgence. right now, they're contained to a 13-acre area on the Garden Isle.
"They can live their whole lives only in the trees without coming down," said Keren Gundersen of the Kauai Invasive Species Committee. "So they only treated on the ground, and they had no way to address the trees."
Having the tiny stinging creatures in the trees is affecting agriculture, especially at harvest time, when trees are moved or shaken.
"The ants aren't very good at hanging on, and so if agriculture workers are trying to harvest lychee or coffee, the ants essentially rain down on them," said Penniman.
They could also have an effect on tourist, or even the daily quality of life.
"Here we are at Magic Island," said Penniman. "Imagine if you have tourists walking around here, and its a windy day, and the ants are falling on them."
The ants also are known to cause blindness in pets, because they have stung cats and dogs in their eyes.
Experts said the best way to detect the little fire ant is to apply peanut butter to a chopstick, and then push the stick into a tree fern or  the ground nearby. If you see ants on a chopstick, place the chopstick in a plastic bag and then put the bag in your freezer. Then call the Agriculture Department's pest line at 643-PEST (or your island's Ag Department office).
Related video: Invasion -- Little Fire Ants in Hawaii (Maui Invasive Species Committee)
Copyright 2014 Hawaii News Now. All rights reserved.