Exclusive: AG raids charter school, seizing records, computers
Published: Dec. 16, 2013 at 10:09 PM HST
|
Updated: Dec. 17, 2013 at 5:01 PM HST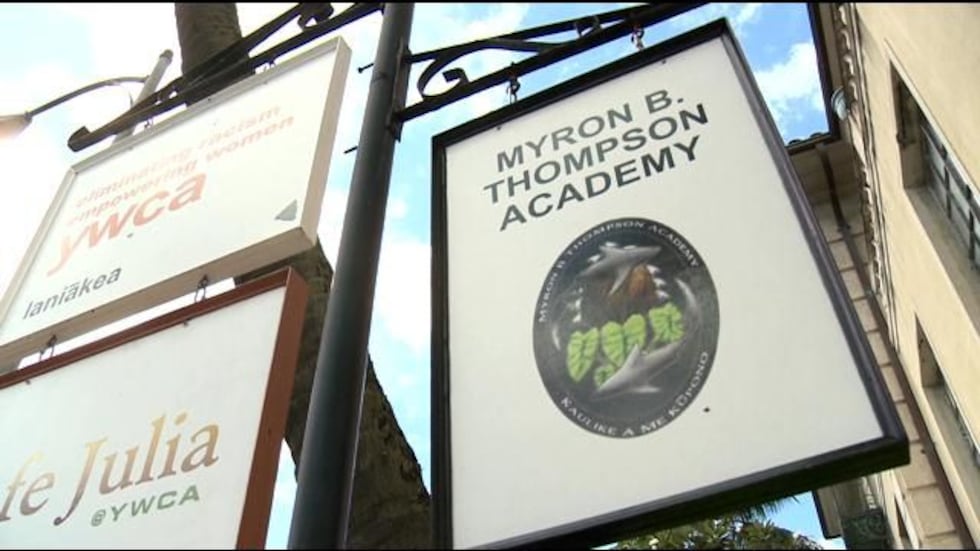 HONOLULU (HawaiiNewsNow) - Investigators from the state Attorney General's office raided the Myron B. Thompson Academy charter school Monday morning as part of a theft investigation that the head of the school called "a personal attack on certain administrators."
Investigators hauled one banker's box after another filled with financial documents and computers from the charter school's offices on the second floor of the Richards Street YWCA in downtown Honolulu.
After about three hours, they'd filled the bed of a pickup truck with boxes of material seized under a search warrant. Roughly 70 boxes of material were recovered, sources said.
Sources said Monday's raid was part of a theft investigation looking into whether teachers and staff here were paid for work they never showed up to do.
A state Attorney General's office spokesman said his office couldn't comment on why it seized all the material, because it's an ongoing investigation.
Parents of students at the school said they didn't know about the criminal investigation and hope it won't adversely affect their kids.
"I didn't have any clue about that.  No one's informed me as a parent about anything that's been going on with that," said Mandy Lawther, whose 10-year-old son Kainoa is a 5th grader at the charter school. "It's a little bit of a concern.  I'd hate for it to jeopardize my son's education and have me have to move him mid-way through the year, you know? So hopefully, it can be resolved quickly."
A 2011 state audit found questionable spending at the school, which has about 511 students who are taught online. Auditors found one example of part-time registrar who should have been paid $17,000 a year instead receiving a $55,000 salary, about 212 percent of the employee's base pay.
The state auditor also discovered a $17,000 contract paid to the catering company owned by the vice principal of Thompson Academy.
In 2010, a Honolulu Star-Advertiser investigation found principal Diana Oshiro hired her sister as vice-principal of the elementary school even though she worked full-time as a Hawaiian Airlines flight attendant and was often absent from school.
The newspaper's investigation also found the principal hired three nephews, one of whom was the athletic director at Myron B. Thompson Academy even though the school had no sports teams.
Oshiro did not return a message left with her office Monday but sent an email to parents at mid afternoon Monday.
"Many of you know the three-year challenge we have faced with the many investigations by the Attorney General's office." Oshiro said in the email. "Two previous investigations were completed with reports showing no criminal behavior. This morning, we were visited by more investigators who confiscated boxes of financial documents, computers, and personal effects. However, now it has become a personal attack on certain administrators which will be sensationalized in the news media."

"Please know that we have done nothing wrong and everything we do here has been in the best interest of our students." Oshiro's statement said. "We will continue to persevere through this ordeal but do not know the outcome."
Tom Hutton, executive director of the State Public Charter School Commission, said his organization is withholding $255,000 in funds for Myron B. Thompson Academy pending the outcome of the AG's criminal investigation and a separate probe by the state Ethics Commission.
Hutton said as a whole, the state's charter 33 schools have made improvements in theft and fraud prevention, adopting conflict-of-interest policies and coming in line with the state ethics code.
In January 2011, the Charter School Review Panel voted to initiate probation proceedings and have its accountability committee evaluate and investigate Myron B. Thompson Academy, Hutton said. But in April 2011 the panel, frustrated by the unwillingness or the inability of the school's local school board to provide them with requested information, instead referred the matter to the Attorney General and the State Ethics Commission, which had stronger investigative authority and capacity, Hutton said.
In a separate case Friday, Tonya Taylor pleaded no contest to stealing at least $20,000 from the parent-teacher organization of Lanikai Elementary School, a charter school.  Taylor had been president of the group that the Attorney General said she stole more than $50,000 from over a four-year period.
Last month, the former head of the state's largest charter school, Hawaii Technology Academy, pleaded not guilty to theft charges.  Jeff Piontek is charged with stealing more than $150,000 from the school and using the money for his personal expenses.
Related Links:
Follow Hawaii News Now Investigates: 
Copyright 2013 Hawaii News Now. All rights reserved.