Matson suspends molasses operation, will not raise rates
Published: Sep. 16, 2013 at 5:39 PM HST
|
Updated: Sep. 16, 2013 at 11:08 PM HST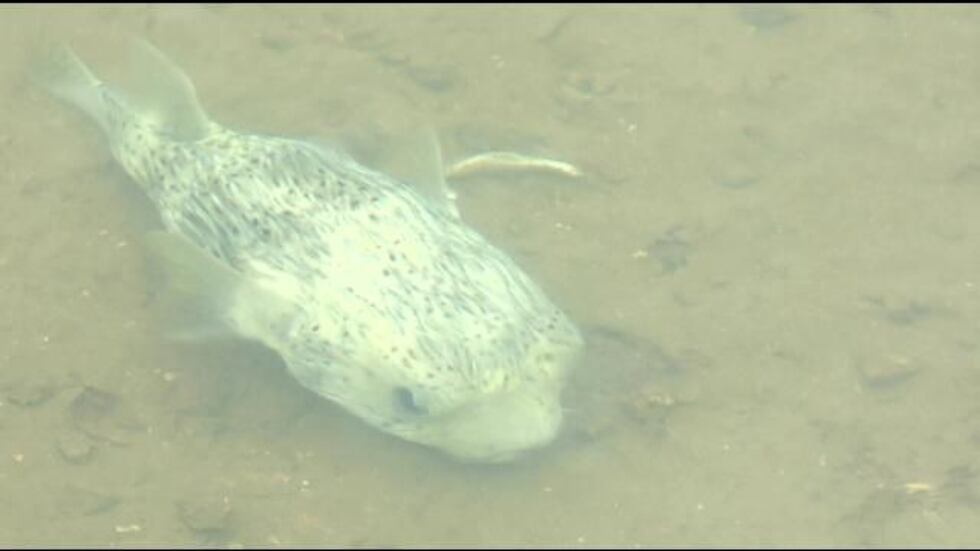 HONOLULU (HawaiiNewsNow) - Matson president and CEO, Matthew Cox, announced Monday morning the company is taking full responsibility for the spill that dumped 233,000 gallons of molasses into the waters at Honolulu Harbor a week ago.
"Matson will cover the cost of this response, not the taxpayers.  And also it means that customer rates are not going to go up as a result of this spill," said Cox, describing what it means to take full responsibility.
"Matson has been serving Hawaii for 131 years.  We're from Hawaii.  We love Hawaii.  We consider ourselves stewards of the land and stewards of the ocean, and we failed in that responsibility last week because of this spill," said Cox.
Cox and several Hawaii state lawmakers and state agency representatives took a boat tour of the affected areas in Honolulu Harbor Monday morning.  On-board Matson's incident commander, Chris Lee, provided the first clear timeline of what happened.
"We started pumping Saturday, we stopped pumping Sunday, we got a report Monday morning that there was something in the water and we found a leak Tuesday morning," explained Lee, who serves as Matson's safety and security manager.
Lee says it's unclear how long the molasses was spilling into the harbor, because the ship they were transferring it to reached the 1,600 ton capacity they typically load.
"There was no indication that we had a problem.  The ship filled up and departed and we kept looking because there was something in the water— and we're the only ones who pump molasses, so we kept looking."
According to Lee diving teams were sent in to investigate as soon as the company was made aware of the problem on Monday.  He says they spent the day canvassing the area of the last riser they used.
"Visually, we checked all the drains along the pier.  We checked all the trenches, all the vaults.  We did not find any indication that we had any problem with our molasses system," Lee described.
Lee says it wasn't until the team expanded its search outside of Matson's property lines to where Horizon Lines operates that crew members discovered the problem.
"Just beyond there to the Ewa side of that crane is where underneath the pier we found the leak," said Lee, pointing in the direction of where the spill originated. "It's basically a 12 inch pipe that comes from just below the pier level down maybe a couple four or five feet makes a 90 degree turn and then heads into the ground, right on the elbow of that pipe there was a hole.  Stick your hands in the hole and you can see the molasses.  So it wasn't like gushing out when we discovered it, but that's the hole – it had molasses in it, and we're the only operators that transfer molasses," explained Lee.
The state Department of Transportation is in charge of the Harbors, but Director Glenn Okimoto admitted today the agency has never asked for an inspection of the pipes moving molasses, because it's an un-regulated product.
"We do regular storm water inspections.  We make sure our tenants are complying with environmental laws and we do those inspections," said Okimoto.
Lawmakers who took the tour are still planning to call a hearing to determine what can be done and what regulations, if any, should be in place.
"There's definite interest in making sure that we protect our environment because here in Hawai'i it's our economy.  We want to make sure the recovery efforts are completed and we don't want to get in the way of that, but definitely take a look back in a few weeks time at what happened, how to fix it and what comes next," said Representative Chris Lee, Chair of the House Energy & Environmental Protection committee.
Cox says Matson has been and will continue to fully cooperate with all the state agencies that are working to clean up the molasses and to determine what happened so that it won't happen again.
Cox says he has instructed his pipeline operations team to provide him with a thorough report on exactly what happened, which he says will be made available to all relevant agencies and the public as soon as it's complete.
In the meantime, Matson has ceased all molasses operations and will not resume until Cox says he's confident it can be done in a safe and responsible manner.
"If it is determined that the current system cannot be repaired or it's not feasible to replace the system, we're prepared to discontinue our molasses operation if we cannot be completely sure that this will not happen again," Cox said.
"We can't undo this but we can make it right, and I just wanted to offer on behalf of every employee at Matson our sincere apology to the people of Hawaii.  We've let you down and we're very sorry," said Cox.
Copyright 2013 Hawaii News Now. All rights reserved.