Video of tiger shark capture on Hawaii Island sparks controversy
Published: Sep. 12, 2013 at 11:01 PM HST
|
Updated: Sep. 13, 2013 at 2:00 PM HST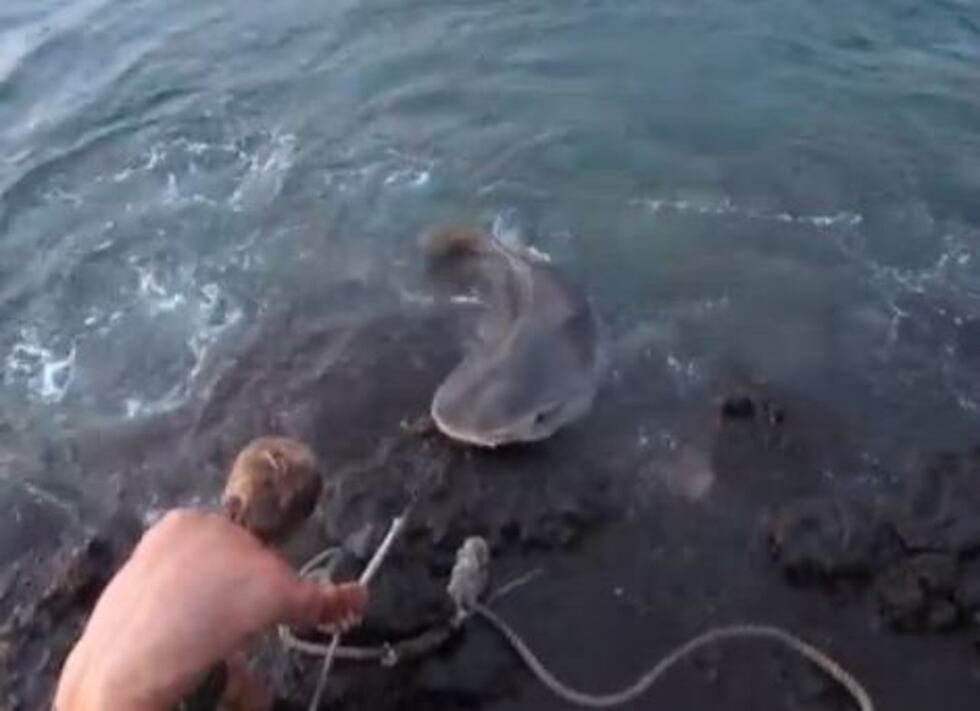 KONA, HAWAII (HawaiiNewsNow) - Incredible video is making its rounds online showing a tiger shark being caught off-shore at Honokohau Harbor on Hawai'i Island.  Reaction to the YouTube clip has been fierce, as a great majority of the comments come from people who can't believe what they're watching and want justice – some even calling for revenge.
The video, titled "Catching a 12-14 Ft Tiger Shark!" was posted on YouTube by Mikey McCrum on August 30, 2013.  It's described as "Big Rope + Big Cable + Big Hook + Big Bait = LIVE ACTION with a Big SHARK!!!".
The clip was shared on Ocean Defender Hawai'i's Facebook page two days ago, and has since been viewed and commented on hundreds of times.
"We were just really upset and saddened by the situation," said Oriana Kalama, who founded the non-profit Maui-based organization, which is committed to sea animal protection.
Kalama called on her page's followers to send a message to McCrum explaining how offensive the video is and asking for an apology.
"It's viewed around the world as a person who lives in Hawai'i who disrespects, not only our environment, but our cultural beliefs.  The shark, as a matter of fact, her name is Laverne, the shark is actually tagged and is a local resident of the area who gets fed on a regular basis by the fisherman of the Kona harbor.  She's used to being in there and this kid took advantage of the situation and tortured her and abused her, and this is not acceptable," Kalama said by phone.
Matt Bogdanovitch works at Honokohau Harbor and his camera was also rolling that day.
"I started taking video because it seemed pretty obvious that their goal was to harass a tiger shark, why else would you be throwing fresh, bloody fish into the mouth of the harbor where tiger sharks have been spotted pretty much daily for at least the last 2 months?  I was hoping to catch them doing something illegal, but to my understanding what they did was perfectly legal, for now," said Bogdanovitch.
Kalama was told the same thing when she called to file a complaint with the state Department of Land and Natural Resources.
(YouTube video contains explicit language and may be disturbing to some viewers.)
"Unfortunately because there is no signs in the harbor that says fishing is prohibited, then they cannot really take any actions," Kalama said, explaining what she was told over the phone by a DLNR official.
Fish aren't currently protected under animal cruelty laws on Hawai'i Island, but that could soon change.
"If the West Hawaii Regional Fisheries Management Area Proposal is signed into law this would be illegal, which would be a great step forward in the conservation of our aquatic resources here in Hawai'i," said Bogdanovitch.
Hawai'i News Now showed the video to DLNR Director William Aila.
"I thought the fishermen that were trying to catch this tiger shark off shore were unsafe.  It was a very unsafe situation.  I'm not sure about the disposition of the shark at the end because it wasn't clear.  If the fishermen caught the shark to utilize its body parts for drums, for meat, for something constructive – I would say that's a good thing.  Sharks are part of the natural resources.  Hawaiians certainly took shark.  If they were doing it just to try to be cool and this shark was injured without any productive use of the shark – that's not a good thing," Aila said.
The video is labeled as "catch and release", but the 2 minute clip ends before you can see what happens to the tiger shark.
Comments on YouTube and Facebook are so profane, Hawai'i News Now can't share most of them.
"If you killed the shark and didn't eat it, that's disgusting. If you released the shark, then you've put an injured predator back into the water at a spot where dozens of people swim and dive every day," wrote one person on YouTube.
"Karma or Mother Earth my friends will take care of these low life people," another viewer commented on Facebook.
"I would hope that people who saw the video that this person posted would see if for the harassment that it is, not as a fun and exciting thing to do," said Bogdanovitch.
"Respect, love and compassion for our environment and our creatures is necessary.  It's important, it's vital not only for our survival but the survival of our oceans, our community and us as people," explained Kalama.
Hawai'i News Now made several attempts to reach Mikey McCrum and understand he was aware of the efforts because family members posted about it on Facebook, but no messages were returned.
Copyright 2013 Hawaii News Now. All rights reserved.