Thousands march, rally against GMO's on Kauai
Published: Sep. 8, 2013 at 9:12 PM HST
|
Updated: Sep. 9, 2013 at 12:32 AM HST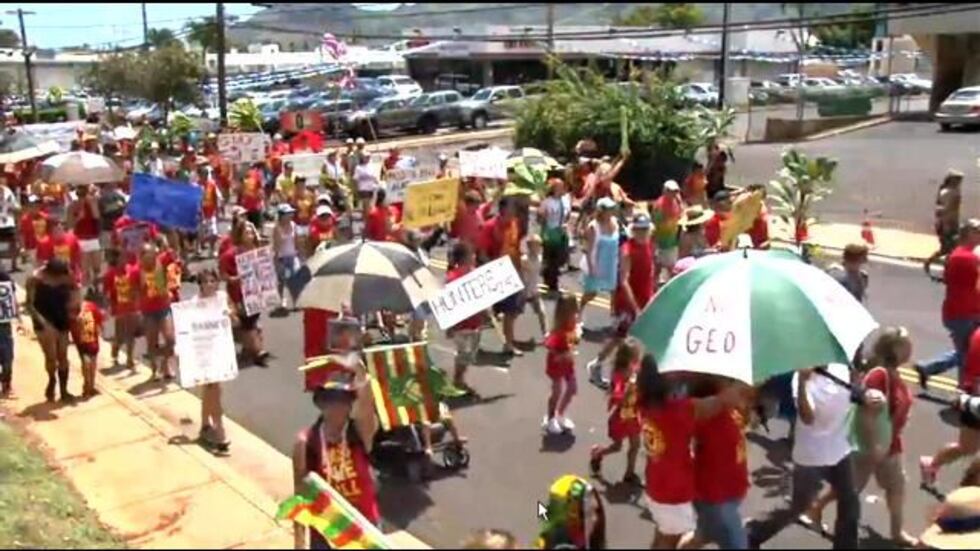 LIHUE, KAUAI (HawaiiNewsNow) - Thousands of people marched and rallied Sunday in support of a measure that would place a moratorium on the farming of genetically modified organisms on Kauai.
Organizers of the "Mana March" said the event drew at least 3,000 or more people, who marched from Vidinha Stadium to the historic Kauai County Building to show their support for Bill 2491. Many of them stayed for a rally that included speeches and music.
"People took a day that they could have been at the beach, and they're here to support the right to know, the right to have a clean and positive environment for their children," said county councilman Gary Hooser, who introduced the bill.
Besides the GMO moratorium, the bill would also require industrial farmers to disclose to the public what chemicals are in the pesticides they are using. It also would establish buffer zones, where pesticides couldn't be used near schools, hospitals, residential areas and waterways.
"Real farmers aren't impacted at all," said Hooser. "Any farmer growing tomatoes or vegetables or whatever will not be impacted by this bill. And it's just these very large agri-chemical, more of these industrial farming operations than regular farming as most people see it."
Hooser said a majority of Kauai's medical community supports the measure, along with groups such as the Surfrider Foundation and the Hawaii State Teachers Association.
Those against the measure said it unfairly targets the large farmers.
"Everything about the bill is intended to put them out of business. And there go 500 jobs or $80 million of economic activity," said Alicia Maluafiti, executive director of the Hawaii Crop Improvement Association.
One of the farms that would be affected by the bill said that it already follows federal EPA guidelines to ensure safety when using pesticides.
"We live and work in the community, in the same community. So we wouldn't do anything that would hurt our family and our friends and our relatives," said Laurie Yoshida, Hawaii communications manager for DuPont Pioneer, which has 160 full-time workers and farms 3,500 acres on Kauai.
The debate is far from over. The rally was held a day before Hooser's economic development committee holds a special meeting to hear more public testimony on the bill. The meeting is scheduled for Monday at 9 a.m. at the County Building.
Copyright 2013 Hawaii News Now. All rights reserved.