Lawmakers find more construction mess at the state capitol
Published: Sep. 3, 2013 at 7:35 PM HST
|
Updated: Sep. 4, 2013 at 11:39 AM HST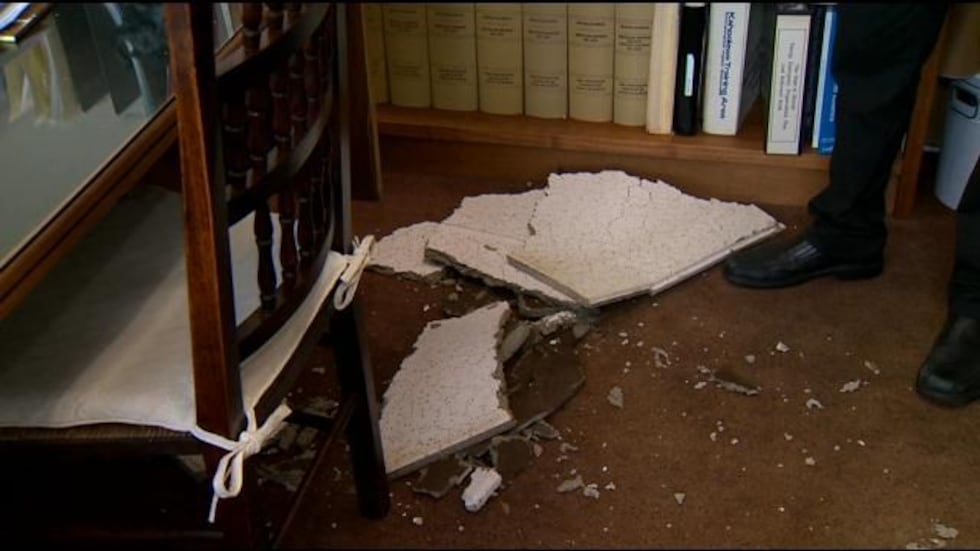 HONOLULU (HawaiiNewsNow) - A $4.5 million repair job is causing more problems along with concerns over public safety at the state capitol.
"When I walked in this morning and opened my door I went huh! Here is my ceiling on the floor again," said State Representative Cynthia Thielen, (R) Kailua, Kaneohe Bay. "Not again!"
It was exactly the greeting Kaikor Construction was hoping to avoid over the long weekend, but some lawmakers were welcomed to another mess when they got to work Tuesday morning.
For the second time since construction began on the capitol roof pieces of soggy ceiling tiles were scattered over some 4th floor offices. The first time it happened Rep. Thielen was working at her desk when about a quarter of the ceiling tiles came falling down. This time she wasn't hit but it is getting to be a nuisance.
"It does cause a distraction. I have a lot of work to do and I'd rather not have the ceiling caving in on me while I'm doing it," said Rep. Thielen.
Representative John Mizuno was met by sizzling sounds and flickering lights when he got to work.
"God forbid we don't want to start a fire at the capitol so we turned those lights off," said State Representative John Mizuno, (D) House Vice Speaker.
The shorted out lights are right next to the spot in the ceiling that was leaking before.
'I'm concerned. I'm concerned it's a safety issue for all of us," said Rep. Mizuno. "The concern level has gone up one notch if not two with the lights shortening out."
Mizuno also noticed big dark leak stains in his office ceiling that weren't there last Friday.
In Representative Chris Lee's office a bucket and two garbage cans are catching falling drips.
It's all from a roofing project up on the fifth floor. The contractor Kaikor Construction says a foam layer on the old roof is soaked and causing the leaks. The project isn't expected to be done for another three months so the decorations damaged in Rep. Thielen's office the last time will stay down.
"I feel great sympathy for the contractor. This company inherited a roof that had a lot of moisture in it and that moisture is what's causing problems now," said Rep. Thielen.
"You would think a job like this, an undertaking of nearly $5 million to fix the roof up at the top would have some snags but we didn't foresee all of this coming in," said Rep. Mizuno.
The project manager for Kaikor Construction has paid a visit to the lawmaker's offices and says the company will clean up the mess caused by the leaks.
Copyright 2013 Hawaii News Now. All rights reserved.