Activist confronts BOE over church fees
Published: Aug. 20, 2013 at 11:07 PM HST
|
Updated: Aug. 21, 2013 at 8:23 AM HST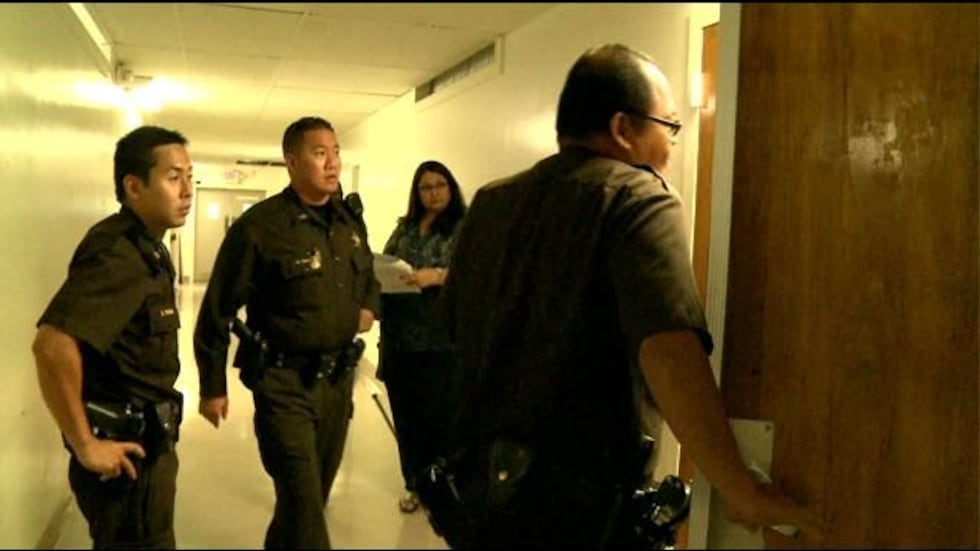 HONOLULU (HawaiiNewsNow) - It's not every day that sheriffs are called to a Board of Education meeting.
That happened after Mitch Kahle accused the BOE's chairman Donald Horner of a conflict of interest and threatened to subpoena Department of Education officials.
No one was arrested during the meeting, where discussions turned heated.
"You have a conflict of interest and I would say you might want to abstain from this conversation. As a members of the pastor's roundtable, you have a clear conflict of interest," Kahle said.
That prompted a quick response from Horner: "For your information sir, I'm in full compliance and you're out of order," he said.
Kahle is suing five Oahu churches, alleging that they underpaid the DOE $5.6 million to rent school facilities.
He says the DOE is part of the cover-up and cited a letter from New Hope's Executive Pastor John Tilton to Horner, asking for a lowering of the church's rents.
Horner serves as an unpaid teaching minister at New Hope's Diamond Head congregation and, according to Kahle's lawsuit, the New Hope Church owes the state the most in back rent: $4.6 million.
"What the DOE has done, is you have not been taking appropriate action to correct the situation and stop the churches from abusing the public schools," Kahle said.
New Hope's leader, Pastor Wayne Cordeiro, has called the suit "frivolous."
"We, and the other churches have been, by far, the highest paying renters in the history of Hawaii's schools, and if this kind of suit passes, all that will cease," Cordeiro said in a videotaped response.
"Our churches have always honored all agreements made with the Department of Education."
The DOE has declined comment.
If the lawsuit is successful, the churches could be forced to pay treble damages, or about $16 million. State law entitles Kahle to receive up to 30 percent of any award.
Copyright 2013 Hawaii News Now. All rights reserved.