City appeals to feds to use nearly empty $19M garage
Published: Aug. 13, 2013 at 9:25 PM HST
|
Updated: Oct. 24, 2013 at 6:35 PM HST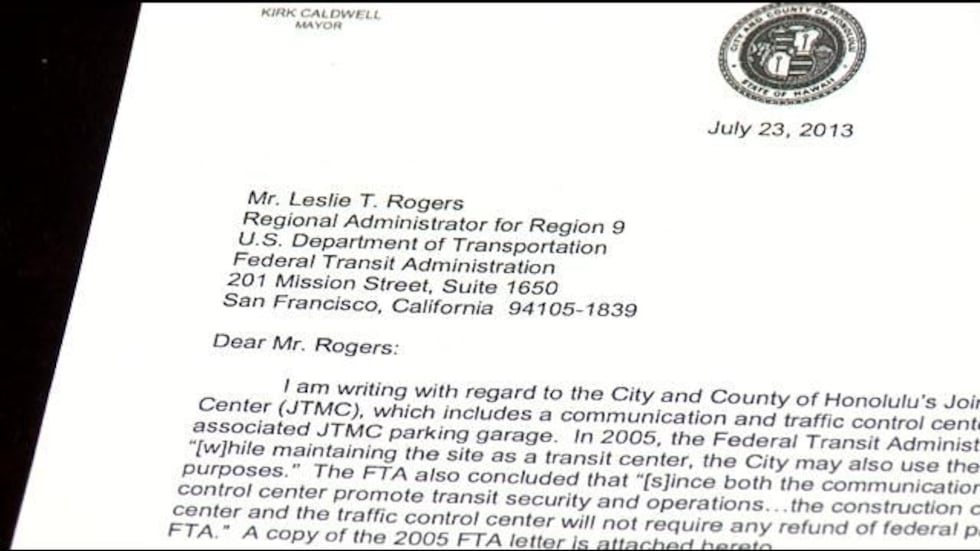 HONOLULU (HawaiiNewsNow) - Honolulu's City Transportation Director Mike Formby has appealed to a top Federal Transit Administration official to allow hundreds of city employees to park in a $19 million new parking garage that is nearly empty.
The five-story structure is just a few blocks Diamond Head of City Hall on King Street, on top of the Alapai Transit Center bus facility.
At mid-morning Tuesday, Hawaii News Now found just 31 cars parked there.  That's less than ten percent of the capacity of the garage which can handle up to 410 vehicles.
"The average resident drives down King Street and sees this parking garage, which has won awards sitting empty with the lights on at night and they wonder why.  And there is a reason," Formby said.
Since the federal government gave the city the money to buy the lot for a transit center in the 1980s, the feds restricted its use to transit and traffic-related activities.
So the city has not rented those parking stalls to any city employees other than a small number of police dispatchers who work directly on traffic problems.
The garage will eventually be used by city and state employees who will work in a joint traffic management center that will be built on an empty lot next door. But that building isn't expected to be completed for three years.
Formby said nearly six months ago, shortly after Mayor Kirk Caldwell took office, Formby's staff at the Department of Transportation Services began trying to get permission from the Federal Transit Administration for other city employees to temporarily use the new facility.
"It's been a long process.  We've been working with his staff since February, since late February, going back and forth answering all the questions.  And then we just finally reached the point where we said let's just go to the man at the top, write a very simple two-page letter," Formby said.
So Formby wrote a letter to Leslie Rogers, the FTA's regional administrator in San Francisco last month, after Hawaii News Now did two stories about the nearly-empty parking structure.
"… the fact that the ... parking garage is built and has remained largely unoccupied since May 2012 is problematic and is certainly not the best use of an existing city asset,' Formby said in his letter.
"There was no reason for them not to grant our request," Formby said. "One of the restrictions on the use of the facility that was put on the city by the FTA was that the revenue from the use of the facility would go to transit.  So we're willing to do that, obviously we would like to increase our transit funds."
There's a 200-person waiting list for city employees to park at the municipal building garage across the street from the new facility.
The police headquarters parking garage next door is also overcrowded.
Some city employees who work as far away as Alii Place on Richards Street walk more than seven blocks to park at the Blaisdell Center parking structure, where they pay monthly parking fees.
Formby said he's "very optimistic" the FTA will OK the city's request.  Once that happens, Formby said he could have hundreds of city employees parking in the new garage within 90 days -- and more revenue coming in -- since they'd pay the city $60 each a month.
In the meantime, the city spends about $112,000 a year to maintain the building, paying for elevator service, electricity, and security. And those costs are on top of its $1.3 million dollar annual mortgage for the new building, payments that will continue for 25 years.
The 122 police dispatch employees who currently park there pay about $88,000 in annual parking fees – at the city rate of $60 a month – an amount that fails to even match the annual cost of maintenance.
Related Stories:
Follow Hawaii News Now Investigates: 
Copyright 2013 Hawaii News Now. All rights reserved.