Animal complaint calls to go to HPD not Hawaiian Humane Society
Published: Aug. 8, 2013 at 9:52 PM HST
|
Updated: Aug. 9, 2013 at 3:12 AM HST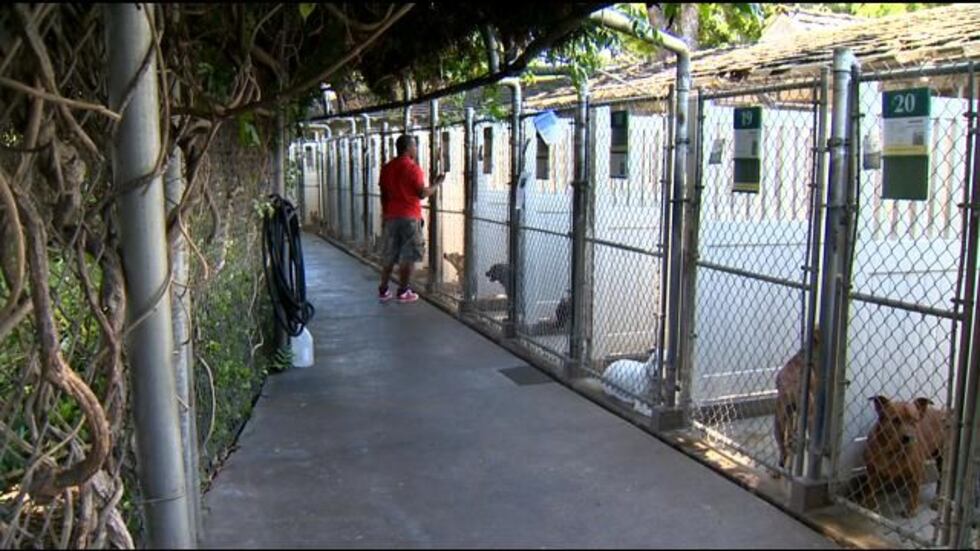 HONOLULU (HawaiiNewsNow) - Changes have already begun at the Hawaiian Humane Society, as it will stop providing some services, leaving the Honolulu Police Department to pick up the responsibility.
Here's an example, the Hawaiian Humane Society went to 2,000 barking dog complaints last year. Starting today HPD will have to respond to all those calls and many others like it.
The Hawaiian Humane Society takes in nearly 21,000 animals a year. At any given time there could be 350 animals at the shelter including dogs, cats, rabbits and more, all of which costs money.
"Over the past few years we've had to underwrite the contract by a couple million dollars. That basically means that we've taken charity funds to help pay for county mandates services. We really can't afford to do that any longer," said Jacque LeBlanc, Hawaiian Humane Society Community Relations Director.
The City has contracted the services of the nonprofit shelter for $2.3 million a year since 2008. When the current contract came up the Hawaiian Humane Society was the only one to bid. It asked for an additional $800,000 a year, which the city says it can't afford.
"I wish we had enough funds to give them everything in their wish list because they do great work. Unfortunately with budget constraints and being fiscally responsible we can't do that," said Sheri Kajiwara, Honolulu Department of Customer Services Director. "With the fiscal restraint the city is under right now we had to keep a flat budget from our department so we weren't able to provide them additional requested funds. So we're going to provide them the same funds we did last year."
The Mayor Kirk Caldwell's office offered more detail saying there is a $26 million budget shortfall, mainly because the City Council adopted an unbalanced budget.
"They cut the gas tax which was $15 million, added nearly $8 million in grants in aid and then the Shopo contract came in higher than expected so in total it's a $26 million shortfall," said Jesse Broder Van Dyke, Communication Director for Mayor Caldwell.
Broder Van Dyke added that in a month or two the city plans to make further budget cuts affecting nearly every City department. The Managing Director is working with department directors now to determine what can be cut.
City Council Chair Ernie Martin responded to the claim blaming the council for the budget cuts with the following statement:
"The Council is legally required to send the Mayor a balanced budget and we complied with that mandate. Frankly speaking, the Mayor's original budget was based on the false assumption that the Council would agree to a fuel tax increase. His only significant revenue generating proposal was a five cent a gallon increase that would have had Hawaii drivers paying the highest gas tax in the country. Not surprisingly, the Council rejected the tax increase and still managed to send the Mayor a balanced budget. The Mayor's latest tactic of blaming the Council for the $26 million in across the board cuts is a contradiction of his pledge to work cooperatively with us, particularly on budget challenges. The Council stands ready to work with the Mayor on his initiatives to generate more revenue or consider a plan to reduce the cost of services, but the Council is highly unlikely to ever rubber stamp a tax increase or condone abrupt cuts in services such as the recent reduction of funding to the Humane Society as a way to make ends meet," said Martin, in a written statement.
As for the shelter, it will still investigate animal cruelty cases, but it will stop doing most of the other field work. Meaning it will not respond to barking dogs, cat complaints or stray animals. It will respond to aggressive or injured animals but only from 8 am to 5 pm. After that HPD handles all the calls.
People can still drop off strays, and lost or injured animals 24/7/365. It will still adopt out pets and fix and treat animals.
In all 15 positions have been eliminated. Three employees have already been laid off. Others will transfer from field work to prevention and other vacant positions.
"Try to aim to keep animals out of the shelter. That includes education, prevention and intervention. We have a wide array of outreach programs and education programs that we would like to devote more resources towards," said LeBlanc.
As they say, you can't teach an old dog new tricks but in this case the public and perhaps the Police will need to learn what to do with animal calls.
"The new contract will have minimal or no impact on police operations. HPD officers will still continue to respond to reports of dangerous animals and animal-involved emergencies. While have not seen the final contract, it is our understanding that the Humane Society will no longer pick up stray animals and is advising the public to take stray and injured animals to its Waialae facility," said Michelle Yu, Honolulu Police Department, in a written statement.
The City says nuisance animal complaints will not be a high priority on the response list if there are other more urgent calls coming in.
For more information about Hawaiian Humane Society services click here.
Copyright 2013 Hawaii News Now. All rights reserved.