EXCLUSIVE: Ewa plantation cemetery is eyesore
Published: Jun. 11, 2013 at 8:57 PM HST
|
Updated: Jun. 12, 2013 at 3:39 AM HST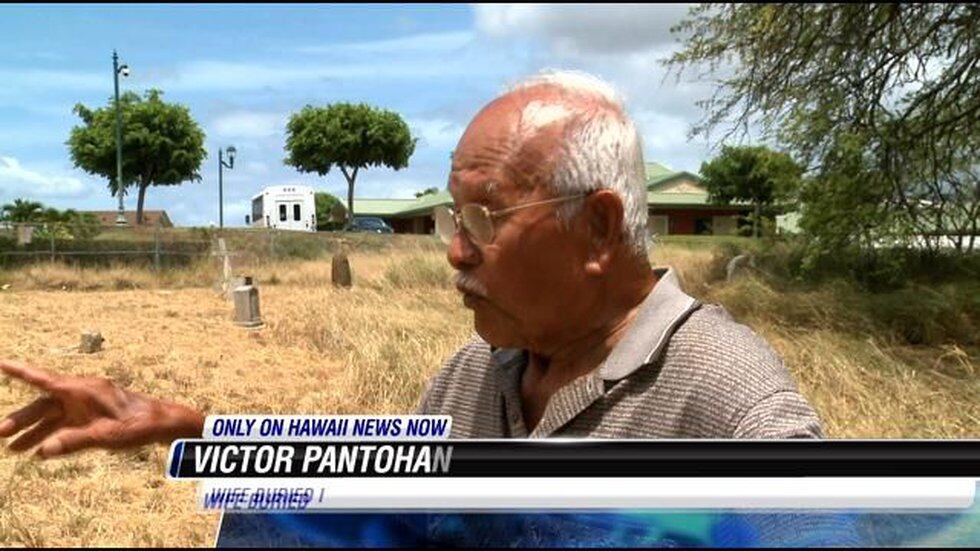 HONOLULU (HawaiiNewsNow) - The Ewa Plantation Cemetery spreads out over eleven acres. There are about 500 grave sites on the property, but the grass is so tall in spots it swallows grave markers. Even when you know where a relative is buried you still can't find it.
"There was a time when there was a little walkway. Now you can't even see it," Jane Ikeda said.
Walk the land and you'll find crooked crosses and toppled tombstones
"The cement that hold the stone just wouldn't hold them any more," Kibul Pantohan said.
He voluntarily cared for the cemetery since 1998 because his relatives are buried there. During that time Pantohan can only recall a city crew cleaning it up once.  First-term city councilman Ron Menor vows to find help.
"We've got to get the appropriate city departments to expend the dollars, but most importantly to get their manpower and crew out here to do the necessary cleanup work, so we can preserve an important legacy for Hawaii's people," he said.
Menor said the cemetery sits on city land.
Ewa historian John Bond said the people buried in it were plantation workers and their relatives.
"They came from all over Asia, Japan, Philippines, Portugal. They deserve to be remembered and their grave sites taken care of," he said.
Victor Pantohan buried his wife and brother in the cemetery. He remembers how the graveyard used to be.
"Way back you could just walk all over. You could spock all the tombstones, crosses and everything," he said. "This place is all in a mess."
Besides cutting grass and straightening grave makers, some of the work Kibul Pantohan has done is hard labor. He's cut up large fallen branches and stacked wood. But he's 79 and slowing down. He's begging for help.
"Get some kind of group and volunteer and cut the grass, or hire some company or somebody to maintain this," he said.
The cemetery was established as a tribute for the men and women who labored in the Ewa fields. Sadly, that tribute has become an eyesore.
Copyright 2013 Hawaii News Now. All rights reserved