Last day of Hawai'i Legislature 2013 session
Published: May. 2, 2013 at 10:48 PM HST
|
Updated: May. 3, 2013 at 12:45 AM HST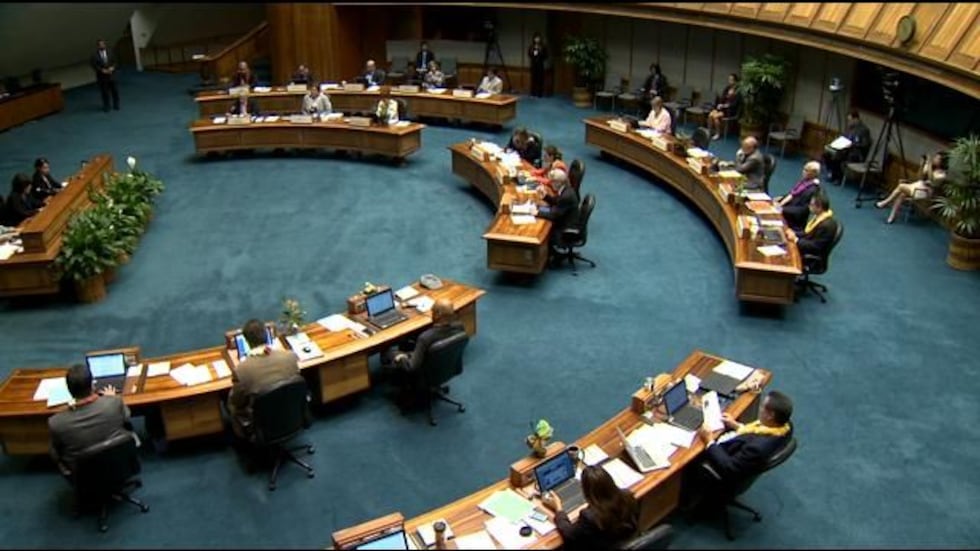 HONOLULU (HawaiiNewsNow) - The 2013 legislative session came to a close today, and leaders from both the House and Senate say this was one of the most cooperative and transparent sessions yet.
2,872 bills were introduced, 293 passed and are now headed to the Governor's desk.  Among them, the last-minute passage this morning of House Bill 1147, which will force Super PAC's to disclose their top three donors on all campaign ads.
"All the political ads they see on TV that are sponsored by these loose organizations with no real background— these folks will have to disclose who the funders actually are so that people can actually go to the ballot box informed about what they're about to vote on," explained Representative Chris Lee, who authored the bill.
Senate leadership called it an important campaign reform measure.
"We should have transparency that people are free to go ahead and have their First Amendment, if it's by way of donations and contributing, but we should be able to know who's doing it," said Senate President Donna Mercado Kim.
Lawmakers say arguably their biggest success this session was passing a budget three days early and with a $500 million surplus, even while putting $210 million into the state's Hurricane and Rainy Day funds.  Two of the most controversial proposals of the session were also heralded as major achievements – the passage of a bill that will require hospitals to provide emergency contraception to  victims of sexual assault and a Constitutional Amendment on the 2014 ballot that will allow voters to decide whether to use public funds toward private preschool.
House leadership called the repeal of the Public Land Development Corp (PLDC) another great accomplishment.
"The repeal of the PLDC was responsive to the community and we was ready to repeal it and we did in a relatively short time," said House Speaker Joseph Souki.
Senate leadership said some of the most important work they achieved included legislation addressing the state's unfunded liabilities.
"We began to pre-fund the unfunded liabilities for the health fund – we do believe that for those retirees who've accrued the benefit  of health insurance that we ought to make sure that funds are available," said Senator Ige, Chair of the Senate Committee on Ways and Means.
There were regrets as well, lawmakers on both sides say it's disappointing they were not able to raise the minimum wage.  House leaders say you can expect to see another proposal on GMO labeling, and Senators say the issue of solar energy tax credits will also come up again next year.
Another measure that will be closely watched is the media shield law designed to protect journalists from revealing their confidential sources.  House Bill 622 was recommitted today.  The media shield law is set to expire on July 1st, after both the House and Senate couldn't agree on new terms. Today Senator Clayton Hee addressed accusations he was to blame, calling suggestions he be held responsible for the bill's failure an "indictment" on the Legislature and the democratic process.
"Journalism seemed to be quite remarkable before this bill became law and I suspect that democracy is really not at stake, that the earth will not swallow us up, and that the sky is not going to fall," said Senator Hee after he read through the process the bill had taken and how it had been voted on each step of the way.
The Hawaii Legislature concluded it's 2013 session today with each member holding hands on the House floor as they sung "Hawai'i Aloha".
Follow Mileka Lincoln on Facebook: facebook.com/MilekaLincoln.HNN or on Twitter: twitter.com/MilekaLincoln
Copyright 2013 Hawaii News Now. All rights reserved.