Governor and Mayor announce $18m plan for Natatorium
Published: Apr. 30, 2013 at 3:25 PM HST
|
Updated: May. 1, 2013 at 1:47 AM HST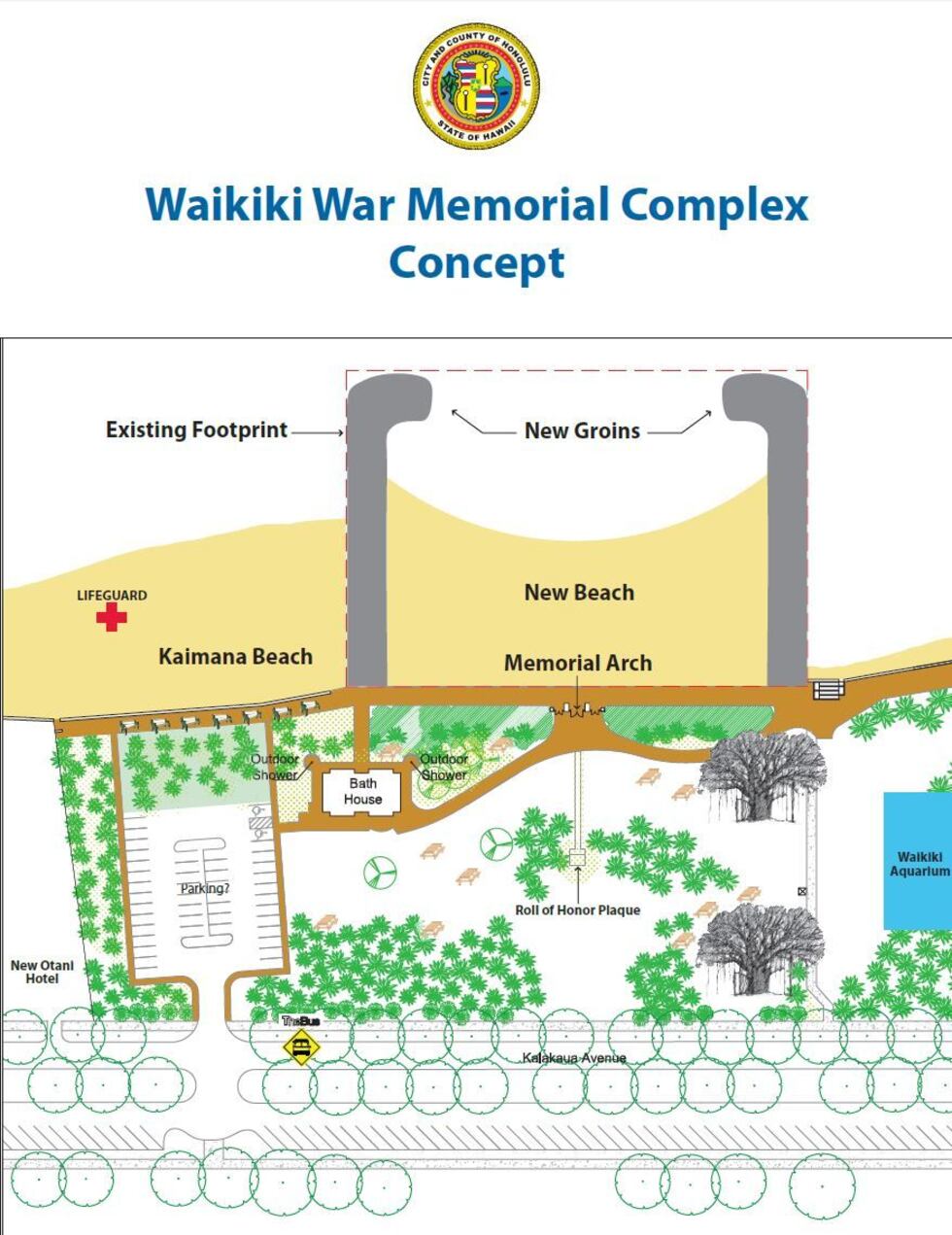 WAIKIKI (HawaiiNewsNow) - The Natatorium in Waikiki was built in 1927 as a tribute to those who served in World War I. Then it closed in 1979. There has been plenty of fighting about what to do with the site since then. In the meantime the facility has been disintegrating into the ocean. Now the Governor and Mayor are guaranteeing their new plan will get done.
"Yeah I guarantee it," said Governor Neil Abercrombie.
"I'm committed 100 percent to moving forward," said Kirk Caldwell, Honolulu Governor.
The plan is to demolish the salt water pool and grandstands and build a new public beach with a parking lot, bathrooms and showers. The War Memorial arch will be moved closer to a Roll of Honor plaque already in place to honor the veterans.
"Some of (the memorial) is going to have to be torn down. We're going to keep as much as we can, the eagles, some of the arch work. But a lot of it is cement that is falling apart. Obviously that will have to be rebuilt but when it's finished it will look as good as when it was first built," said Mayor Caldwell. "This is about honoring them and not dishonoring them with a crumbling facility that no one can use and is really an eyesore for anyone who stands in Waikiki and looks Diamondhead."
"We've been through everything. Everyone has been taken into account. In good faith we gave the best possible consideration to its preservation and to its restoration," said Governor Abercrombie. "The plan that is before us right now is the only practical way we can honor the memorials purpose and provide the celebration of joy and life that the memorial was originally intended to provide."
The Mayor and Governor say it will cost $18.4 million. That's compared to the $69.4 million they say it would cost to keep the pool and rebuild the facility.
"Ultimately this plan will prevail. It makes sense. It's economically responsible. It's aesthetically pleasing and it's feasible," said Rick Bernstein, Kaimana Beach Coalition.
"I called everyone on that stone who has family still alive and they all said return it to the beach," said Cecilia Blackfield, Kapiolani Park Preservation Society.
However it's still unclear exactly where the money will come from or what permitting or environmental issues will surface.
It being the treasure that it is it deserves a better fate than is proposed," said Peter Apo, Friends of the Natatorium.
The Friends of the Natatorium opposes the plan and wants the pool and memorial rebuilt. While the group admits it has limited resources it plans to fight the plan in court.
"To take it down in order to create another 100 feet of beach along a stretch of coastline that already has over one mile of beach is just insane public policy in my opinion. It's insensitive and immoral," said Apo. "I don't think the die is cast yet. They have a long long way to go."
The city needs to finish the environmental impact statement and have a public comment period. Construction isn't expected to begin for two years. That is of course if a legal challenge doesn't slow it down.
Related Links:
Copyright 2013 Hawaii News Now. All rights reserved.