Nearly lost language discovered in Hawai'i
Published: Mar. 1, 2013 at 8:23 PM HST
|
Updated: Mar. 2, 2013 at 1:44 AM HST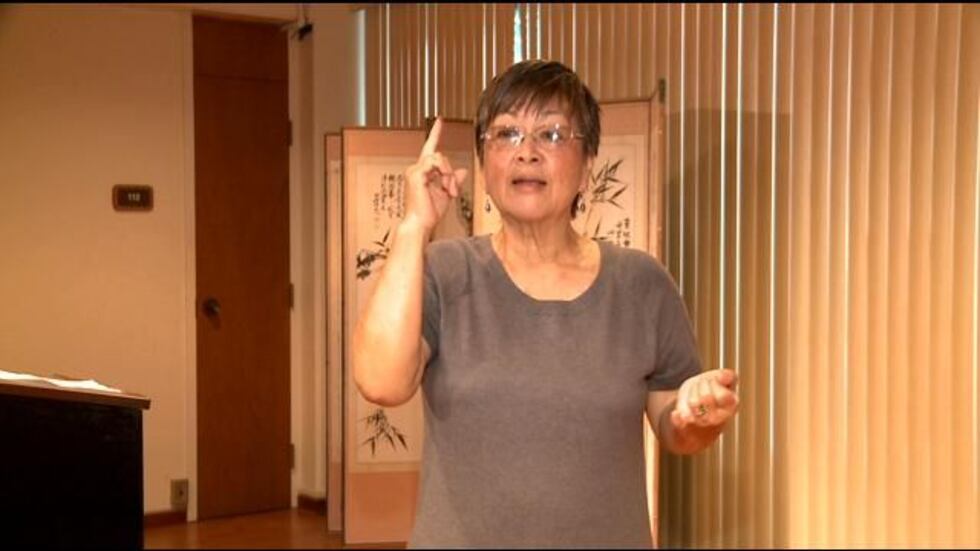 HONOLULU (HawaiiNewsNow) - A dying language has been uncovered here in Hawai'i. Researchers are calling it's existence ground-breaking – especially considering how close it came to being lost forever. Now a team of experts are working together to revive Hawai'i Sign Language, the indigenous language of Deaf people in Hawai'i.
Hawai'i Sign Language is one of only two known surviving sign languages in the United States—the other is American Sign Language. HSL is believed to have originated among the Deaf population here in the 1800's – long before ASL arrived in the 1940s.
Linda Lambrecht has been signing in Hawai'i Sign Language since she picked it up from her older brothers, who are also deaf.
"It wasn't formal instruction it was just exposure and that's what we used to communicate," signed Lambrecht, who is also an ASL instructor at Kapi'olani Community College. "When foreigners came here and taught American Sign Language it was quite confusing."
That's because linguists have determined Hawai'i Sign Language is clearly separate and completely unique to our islands.
"What we find with Hawai'i Sign Language is that 80% of this basic vocabulary list is different.  It means it cannot in any way be related to American Sign Language," said James Woodward, an Adjunct Professor of Linguistics at the University of Hawai'i at Manoa.
Researchers have identified 40 Native signers of Hawaii Sign Language.  Most are in their 70's or older, which is why linguists say without this effort to restore HSL—the language would've died with this generation.
It's Lambrecht's greatest fear—which is why she and a former student, Barbara Earth, went to UH Manoa's Department of Linguistics for help.
"If it hadn't been for Barbara and Linda, we never would have found this language," said William O'Grady, a UH Manoa Linguistics Professor.  "Here it was for over a hundred years right under our noses here in Hawaii. This is a big deal."
"Diversity is a great thing. It provides us with alternative ways of looking at things, alternative ways of expressing ourselves, and important clues as to how the human mind works," said O'Grady. "It's a loss for everyone when something like this disappears—and it almost did."
Since Lambrecht approached Professor O'Grady and his team in 2010, an entire research team has been assembled to study and preserve Hawai'i sign language. They've located and interviews 19 elderly Deaf people and two adult children of Deaf parents on four of the Hawaiian islands. They're also documenting HSL with instructional videos, depicting the distinct differences between Hawai'i Sign Language and American Sign Language.
"What we need to do is make sure that we have a good grammatical description of the language, make sure that we have a lot of data, then we need to train the deaf adults who use the language to teach it to other deaf and hearing people—and especially to expose children to it," said Woodward.
Tamar Lani agrees.  She works as an ASL interpreter, but learned HSL from Lambrecht and hopes others will soon be interpreting for HSL soon.
"It's very moving for me and it's very inspiring. This day was a long time in the making. I know Linda and the work and the dedication she's put in to documenting Hawai'i Sign Language and for this project to actually be taking place—it's just words cannot describe how wonderful this event is. Very momentous," said Lani.
For Lambrecht, it's the culmination of a lifetime of appreciation – and a determination to keep Hawai'i Sign Language alive.
"It is my dream for the future that the senior citizens here in Hawai'i will be able to share their knowledge of Hawai'i Sign Language with the younger generation," signed Lambrecht.
Linguists say this is the first time since the 1930s a previously unknown language, spoken or signed, has been documented in the U.S.  They believe Hawai'i Sign Language may be the last of America's undiscovered languages.
Follow Mileka Lincoln on Facebook: facebook.com/MilekaLincoln.HNN or on Twitter: twitter.com/MilekaLincoln
Copyright 2013 Hawaii News Now. All rights reserved.