Proposed City Council bills would clear Oahu sidewalks
Published: Feb. 18, 2013 at 2:11 AM HST
|
Updated: Feb. 19, 2013 at 4:42 AM HST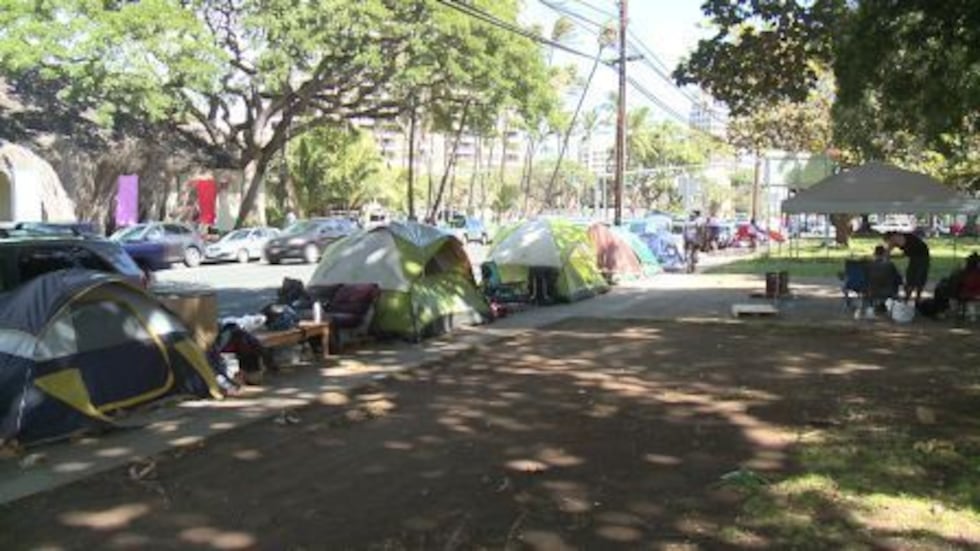 HONOLULU (HawaiiNewsNow)- Since November 2011, the (de)Occupy Honolulu movement has been planted along a stretch on Beretania street.
The Honolulu City Council is proposing two bills could that could pack up its tents and free pathways around Oahu for good.
"I think folks are just at their wit's end," Councilman Ikaika Anderson said. "They respect the rights of the tent dwellers and the occupiers, but at the same time, when people call us, they are asking us, what about my right to access the sidewalk?"
Anderson is proposing Bill 6, which would ban tents on public sidewalks. Another measure, Bill 7, would broaden the ban to other items.
"We are having people who have had to walk in the street because they haven't been able to get down our public sidewalks," Anderson said. "Primarily, what we are concerned about are our elderly population. We have folks who are in wheelchairs. We have folks on walkers and we also have mothers and fathers with strollers that just are not able to traverse our sidewalks."
(de)Occupy Honolulu  has been cited numerous times for violating the city's stored property ordinance.
Under the law, 24-hour notice has to be given before items are rounded up, but the new proposals wouldn't require advanced warning.
Some opponents say the bills are targeting the homeless.
"People with the strollers and the old ladies, yeah they are being inconvenienced, but you got to look at the point of the people that's on the ground," (de)Occupy Honolulu member Chris Smith said. "The people that are sleeping there. They may not be inconvenienced, but they are dealing with a whole other lifestyle that nobody wants to understand."
In downtown Honolulu, some paths, including one on Smith Street are also blocked.
One business owner says the clutter has kept some customers from returning.
"It's hard," said Otto, owner, Otto Cake.  "I even tell the police that I jaywalk sometimes just because I get mixed up in it and I just can't get by anymore and I have to jaywalk just to get through to the bus stop."
Ultimately, Anderson contends the measures are about returning the walkways to the public.
"They were never meant to be living spaces or to be occupy spaces permanently," Anderson said. "They were meant for folks to be able to get from point A to point B."
The City Council will hear public testimony on the measures Wednesday at Kapolei Hale.
Copyright 2013 Hawaii News Now. All rights reserved.