Suspect in Hilo police shooting shoots himself as officers close in
Published: Jan. 3, 2013 at 4:02 AM HST
|
Updated: Jan. 3, 2013 at 10:42 PM HST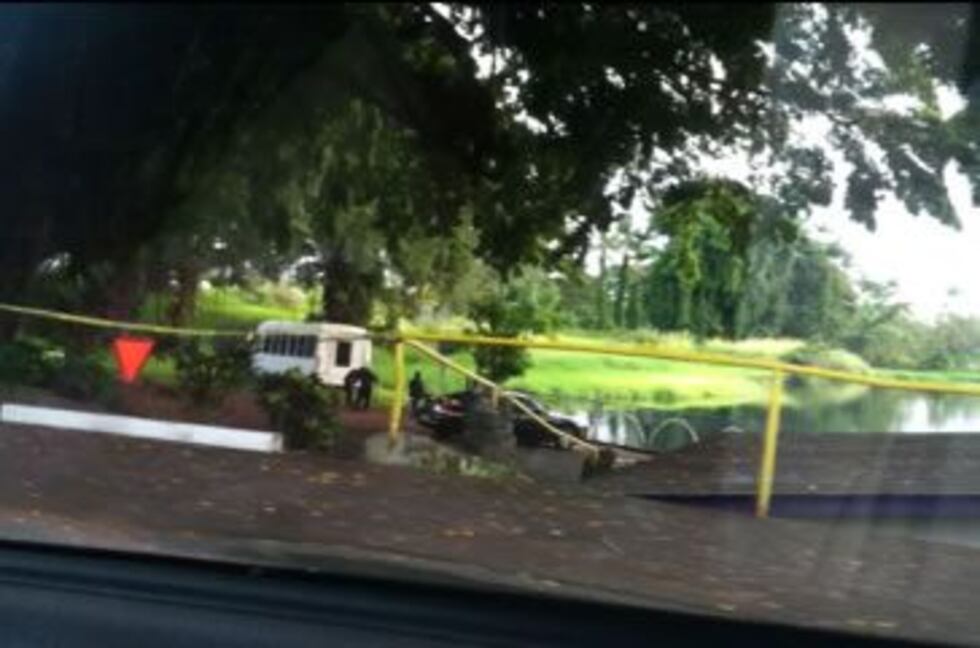 HILO, BIG ISLAND (HawaiiNewsNow) - The man suspected of shooting two Hawaii County police officers shot himself in the chest as police surrounded the Hilo home in which he was hiding Thursday afternoon, Hilo police said.
It was a dramatic finish in the man hunt for Keaka D. Martin, 31, the Hilo man accused of shooting two police officers in Hilo Wednesday night.
Police received a tip he was hiding at a house on East Palai Street in Hilo and tracked him there just before 3:30 p.m. Thursday, according to Hilo Police Criminal Investigation Division Capt. Mitch Kanehailua.
Police tactical officers, along with state sheriffs deputies and FBI agents, surrounded the wooden-framed green-colored house in which Martin was located, police said.
"They announced that they were making entry, they asked for the suspect to come out.  They heard a single gunshot," Kanehailua said. "Upon clearing the area and getting into the residence, they found the male with a gunshot wound to the upper torso, appeared to be self-inflicted."
He said officers found a handgun inside the home and Martin was taken by paramedics in critical condition to Hilo Medical Center. A man inside the home with Martin was unhurt, police said.  It was unclear what his relationship was to Martin, officers said.
Police sources said Martin was identified from security video taken near last night's shooting scene, since he had distinctive tattoos on his arms that were easily recognizable.
Martin has a string of 17 convictions going back to 2001, including a 2007 misdemeanor conviction for assaulting a police officer.  In 2011, he and another man were charged in a Puna robbery case.
The officers' shooting happened under a large banyan tree near Wailoa Pond in Hilo, just off Kilauea Avenue near the site of the former Green Onion Restaurant.
Police said the two police officers were sent to the area to investigate the report of gunshots around 7:45 p.m. Wednesday.  About one hour later, officers discovered the suspect.
"Officers observed the male party hiding under a parked vehicle. Upon approaching the male, both officers were fired upon and sustained gunshot injuries," said Harry Kubojiri, chief of the Hawaii Police Department.
The officers, Garrett Hatada, 40, and 31-year-old Joshua Gouveia, suffered gunshot wounds to their legs, and paramedics took them to the Hilo Medical Center, where they underwent surgery and were listed in stable condition, police said.  Both of them were recovering and in "good spirits," a relative of Hatada told Hawaii News Now. Hatada is a 14-year veteran of the police force while Gouveia had been on the force for four years, police said.
After one of the officers returned fire, police said the suspect was able to run away from the area. Detectives were not sure whether any of the officer's bullets actually hit Martin or if he was injured.
An extensive manhunt got under way for the suspect last night, as officers fanned out over the shooting area to try to find evidence and any sign of the suspect.
Thursday, police were out in force at the Hilo Lagoon Centre, a commercial and residential building a few blocks from the shooting scene that witnesses said the suspect tried to enter Wednesday night shortly after the shooting.
Witnesses told police he tried to get into the building using an elevator that was locked after hours and that a security camera caught his image, helping police in their search.
Police gave residents and people who work at Hilo Lagoon Centre a photo of Martin on Thursday morning and told them to keep their doors locked in case he tried to re-enter the building.
"The suspect is currently armed and considered dangerous. Please do not approach the suspect.  You can call 911," Kubojiri told reporters at police headquarters early Thursday morning.
Some buildings near the shooting scene were on lock down status Wednesday night and into Thursday morning.
Just Cruisin' Coffee is only a few steps away from the shooting scene. It's a drive-thru coffee shop that's popular with police officers.  The owner couldn't believe what transpired.
"It's crazy, because it doesn't happen over here very often, you know.  Plus, they (police officers) all come here.  They're our good customers.  The girls were all worried, in fact," said Tom Fedenuik, owner of Just Cruisin' Coffee.
Officer-involved shootings are rare on the Big Island. The last one happened in December 2009, but no officers were injured in that incident.
Copyright 2013 Hawaii News Now. All rights reserved.