Lt. Gov. Schatz selected to succeed Inouye, fill vacant Senate seat
Published: Dec. 26, 2012 at 6:20 PM HST
|
Updated: Dec. 27, 2012 at 4:05 PM HST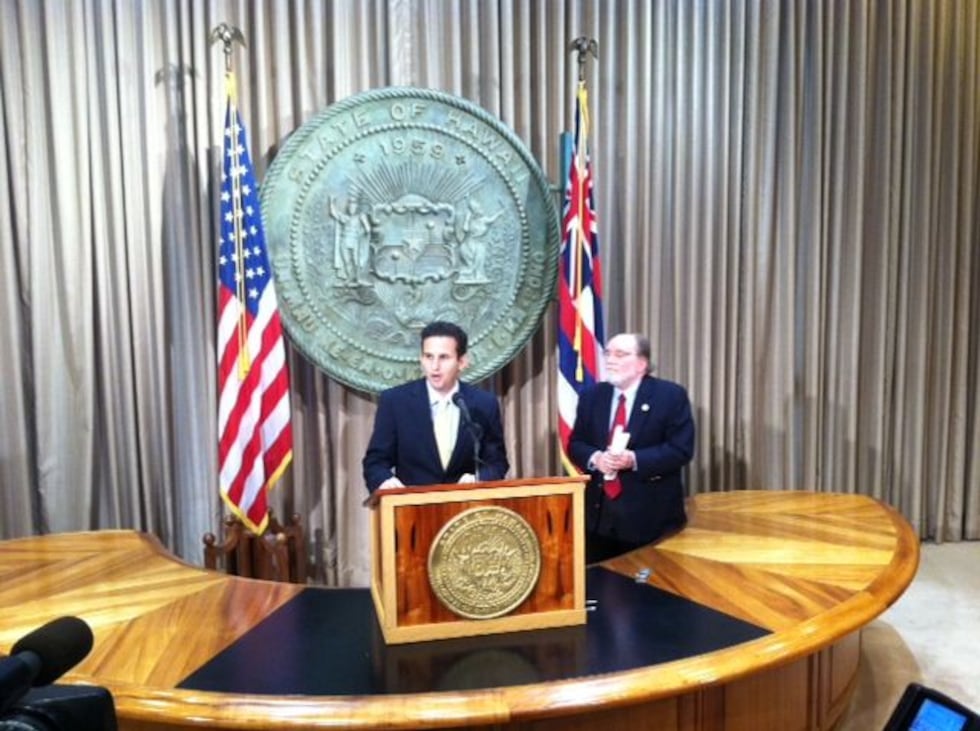 HONOLULU (HawaiiNewsNow) - Gov. Neil Abercrombie chose his Lt. Gov., Brian Schatz, Wednesday to replace the late U.S. Sen. Dan Inouye, rebuffing Inouye's request to appoint U.S. Rep. Colleen Hanabusa to the post.
Abercrombie said he considered several factors in making that choice.
"I asked how best could we ensure that Hawaii remains strong in the long run, rebuilding the seniority of our Congressional delegation in Washington," Abercrombie said. "I made this decision with the full confidence that Brian's appointment is in the best interest of the party, the state of Hawaii and the nation."
Schatz told reporters gathered at a news conference in the governor's office, "I am humbled by this opportunity and obligation to serve the people of Hawaii and the people of America."
At age 40, Schatz is two years older than Inouye was when he became a U.S. senator.  Schatz will be the youngest senator in the U.S. Senate.
"No one can fill Senator Daniel K. Inouye's shoes.  But together, all of us, we can try to walk in his footsteps," Schatz said. "I understand the magnitude of the obligation and this honor, and I won't let you down."
Schatz planned to fly to Washington, D.C., Wednesday night on Air Force One and will be sworn in to his new position Thursday afternoon.  Schatz had originally booked a commercial flight on United Airlines, sources said, but then President Obama's people said he could hitch a ride on Air Force One so he was scheduled to leave with the President from Hickam about 10 p.m. Wednesday.
"As Lieutenant Governor, Brian has demonstrated all of the qualities Hawaii could ask for in a Senator: respect for our traditions and a strong sense of values, remarkably strong character and problem-solving capacities, and above all an abiding love for and commitment to the people of our state," said Abercrombie. "Brian Schatz will do us proud."
Abercrombie claimed his decision was not pre-ordained, a statement that had some people rolling their eyes at the capitol since for a more than a week, most political observers has been talking about how they expected Abercrombie to appoint Schatz.
Abercrombie said he took Inouye's wishes about his replacement into account but did not choose Hanabusa as his successor for several reasons.
On the day he died, Inouye wrote to Abercrombie asking that he appoint Hanabusa to replace him after his death.
"Of course, Senator Inouye's views and his wishes were taken into account fully.  But the charge of the central committee, and by extension, myself as governor, was to act in the overall best interests of the party, after all, a Democratic senator to be replaced, the state and the nation," Abercrombie said.
Abercrombie said in choosing Schatz, he considered that a special election would have been held to replace Hanabusa in the U.S. House, if he chose her for the senate, giving Republicans a chance at winning that seat.
And Abercrombie said by moving to the U.S. Senate, Hanabusa would have lost a key position on the House Armed Services committee.
"She's already well on her way to establishing a senior position there, on the committee, in terms of a Democratic appointment, and so it's very vital for us to continue to have her position on the Armed Services Committee continue," Abercrombie said.
Schatz said he called all of the 75 or so members of the Democratic state central committee in the last few days and asked for their vote and reached about two thirds of them personally.
"I really do respect the Democratic Party process, I was a former chairman of the party and so I knew that, under the law, that it was their authority to put those names under the list and I knew that they were going to undertake it with the seriousness that it deserved," Schatz said.
The Democratic Party state central committee cast the most votes – approximately 48 -- for Schatz to replace Inouye.  The other top two nominees were Hanabusa with roughly 42 votes and Deputy state Department of Land and Natural Resources Director Esther Kiaaina, who got about 39 votes, sources said.  The panel passed those three names on to the governor for him to choose the next senator.
After he posed for pictures with supporters and Democratic Party members, Schatz said his first priority once he's sworn in is to avoid the fiscal cliff.
"Sequestration will do great damage, not just to America's economy, but to Hawaii's economy.  There will be deep cuts in social services, there would also be deep cuts in the military," Schatz said.
Schatz said he and his wife Linda, who's an architect, are still deciding whether to move their family to D.C.  They have two children, an 8-year-old son and five-year-old daughter.
He will serve the next two years in the Senate and face a special election for the last two years of Inouye's term in the fall of 2014.
Schatz was elected lieutenant governor in 2010. He ran unsuccessfully to succeed U.S. Rep. Ed Case in Hawaii's 2nd Congressional seat in 2006. Schatz served as CEO of Helping Hands Hawaii, a nonprofit social service agency on Oahu.  Between 1998 and 2006, Schatz spent eight years in the state House of Representatives, representing the 25th district of Tantalus, Makiki and McCully.
In 2008, he served a spokesman for Barack Obama's presidential campaign in Hawaii.  That same year, he was elected chairman of the Democratic Party of Hawaii.
Schatz grew up in Hawaii and attended Punahou School before traveling to California where he graduated from Pomona College.  After returning from college, he taught at Punahou School.
Copyright 2012 Hawaii News Now. All rights reserved.