Schatz is considered leader among 14 candidates to replace Inouye
Published: Dec. 25, 2012 at 9:44 PM HST
|
Updated: Dec. 25, 2012 at 11:41 PM HST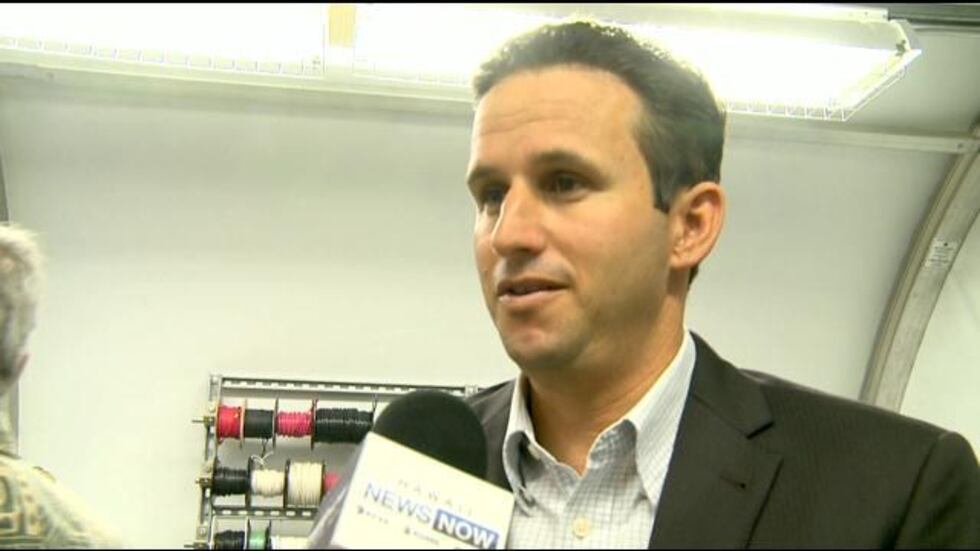 HONOLULU (HawaiiNewsNow) - Hawaii News Now has obtained the list that the Hawaii Democratic Party's state central committee will choose three people from as possible replacements for Sen. Dan Inouye Wednesday.  Sources said Lt. Gov. Brian Schatz remains the candidate most likely to be chosen by Gov. Neil Abercrombie to replace Inouye, who died Dec. 17, in spite of Inouye's request for U.S. Rep. Colleen Hanabusa to replace him.
While a lot of the names of the high-profile candidates for the Senate seat have already been reported, the full list in alphabetical order features some lesser-known candidates:
Former U.S. Rep. Ed Case, who ran for the Democratic U.S. Senate nomination this year but was beaten by U.S. Rep. Mazie Hirono.

State Sen. Will Espero (D- Ewa Beach, Iroquois Point), who chairs the Senate Public Safety and Military Affairs committee.

Former Honolulu councilwoman and U.S. Rep.-elect Tulsi Gabbard.

Honolulu attorney Tony Gill, son of Hawaii's late Lt. Gov. Tom Gill.

Kihei, Maui resident Antonio Gimbernat, a one-time handyman's apprentice and truck driver who ran unsuccessfully for the U.S. Senate this year.

U.S. Rep. and former State Senate President Colleen Hanabusa, who Inouye has asked Abercrombie to appoint.

Honolulu attorney Timothy Hogan, who specializes in commercial litigation.

Esther Kiaaina, deputy director of the state Land and Natural Resources Department who ran unsuccessfully for the Democratic nomination for Hawaii's 2nd Congressional seat this year.

State Sen. Donna Mercado Kim (D-Kalihi Valley, Moanalua), the Senate vice president who presided over an investigation into University of Hawaii this fall.

Kurt Lajala , currently an instructor pilot for a defense contractor at Hickam Air Force Base and before that a longtime United Airlines and Hawaii Air National Guard pilot.

Blake Oshiro, the governor's deputy chief of staff and a former state legislator.

Lt. Gov. Brian Schatz, who's a former state lawmaker.

David Tarnas, who represented the North Kona and South Kohala district of the Big Island for four years in the 1990s and currently works in government affairs for a forestry and renewable energy company based in Waimea.

Earl Winfree, who has run for the Honolulu city council.  Winfree is a commercial pilot who owns the company Winfree Aviation on Oahu.
Democratic Party leaders will pass the names of three of those candidates to the governor and state law requires him to choose from those three who will serve the next two years in the U.S. Senate to replace Inouye, who died last Monday at age 88.
Sources said anything can happen, but they expect the final three people chosen by Democratic leaders as possible replacements for Inouye to be Schatz, Hanabusa and Oshiro, the same three sources said Abercrombie would like to see on the list he will choose from.
But sources said Schatz is considered the front-runner, the person expected to be selected by his boss, Abercrombie, to fill the next two years of Inouye's term.
Sources said the committee of Democrats narrowing the list is full of Abercrombie loyalists, who were brought together by Abercrombie and Schatz in 2008 to get behind Barack Obama's campaign for president in the islands. Inouye and Hanabusa's supporters backed Hillary Clinton for president, who lost the nomination to Obama.
Some Democrats are also concerned if Hanabusa is chosen by Abercrombie for the Senate seat, her U.S. House seat will be left vulnerable to Republicans because a winner-take-all-election, perhaps by mail, would decide Hanabusa's replacement.
That's what happened when Abercrombie stepped down from Congress in May 2010 to run for governor.  Two Democrats, Case and Hanabusa, split the Democratic vote, allowing Republican Charles Djou, then a city councilman, to win that special election two years ago.
But Hanabusa said she's confident Democrats will keep her U.S. House seat if she has to leave it for the U.S. Senate.
"Senator Inouye's seat is very critical for us as a state," Hanabusa told Hawaii News Now Monday. "And it doesn't make much sense to me that the seat that is very critical would be one that you wouldn't put the most qualified person in there because of that consideration."
"I believe that the Democrats have a strong enough bench that we will have people who are able to come forward and convince the people that they should be the one to succeed me, if I'm fortunate enough to receive the appointment," Hanabusa said Monday.
"You need a strong Senate.  And I think that's part of the reasons why we have to ensure that whoever's there understands what's going on.  The issues are very complex," Hanabusa added.
Others are concerned that since Senator-elect U.S. Rep. Mazie Hirono is 65 years old and Hanabusa is 61, Democrats should choose someone significantly younger like Schatz, who's 40 years old. Otherwise, in twenty years, assuming both women remain in the Senate, Hawaii would once again have two octogenarians serving there.
Sources said for the last two years, Abercrombie has been concerned Hanabusa could run against him when he's up for re-election in 2014. That could give the governor a political motivation to select her for the U.S. Senate, hoping she'd stay in Washington.
During Wednesday's meeting of the central committee of Hawaii's Democratic Party, each candidate will be given two minutes to address the group. Each member of the committee will then fill out a ballot, choosing their top three candidates. The committee is composed of at least 75 people.
Hanabusa planned to fly back to Washington, D.C. Christmas Day and said she would address the committee in a video message.
Schatz did not return a phone message left on his cell phone Tuesday.
The top three candidates' names will be forwarded to Abercrombie to choose a replacement for Inouye.
U.S. Senate Majority Leader Harry Reid (D-Nevada), has asked Abercrombie to appoint Inouye's replacement quickly to guarantee that Democrats have another vote as senators wrestle with important end-of-the-year votes like avoiding what's known as the fiscal cliff, which would trigger federal tax hikes and spending cuts if there's no agreement between the White House and Congress.
The candidate selected by Abercrombie will serve in the Senate for nearly two years until the 2014 elections, when a new election will be held for the remaining two years on Inouye's term.
copyright 2012 Hawaii News Now. All rights reserved.