Small lava flow reaches ocean from Pu'u O'o vent
Published: Nov. 25, 2012 at 7:37 PM HST
|
Updated: Nov. 25, 2012 at 10:45 PM HST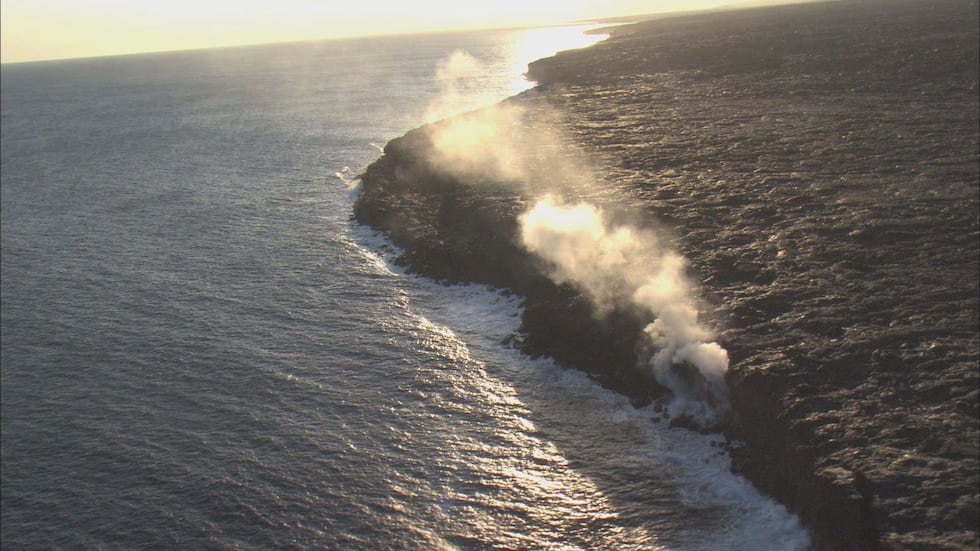 KILAUEA VOLCANO, BIG ISLAND (HawaiiNewsNow) - For the first time in eleven months, lava is entering the ocean from Kilauea volcano.
The flow is a comparative trickle compared to the last ocean entry in December, 2011, but is still dangerous. The Hawaiian Volcano Observatory said it's been a long time coming from the Pu'u O'o vent along the volcano's east rift.
"It appears more lava has been able to get out of Pu'u O'o into these lava flows and push them towards the ocean," said Jim Kauahikaua, the observatory's scientist in charge. "Before that, it was sort of stop and go heading down the coastal flank, and it took the flows a long time to reach the ocean yesterday."
The ocean entry comes almost exactly a month after pressure rose at Kilauea, which has been erupting continuously since January 1983. The pressure increase also resulted in a rise in the lava lake inside a vent at the Halemaumau crater in the Kilauea caldera. "The lava was rising during that pressurization in October, and since then it has been observed going up and down quite a bit," said Kauahikaua.
The pressure increase at the volcano also coincided with increased activity at Pu'u O'o.
A video of the flow also shows some sightseers who hiked out to see the lava enter the ocean. Scientists said that while it is tempting to get a close up look, it's also potentially deadly.
"We advise that a lava entry in the area, about a quarter mile around both toward the ocean and on land, is the most hazardous area on the coastal plain because of the potential for collapse of those lava deltas," said Kauahikaua, adding that the new land can collapse without warning.
There has been one death, in 1993, from a lava shelf collapse. Kauahikaua also said the steam generated from a lava entry can be hazardous, with two people killed in 2000 after breathing the hot vapor.
Scientists are not sure how long the lava will keep flowing into the ocean this time around. "It was never a strong entry and you know, generally those may not last very long, but it's hard at this point," said Kauahikaua. "It depends on how much lava gets that far out across the coastal plain."
Related link: Kilauea status reports from the Hawaiian Volcano Observatory
Copyright 2012 Hawaii News Now. All rights reserved.