Hawaii experts examine possible tsunami debris
Published: Sep. 19, 2012 at 2:29 AM HST
|
Updated: Sep. 19, 2012 at 4:57 PM HST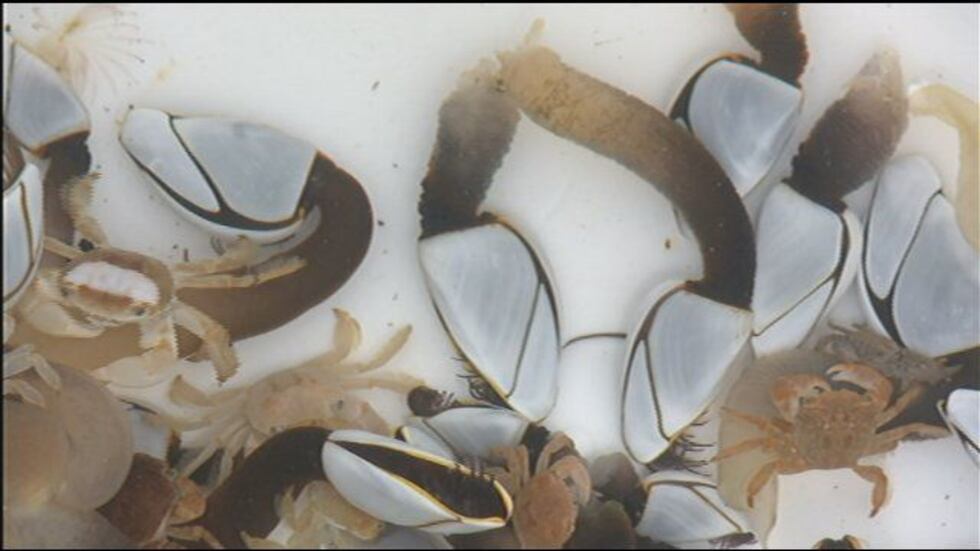 WAIMANALO (HawaiiNewsNow) - A strange sighting in waters off Windward Oahu prompted the first real test for Hawaii's tsunami debris response team. Curious researchers pulled a mysterious blue box out of the ocean near Sea Life Park on Tuesday. The words on the container and what they found attached to the bin led them to believe that it may be tsunami debris from Japan. Experts are now busy analyzing the discovery to try to confirm those suspicions.
Workers at Makai Ocean Engineering spotted the big bin floating between the Makai Research Pier and Rabbit Island.
"Because of it's size, we were very intrigued," explained Michael Nedbal of Makai Ocean Engineering.
A team from the Hawaii Undersea Research Lab brought the bin with a "Y.K Suisan Co., Ltd." label to shore.
"We actually had one of our guys went on Google earth to locate the actual site of the plant, and it's in the tsunami zone," said Nedbal. "We had another person do a little bit of research, and they found that the company actually was wiped out by the tsunami and they just restarted business in 2011."
The Department of Land and Natural Resources created a team to respond to calls regarding possible tsunami debris. Experts believe the container is covered with gooseneck barnacles and crabs which aren't found in Hawaii. They also found other animals inside.
"There were like three dead birds and two of them still alive, and if they get inside there, there's not enough room to get flight again out of the box so they were getting trapped in there," explained Terry Kerby of the Hawaii Undersea Research Lab.
University of Hawaii researchers tracking the tsunami debris updated their model last month to reflect the effects of wind on the arrival of lighter pieces of trash. The debris fields from Japan are no longer visible, but according the model, trash floating on the water's surface could be arriving in Hawaii now with the help of the wind.
"It was floating so high in the water that this would actually be some of the first debris that would actually make it here because of the windage," said Kerby.
They didn't have a Geiger counter at the pier to test for radiation.
"When the tsunami hit, it washed out all the debris. The (nuclear) plants weren't in danger at that time. It was only several days later when the plants became dangerous. The debris was already out to sea," said Nedbal.
But there are concerns about other potential threats washing ashore.
"You really don't know what type of invasive species are going to be coming in off this debris," said Kerby.
"I think it makes everyone nervous that obviously there's a lot of debris out there and it's very difficult to predict if it's gonna turn up somewhere and when," said Sonia Gorgula of the Department of Land and Natural Resources.
Y.K Suisan was contacted and sent a picture for verification, but no response has been received yet.
Copyright 2012 Hawaii News Now. All rights reserved.