State elections panel frustrated by Hawaii County election troubles
Published: Sep. 18, 2012 at 9:46 PM HST
|
Updated: Oct. 2, 2012 at 3:57 PM HST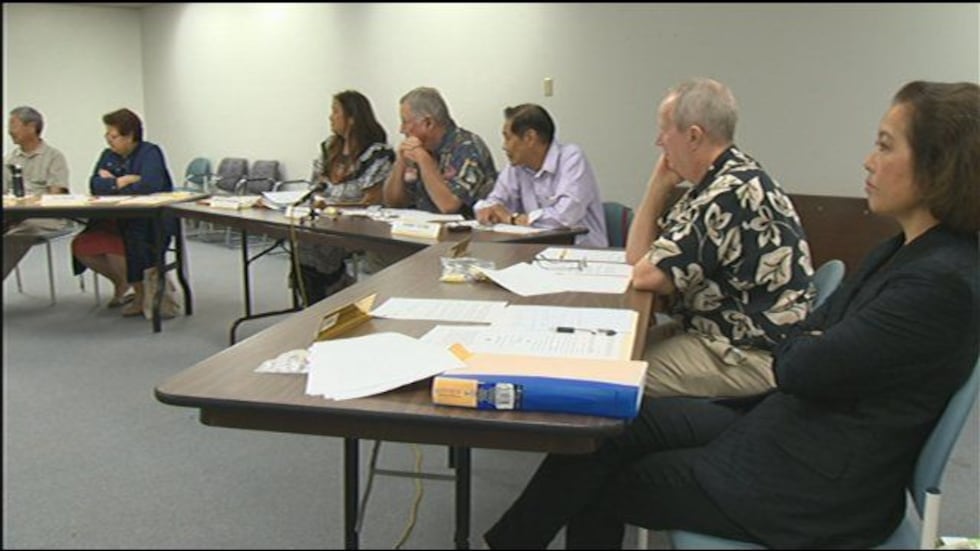 HONOLULU (HawaiiNewsNow) - Members of the State Elections Commission expressed frustration with troubled Hawaii County Clerk Jamae Kawauchi at their monthly meeting Tuesday as state elections officials made plans to send a key staffer back to the Big Island to help troubleshoot on Election Day.
During the primary election Aug. 11, more than a dozen Hawaii County polling places opened late, causing Gov. Neil Abercrombie to order all election sites on the island to be kept open an hour and a half late, delaying election returns statewide.
Tuesday, the county clerks from three counties were present at the election commission meeting, but Kawauchi was absent, just as she was missing from the August meeting. Her attendance there was not mandatory but in the cooperative community of election officials, her absence created concern less than two months before the general election. "I mean I don't understand, she's new, she has no training, but she doesn't want to take your help?"
Commissioner Zale Okazaki asked Scott Nago, the state's chief election officer who has no power to hire and fire Kawauchi, since the Hawaii County Council oversees her. "I cannot answer that. I don't know why she's resisting, or if she is," Nago answered. "Is she asking the right questions?" Okazaki asked Nago. "At times yes, at times, no," said Nago. "And we try to point her in the right direction." "We want a smooth election for the whole state. I don't necessarily believe the system is broken," Nago added.
Commissioners expressed frustration over what they saw as the lack of interest by Kawauchi in getting training for herself or key staff after suffering big problems on primary day. "It seems like one or two people are not doing what they're supposed to do and there's nothing we can do to make that person do the right job," said Danny Young, an elections commissioner.
The clerks held one election training workshop on Kauai which Kawauchi did not attend earlier this month. Instead, she sent four underlings, the clerks said. They're hoping she will send staff and she herself will attend two more training sessions scheduled before the November election. "She's not reaching out to us. We're not hearing anything," said Bernice Mau, Honolulu city clerk. The League of Women Voters asked state elections officials to launch an independent investigation of the election problems on the Big Island. "The effects of a botched election in November could easily spread beyond Hawaii County. Any questionable practices might generate candidate lawsuits, which are always costly to taxpayers," said Janet Mason, vice president of the League of Women Voters of Hawaii.
But the chair of the elections commission explained why the panel rejected that idea. "If we did an investigation at the present time, or started to do something, would this be disruptive, would it have negative effects. We decided not to," said William Marston, a Kauai resident who heads of the volunteer elections panel. Two commission members from the Big Island met with the troubled clerk last Thursday. "I felt it was a good meeting. I don't think we're 100 percent there. But I think we're going in the right direction," said elections commissioner Margaret Masunaga. "We need to get rid of our personal differences and just like the League of Women Voters, we want a good election, a smooth election." Nago said Kawauchi conducted five debriefing sessions after the troubled primary with precinct chairs on the Big Island, Nago said.
She didn't bring key staff to listen to the problems other than one assistant, Nago said. "It appears she's acting as both county clerk and elections administrator," Nago told the commission. Kawauchi fired the county's longtime elections administrator, Pat Nakamoto, early this year. Nakamoto filed a grievance and was given her old job back, but Kawauchi sent her home without an explanation, putting Nakamoto on leave with pay, according to Nakamoto's attorney, Ted Hong. Earlier this month, Nakamoto and another elections staffer sued Kawauchi for defamation over the firings. Kawauchi appointed another person as acting elections administrator but she went out on sick leave just days before the primary.
It appears Kawauchi has appointed another acting elections administrator, but the new member of her election team had not been seen at debriefing meetings and did not attend the elections training session on Kauai earlier this month, Nago said. "If your hands are tied and you can't talk to an individual who's running all over the place, that's scary," said Young, one of the commissioners. "This is crazy." "Other than providing her the training and all the staff support that we can and we will. There's nothing we can do to force her to do her job," Nago said.
Nago confirmed he will once again send Lori Tomczyk, the state's ballot operations section head, to Hilo to assist with the election. Tomczyk has overseen distribution and collection of ballots across the state since 2000. Tomczyk stepped in to help in the early morning hours of the Aug. 11 primary at the Hilo elections office, in a move elections officials said helped head off more delays on the Big Island. Kawauchi did not return an email Tuesday seeking comment for this story. Kawauchi, who never worked an election season in the clerk's office, was appointed to the clerk's job by a unanimous vote of the Hawaii County Council in late 2010.
She alarmed election officials this summer by abruptly closing her office for a day to conduct an audit without notice, remaining out of touch with key elections officials for up to a week and going to the state Attorney General's office concerned about voter fraud over a handful of cases that more experienced elections officials considered an overreaction to routine errors that showed no pattern of wrongdoing.
Copyright 2012 Hawaii News Now. All rights reserved.