EXCLUSIVE: BYU-Hawaii criticized for 'worthless' new degree program
Published: Sep. 10, 2012 at 9:57 PM HST
|
Updated: Sep. 12, 2012 at 12:59 PM HST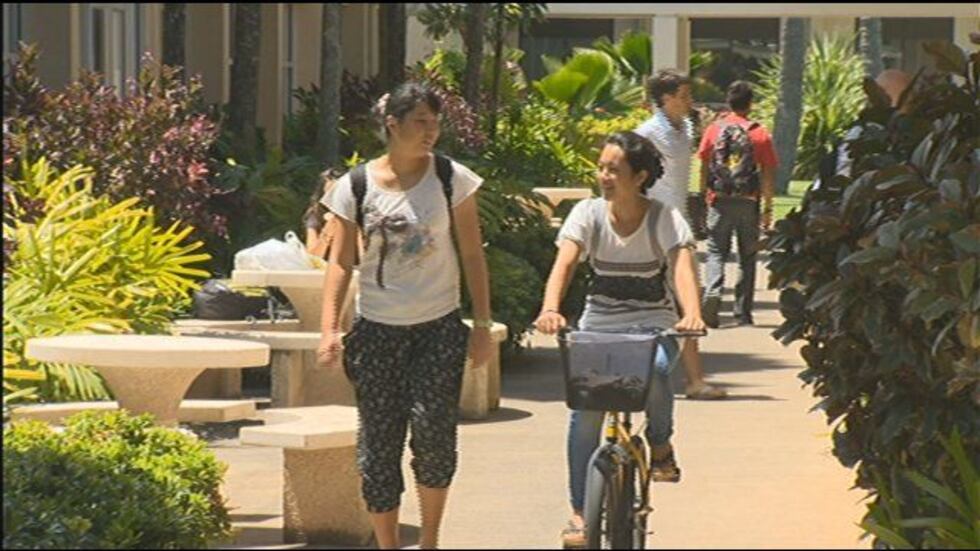 LAIE, OAHU (HawaiiNewsNow) -- Brigham Young University-Hawaii is working to improve its newest degree program -- one of its most popular --  after the school received sharp criticism from a regional accreditation team raising questions about whether the new major amounted to a "worthless degree."
Monday was the first day of the fall semester at BYUH in Laie, where the school plans to expand its 2,731-student population by about 2,000 over the next several years.
And that expansion is projected without additional spending from the Mormon church, which owns and operates the institution.
BYUH Vice President for Academics Max Checketts said the school added a new Bachelor of University Studies degree in the 2008-2009 school year, in part to allow students to take a smattering of courses in several disciplines.
"We found that a significant portion, approaching half, of all jobs, require that you have a bachelor's degree, do not care what the major is.  They just require that you have a bachelor's degree," Checketts said, explaining one reason for creation of the new degree program.
"The intention of this particular degree was to have something where a student, working with their faculty member, could say, 'Could I take some of this and some of that and put it together in a way that it will be a meaningful educational experience for me?'  And then we'll actually move them into what their actual desire is," Checketts added.
During a campus visit in March, a visiting panel from the Western Association of Schools and Colleges found that faculty and students "... expressed deep concern about the academic integrity and rigor of this degree, which they described as a kind of "consolation prize' for students judged incapable of completing a departmental major."
"Nearly all of the faculty and students the team interviewed by the team expressed a fear that the Bachelor of University Studies was a 'worthless degree' that would not be appreciated by potential employers and that would over time devalue the reputation of the entire school," according to a report by the WASC special visit team.
In response, Checketts told Hawaii News Now, "We obviously believe it's much stronger.  We don't have those fears.  We're not concerned about this weakening our reputation."
The new degree is the fourth most popular out of 25 on campus, he said. About 10 percent of BYUH's graduates were university studies majors this year.
"I'm not going to defend everything we've done because the truth is where there's smoke there's fire," Checketts said. "And there are some issues here that I think deserve attention and we're obviously taking, I think, very good steps to address those."
In a presentation to WASC's panel, Checketts and BYUH President Steven Wheelwright "recognized that typical institutional procedures for initiating this program were not followed, and period of insufficient oversight allowed" weaknesses to emerge in the program, WASC wrote in a July 10 letter to the school.
"This degree program lacks coherent faculty oversight, is not defined by stated learning outcomes, falls short of providing a concentration of in-depth learning expected of a major, is issued to a growing number of students primarily at the behest of an advisor, has not yet been subjected to program review, and shows little promise of preparing students for meaningful employment or future study," WASC said in the letter.
In reaction to the criticism, a faculty committee is reviewing the program and considering three options, Checketts said: either combining the degree with another interdisciplinary program, eliminating the degree or what he considered most likely: strengthening the degree.  He expects the committee, which began work two months ago, to submit a report in about one month.
BYUH also plans what's called a "program review," getting professors from other schools to analyze the degree and make suggestions for improvement, he said.
At WASC's request, BYUH will submit a detailed report to the accreditation organization talking about improvements made to the degree program by March 2013.  And then the accreditation body will send another team to visit the Laie campus sometime in 2014.
"This isn't in any direct way, impacting our accreditation status.  This is an opportunity for us to get better.  And we accept that.  We want to get better," Checketts said.  BYUH obtained its ten-year accreditation from WASC in 2008, so it's not up for renewal until 2018.
Founded in 1955, the school became a four-year institution in 1961.  It now boasts the most international student body of any four-year undergraduate college campus in the country, with about 1,000 foreign students from 74 countries.
In 2008, BYUH said the Mormon church would be reducing its financial support to the school from 80 percent to 70 percent of its operating costs.
To compensate for the financial cutbacks, BYUH has raised tuition by 20 percent since 2007 and expanded online courses so they now comprise 10 percent of all credit hours taken by on-campus and distance students, according to the WASC report on its March 2012 visit to the school.
"The team found that some of the strategies to reduce expenses have had serious, though perhaps unintended, consequences," WASC said in its July 10 letter to the school, noting that compressing the academic calendar to a maximum of nine semesters, requiring all students to take at least one summer session and requiring those on financial aid to complete their studies within three years could be putting undue stress on BYUH students and the professors who teach them.
Click HERE if you have a story you'd like us to investigate.
copyright 2012 Hawaii News Now. All rights reserved.