Some recycling bins turn into eyesore
Published: Sep. 10, 2012 at 9:22 PM HST
|
Updated: Sep. 11, 2012 at 7:35 AM HST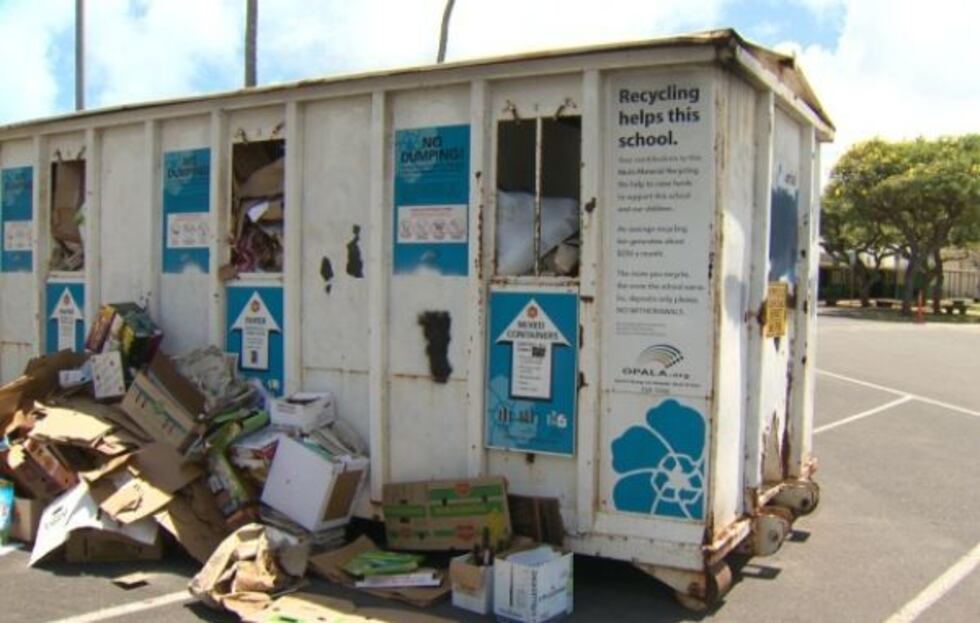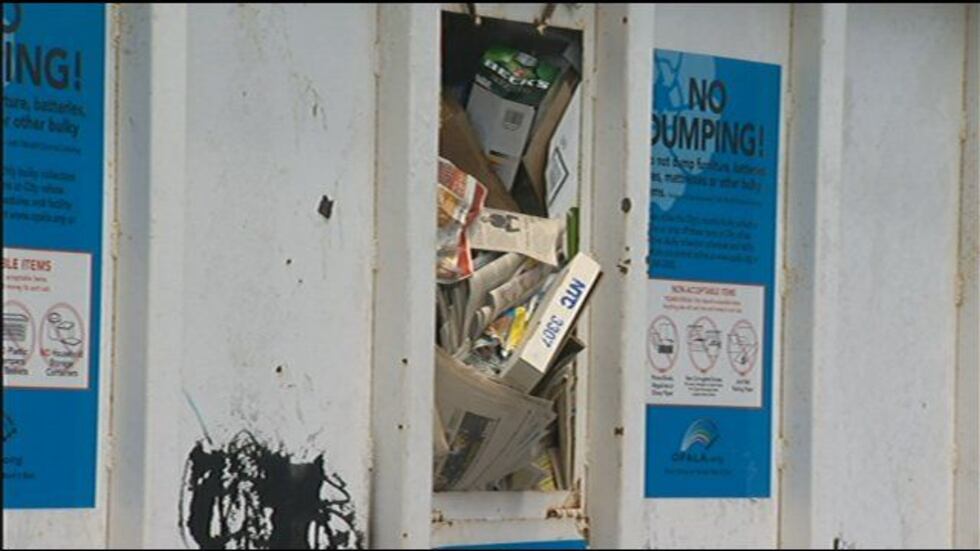 HONOLULU (HawaiiNewsNow) - A recycling program has started generating complaints along with cans and cardboard and some have already discontinued their efforts.
The big white recycle bins still say that the school benefits by receiving on average $250 a month, but really schools don't get a dime from the bins anymore.
Kailua Elementary School has one example of the overflowing recycle bins with glass, cardboard and paper all left outside the container.  It takes up valuable parking space or just blows away, not to mention it's unsightly and potentially unsafe with broken glass at schools.
Custodians spend added time everyday cleaning up the area. The school now has a pickup scheduled twice a week, but it still doesn't appear to be enough.
Enchanted Lake Elementary School also has to clean up the overflow of recyclables.
"It's one more chore that (custodians) have to do. They don't grumble when I ask them to please do one more thing," said Pua'ala McElhaney, Enchanted Lake Elementary School Principal.
"The paper of course will blow all over. Then when it does rain it's soggy and it's hard to put it back in and it gets heavy. Other than that at least there is a place for the community to bring their things," said Keola Costa, Enchanted Lake Elementary School Custodian.
On June 30 the city discontinued the white bin recycling program so schools stopped getting money and so did Honolulu Disposal Service, the contractor hired to pick up the bins.  As a result the number of bins dropped from 108 to 53. It's now dropped even more down to 34 bins island wide.
Some like Kaiser High School used to have a bin but since it was not maintained and picked up often enough it caused problems and the principal decided to remove it completely.
Other schools are thinking about that as well but also realize that won't solve all the problems either.
"I'm afraid that our community because it's been here for such a long time that they might leave it here without the recycling bin and we'd have to come and gather it and pick it up and dispose of it in another manner," said McElhaney.
"Sometimes with community projects it's not about the money, it's about providing a service to the community.  So hopefully we can have a wonderful relationship and continue that relationship while working with the community," continued McElhaney.
Schools do ask if the bins are full find another way to recycle, don't just pile on.
Honolulu Disposal Service says pickup times vary from once a week to once a month.  It will pick up full bins within 48 hours of receiving a call from a school.  However it is a costly operation and is only continuing this program as a community service.
The city council approved $2.4 million dollars to expand the white recycling bin program.  However the mayor's administration still opted to discontinue it because it's a money losing venture.  Instead it is working to continue the curbside blue bin recycling program which is available at 160,000 Oahu homes.
Copyright 2012 Hawaii News Now. All rights reserved.