Lingle and Hirono battle in feisty debate
Published: Sep. 6, 2012 at 6:47 PM HST
|
Updated: Sep. 7, 2012 at 12:18 AM HST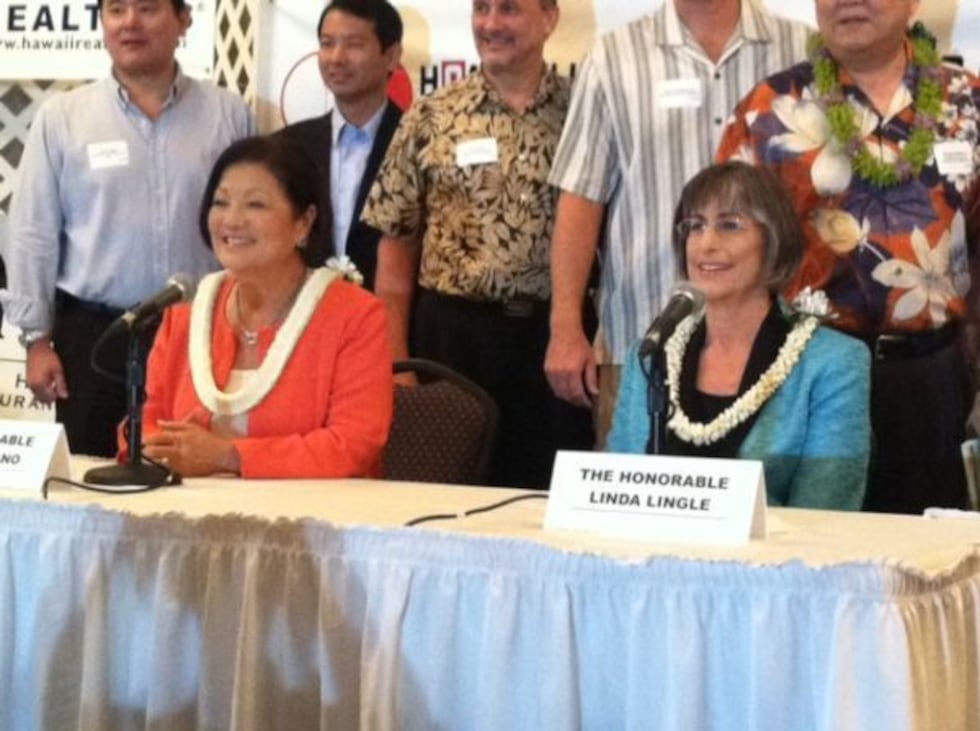 HONOLULU (HawaiiNewsNow) - In their first meeting since winning their party's nomination Linda Lingle and Mazie Hirono squared off in a face to face debate that at times got testy.
For the first time in Hawaii history neither Senate candidate was born in Hawaii.  It's a fact pointed out by Linda Lingle as she cracked jokes about her background in politics.
"That was a very unlikely path for someone like me, a haole, Republican, Jewish woman from the mainland. Who knew?" said Linda Lingle.
They quickly got into the issues.  On Social Security Hirono would raise the wage cap so higher earners pay more.
Lingle agreed but says that's not enough.  She also suggests an automatic IRA with employers, specifically targeting employees making less than $50,000.  She also pitched a new formula on retirement age where physical laborers would be able to retire earlier than office workers.
They disagreed on the housing crisis with Lingle saying Congress was asleep at the switch.  Hirono blamed Wall Street.
On rail Hirono supports transit.  Lingle does too but not Honolulu's current project.
On the question of helping Hawaii become globally competitive Hirono said infrastructure investments would spur job growth. She also touted her Visit the USA bill as a way to create 6,000 jobs.
Lingle says she would bring down the corporate tax rate, reform immigration in agriculture and education to make a pathway for people to stay. She also said the South Korea visa waiver program happened while she was in office.
"My opponent doesn't really understand the nature of being globally competitive. She was the only member of the Hawaii delegation that voted against the free trade agreement with South Korea. That made no sense for the people of Hawaii," said Lingle.
Hirono focused many of her arguments on the Republican Party and countered claims against her record in Congress with Republican Vice Presidential Candidate Paul Ryan.
"Paul Ryan in his 14 years in Congress has only passed two bills, one was to name a post office and the other was something to do with a tax on arrows, as in bow and arrows," said Mazie Hirono, (D) Senate Candidate.
Then came the feistiness as Hirono continued the attack Lingle's Republican beliefs.
"My opponent is the chair of the Romney/Ryan ticket," said Hirono.
That was the first reference.  Lingle pounced on the second.
"I let it go the first time but this is the second time," said Lingle.
"She is the co-chair of the Romney/Ryan ticket," Hirono stated again.
"I am a co-chair of Jewish Americans for Governor Romney and I'm very proud of that. For her to keep repeating something that's not true I think goes to her character and she should stop it," countered Lingle.
The question whether the United States should police the world turned into a battle when focus turned to the Iraq War.
"There is no question the world does look to the United States, however we cannot go it alone, this is an interconnected world. So when President Bush led us into War in Iraq it was basically a unilateral decision. That is not how we need to operate," said Hirono.
"The comment that we went it alone in Iraq is simply not true. I was in Iraq in '04 and when I was up in a C130 we were flying in from Amman, Jordan into the green zone, the air traffic controllers were from Australia.  The medical teams were from Poland.  There were many nations that were with America. We did not go it alone in Iraq and that's just a misstatement of the facts," said Lingle.
"I'm very proud of the fact that Hawaii's entire congressional delegation voted against authorizing President Bush going into Iraq," said Hirono. "That war unpaid for added billions and billions of dollars to our national debt."
"But you said we went it alone and we didn't," said Lingle.
"No I did not. I said we basically went it alone and that is a fact," said Hirono.
"Mazie we're pau," said Dan Boylan, moderator.
"This is fun," laughed Hirono.
"I think the truth is fun Congresswoman," said Lingle.
"Yes I think the Republicans should try that sometime too," said Hirono.
This was the first debate.  It will be interesting to see the fifth.
So who was more convincing today?  I spoke with one woman who was undecided at the start.  Afterward she said she was still undecided.
Political analyst Dan Boylan, who moderated the event, said the voters win because both candidates are very strong.
Hirono and Lingle will face off here on Hawaii News Now for a live televised debate October 22nd at 6:30 pm on KGMB, KHNL and KFVE.
Copyright 2012 Hawaii News Now. All rights reserved.