Overflow crowd shows up to oppose new law allowing private development on public land
Published: Aug. 30, 2012 at 1:39 AM HST
|
Updated: Aug. 30, 2012 at 1:57 PM HST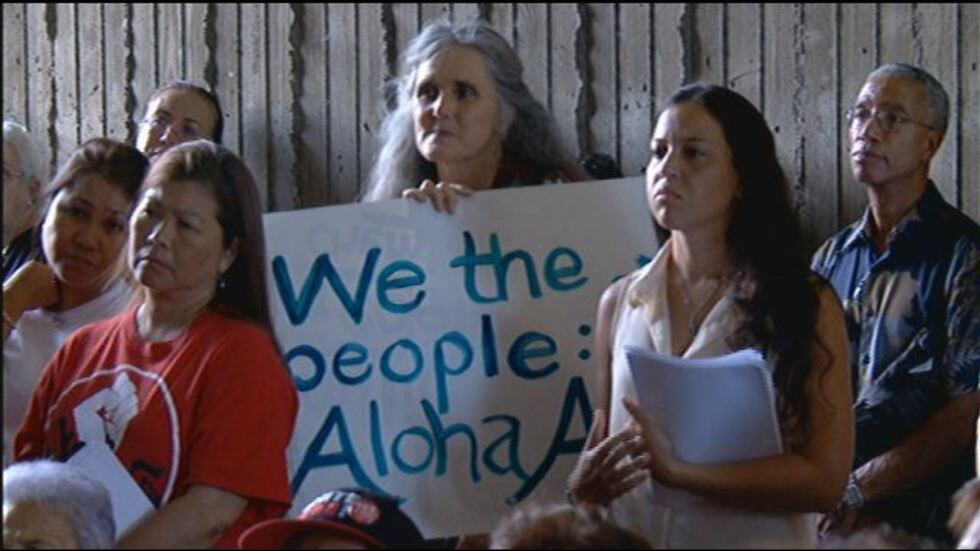 HONOLULU (HawaiiNewsNow) - Hundreds of people showed up at a public hearing regarding proposed rules for the Public Land Development Corporation, formed under a new state law that would allow private development on public land.
Nearly 70 people signed up to testify before the PLDC.
Most of those who showed up for Wednesday night's hearing were opposed, including members of UNITE HERE Local 5, the hotel workers union. They lined Beretania Street near the Kalanimoku Building with signs seeking the repeal of the law.
"This hearing is about rules. Nobody's talking about rules. And the reason they're not talking about rules is that this is the first time this bill is actually being heard," said Eric Gill of Local 5.
Under the law, the PLDC would oversee possible private development on under-utilized state land, including land at small boat harbors or even the parking lot of Aloha Stadium.
Environmentalists are wary of allowing the state to make a profit off some of those lands. "How do we commercialize Hawaii's public beaches, public parks, public schools, in a way to generate revenue instead of looking at it as public resources and things that we're supposed to maintain for future generations?" said Robert Harris, executive director of the Hawaii Chapter of the Sierra Club.
There are also concerns that the public will have less input in any proposed development, and that the corporation would be exempt from environmental and building laws. The state Department of Land and Natural Resources, which oversees the PLDC, said that's not so. It said the new agency will work in the same way as the Department of Hawaiian Home Lands or the Hawaii Community Development Authority, which oversees development in Kakaako. "DHHL, HCDA, works ell with the counties they are in, and doesn't abuse any of the same powers that have been given to them," said DLNR chairman William Aila.
A noted Hawaiian activist and attorney also said while the law has some flaws, the environment and historic preservation will still be protected. "Because of a campaign of misinformation and hysteria, everyone believes that the PLDC is exempt from these protections that Hawaiians for years got arrested for, myself included," said Mililani Trask.
Meantime, some who wanted to testify claimed that they were unable to get into the Kalanimoku building from the underground parking lot because it was after business hours. "The PLDC wants to sell off the Ceded Lands, which are Hawaiian Trust lands, to their friends at the expense of the Hawaiian people," said an E-mail from Lilikala Kame'eleihiwa, who is seeking another hearing.
The PLDC had previously held hearings in Hilo, Kona, Kahului and Molokai. One more hearing is scheduled for Friday from 6 p.m. to 8 p.m. at Elsie Wilcox Elementary School in Lihue. Aila said he expects substantial changes to be made to the rules, which would require an additional public hearing before they could be adopted.
Copyright 2012 Hawaii News Now. All rights reserved.