Council candidate challenging election loss
Published: Aug. 21, 2012 at 5:40 PM HST
|
Updated: Aug. 22, 2012 at 7:44 AM HST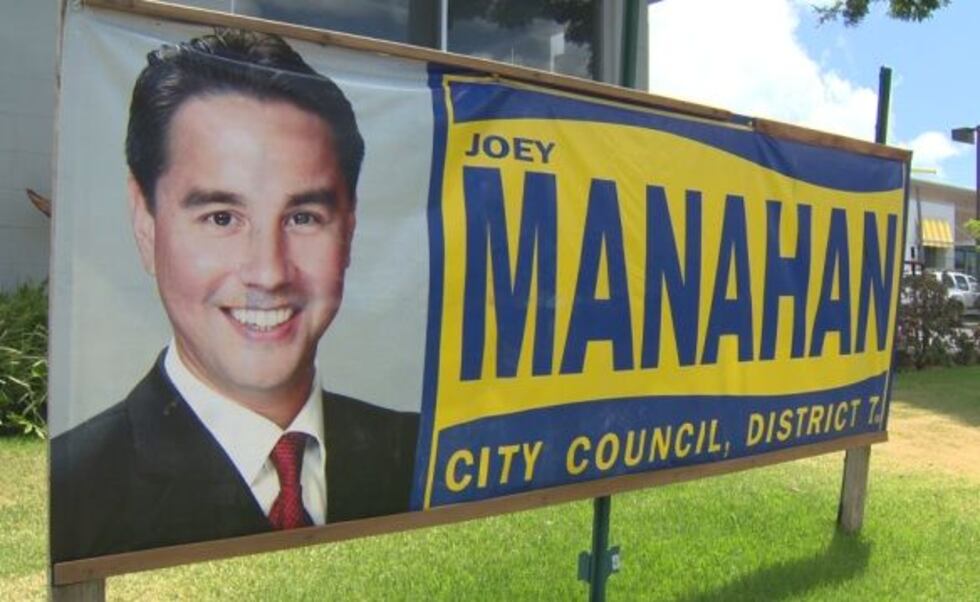 KALIHI (HawaiiNewsNow) - Martin Han said Honolulu City Council candidate Joey Manahan illegally placed his campaign banners within 200 feet of two polling places on Primary Election day.
"We did document it and we gave it to the necessary authorities," Han said.
In a complaint filed with the Hawaii Supreme Court, Han said a Manahan banner inside the entrance to Moanalua High School may have unfairly influenced undecided voters. Han said the polling captain removed Manahan's banner after he complained.
"We need to make sure we hold these politicians accountable for their actions. That's why we filed," he said.
Han also alleges Manahan pressured absentee voters to vote for him during home visits with outgoing councilman Romy Cachola.
"They actually sat down and waited and pretty much watched until they did the vote -- 30-02 is the district that we are looking at. He generated 777 (absentee votes). This is a big dramatic change. He's not even known in that district," Han said.
Manahan won the seat outright with 51 percent of the vote. Han wants election officials to carefully examine the absentee votes Manahan received.
"We want to make sure we clarify that and understand what's going on," he said.
In a statement, Manahan said, "I am absolutely confident we won fair and square. Our campaign has always been transparent, and I am sure that the Office of Elections will find no violations."
Han said he is contesting the outcome as an example for future first-time candidates.
"I don't want them to be afraid that when they come into this arena, that they're just going to get walked on," he said.
Copyright 2012 Hawaii News Now. All rights reserved