No polling places for nearly 3,000 voters in small precincts
Published: Jul. 30, 2012 at 10:05 PM HST
|
Updated: Jul. 31, 2012 at 1:23 AM HST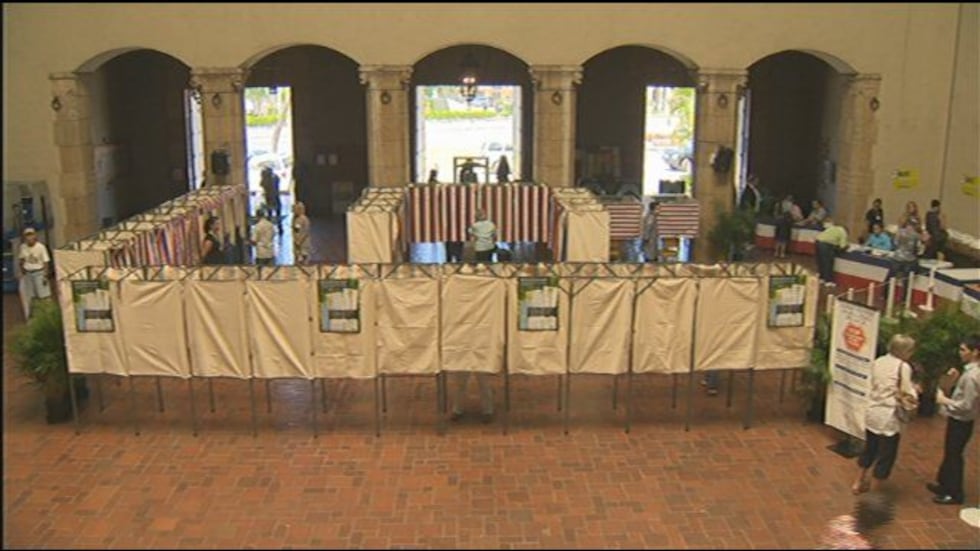 Honolulu (HawaiiNewsNow) – Walk-in early voting began across the state Monday as election officials warned voters to expect lots of changes because of redistricting.
The biggest differences this election year from the last election two years ago: about one third of voters across the state will be voting in different polling places, while 3,000 voters on Oahu and the Big Island will have no polling place to go to on Election Day, Saturday, August 11.
Two of the candidates for the U.S. Senate voted within a half hour of each other at Honolulu Hale Monday morning. They know about the changes brought by re-districting.
"I live across the street from my precinct, but my mine has also been changed, farther away, down the street and that's happening to a lot of people.  So it's not that far away, it's just that it's a change," said former Gov. Linda Lingle, who's running for the Republican nomination for Hawaii's U.S. Senate seat.
Former U.S. Rep. Ed Case, who's running for the Democratic nomination for the U.S. Senate, said, "Every ten years we do go through a reapportionment.  And I'm sure that people will work it out. And people find out where they're going to vote and who they're going to vote for if they want to vote, they figure all that out."
The best advice, according to election officials, is to look on the yellow voter registration card that came in the mail to confirm where you're supposed to vote Election Day.
Roughly 2,900 people in 14 Oahu precincts and 3 on the Big Island must vote early, at walk-in sites such as Honolulu Hale, or they have to vote by mail.
That's because they will not have a polling place on Aug. 11, since they're in small new precincts created by redistricting with fewer than 500 registered voters.
"When you have these little pockets, we need to create a polling place for each pocket.  Sometimes there's not a convenient facility in that area, in that precinct area," said Scott Nago, the state's chief election officer.
Nago said the state didn't want to rent facilities, train and hire election voters and set up machines in those tiny precincts, three of which have no voters registered and one of which has just one voter.
The largest "pocket precinct" has 415 registered voters and the average has 172 voters in it.  But the actual voting numbers will be smaller for each site, since only roughly 50 percent of the people are expected to vote on Election Day.
"It allows us to better utilize our resources so we can provide services to the people," Nago said.
But absentee ballots can still be used even on Election Day.
"Anybody that has an absentee ballot that was mailed to them and they haven't mailed it back by August 11, they can always drop it off at any polling place and it will get to us.  Just remember you have to get it to us by 6 o'clock that day," said Bernice Mau, the Honolulu City Clerk, who's in charge of registration and early voting for Oahu voters.
People unsure of where to vote should call the office of state elections, (808) 453-VOTE (8683).   The county clerk's office on your island can also answer questions.  Honolulu's clerk's office is (808) 768-3800, Hawaii island is (808) 961-8277, Maui County is (808) 270-7749 and Kauai is (808) 241-4800.
The state Office of Elections and county clerks have set up a web site where voters can enter their address and find their polling place instructions: Hawaii.gov/elections.
Copyright 2012 Hawaii News Now. All rights reserved