Molokai Hansen's patients hope to see Cope canonization
Published: Jun. 21, 2012 at 8:50 PM HST
|
Updated: Jun. 22, 2012 at 1:17 PM HST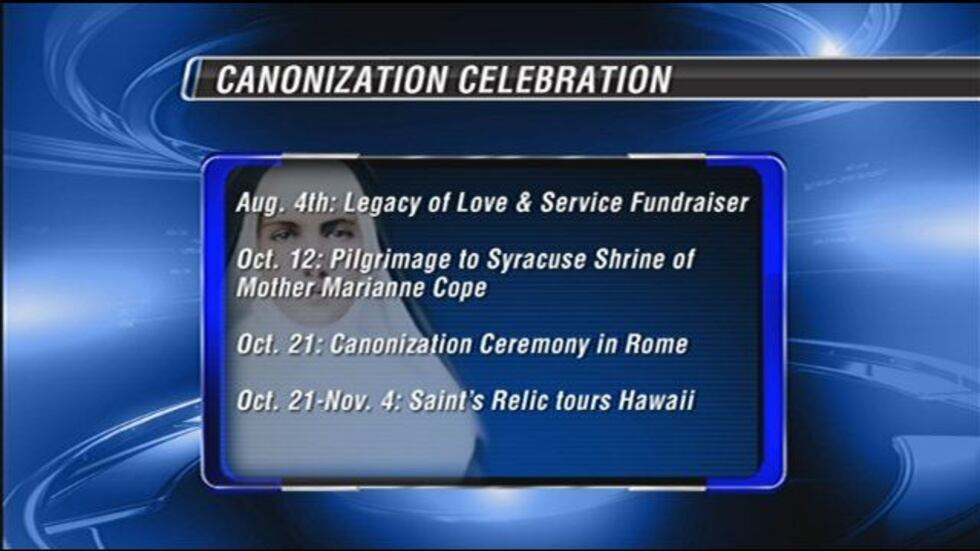 It was just three years ago, when Hansen's patients made the long journey from Kalaupapa, Molokai to Rome, Italy for Father Damien's canonization.
Now, they're hoping to do it again, for blessed Mother Marianne Cope.
"I'd like to think that God arranged it that way so the patients from Kalaupapa could enjoy the canonization of these two people that meant so much to them," says Honolulu Bishop Larry Silva.
Sister Marianne answered a call from the King and Queen to minister Hansen's patients in Kalaupapa in 1888, earning a reputation as 'mother of outcasts."
"They're not just there to die. They're people, souls of Christ, that really needed to be cared for," said Sister Damien Lau of the Order of Saint Francis.
There are now about 20 surviving patients. "The youngest is 68 the oldest is in her 80's."
The trip will be tough on them physically, but they wouldn't miss it. Only money stands in their way.
A fundraiser dinner will be held at the convention center on August 4 to raise money to send the patients and their caretakers to the Vatican.
In October, Bishop Larry Silva will lead a pilgrimage tour from Hawaii to Mother Marianne's shrine in Syracuse, New York where she entered the sisters of Saint Francis.
The tour ends with the canonization by the pope October 21. A relic of Saint Marianne's will tour Hawaii after that.
The celebration will cost an estimated $200,000. For the patients, it will be a priceless experience, that's amazingly come around twice in their lifetime.
Hawaii events related canonization of Mother Marianne Cope
August 4, 2012: "Mother Marianne Cope, A Legacy of Love and Service," Fundraiser for the Canonization, sponsored by the Diocese of Honolulu, Hawaii Convention Center ,Saturday, August 4, 2012  4-9 PM

Table sponsorships are available at $5,000 and $3,000 for tables of 10 and $2,000 for a table of 8. Individual seats are $250 each. Donations are being accepted too.

For more information, contact Sister Alicia Damien Lau at 348-7701 or Deacon Wally Mitsui at 341-1385.

Donations by check can be made payable to the Diocese of Honolulu/Mother Marianne and mailed to 1184 Bishop Street, Honolulu, HI 96813-2859.
[Oct. 21: Canonization in Rome]
October 21 – November 4, 2012: Veneration Pilgrimage of the Relic of Saint Marianne Cope in Hawaii – Oahu, October 21-26; Big Island, October 27-28; Kauai, October 29; Maui, October 30; Lanai, November 1; Topside Molokai, November 2; Kalaupapa, November 3

November 4, 2012: Mass of Thanksgiving, Cathedral of Our Lady of Peace, noon, Bishop Larry Silva presiding; procession to Iolani Palace with relic of St. Marianne for civic/interfaith ceremony on palace grounds; procession back to the Cathedral for Evening Prayer

November 16, 2012: "November Song," one-person drama about Mother Marianne, 8 PM; November 17, 3:30 PM and 8 PM, Sacred Hearts Academy Auditorium


January 12, 2013: Celebration in Kalaupapa, Mass and Luau
Copyright 2012 Hawaii News Now. All rights reserved.