PAC formed to stop Cayetano
Published: Jun. 19, 2012 at 9:52 PM HST
|
Updated: Jun. 20, 2012 at 12:47 AM HST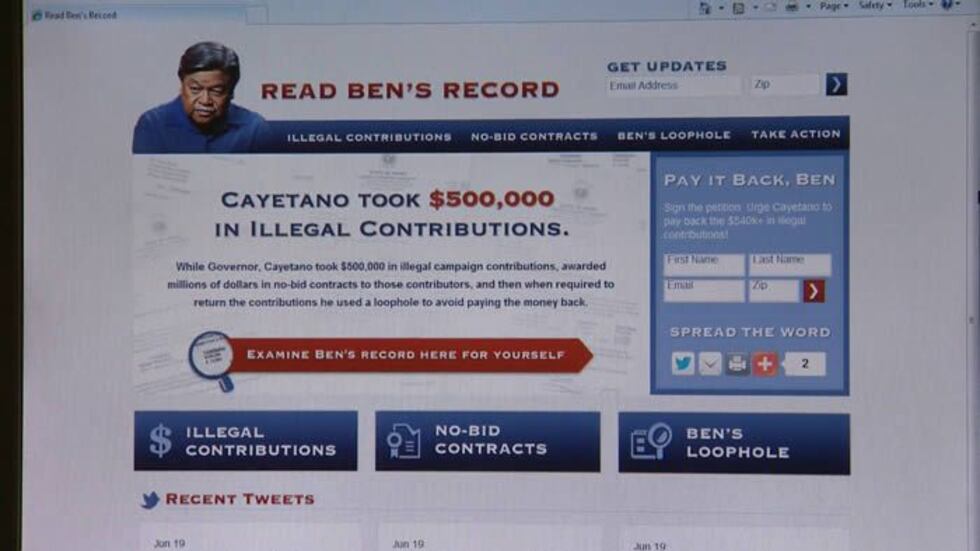 HONOLULU (HawaiiNewsNow) - With federal funding still in question rail advocates continue to try to stop anti-rail candidate Ben Cayetano from winning the mayor's seat.  Now a political action committee has been formed to attack his record.
A new ad going after Ben Cayetano will start airing Wednesday.  It's paid for by a new political action committee called Read Ben's Record which was started by the Pacific Resource Partnership.  It is the group representing 6,500 union carpenters and 220 contractors.
"We're presenting to voters a perspective on Cayetano's record in an area we are deeply concerned about," said John White, Pacific Resource Partnership (PRP) Executive Director. "The amount is staggering. One out of every ten dollars he received in 1998 was gotten by illegal campaign contributions."
PRP also launched a website against Cayetano highlighting the half a million dollars he received in illegal contributions in 1998 while running for his second term as governor.  The contributions came from donors giving false names or exceeding the per person limit.
The website also claims Cayetano awarded no bid contracts to some of the companies that gave illegally.
"There were clear linkages between people who gave illegal campaign contributions and no bid contracts that were released and we cannot return to that time," said White.
The third claim is that Cayetano used a loophole to close down his governor's campaign account.  Now he has opened a new mayoral account in order to not have to pay back the previous money.
"He is the only person that has set a precedent like this that closed a campaign account down. Reopened another state campaign account and basically did the equivalent of committing political bankruptcy," said White.
"This is not a smear. Everything we are presenting is based on public record. A smear is something when you make up rumors and lies and you say things that you can't prove.  There is no disputing Governor Cayetano took half a million dollars in illegal campaign contributions. There is no disputing that he used a loophole to avoid paying it back," said White.
"There is no obligation moral or otherwise to pay something back that you did not know was illegal," said Ben Cayetano, Honolulu Mayoral Candidate.
Cayetano says his gubernatorial campaign raised $5 million and he says by the time it was known $500,000 was illegal the election was over and the money spent.
"Why is it immoral? I didn't have anything to do with it. The money is spent. Do you think it is fair to ask the candidate to go out and raise a half a million dollars to pay people back?  The guys that made the illegal contribution don't get their money back. They are prosecuted. They went to jail," said Cayetano.
Cayetano also denied giving government contracts to the illegal campaign contributors.
"They didn't get any contracts illegally, put it that way. There was no favoritism to those guys. If they contributed to my campaign they may have contributed to (former Mayor Jeremy) Harris or my opponents," said Cayetano. "PRP would like people to feel that we knew because they are so damn desperate. They are worried about losing this election. They are worried about all the lies they have told the public."
PRP initially is spending $100,000 on the Read Ben's Record political action committee. White says he will commit whatever resources necessary to get the message across.
Cayetano passed out the home number of Bob Watada the former state campaign spending director at the time.  We called but he did not return calls but Cayetano says he plans to fly him out to Hawaii to help clear some of the allegations.
Copyright 2012 Hawaii News Now. All rights reserved.