Ceremony commemorates 50th anniversary of USS Arizona Memorial
Published: May. 27, 2012 at 10:48 PM HST
|
Updated: May. 28, 2012 at 9:59 AM HST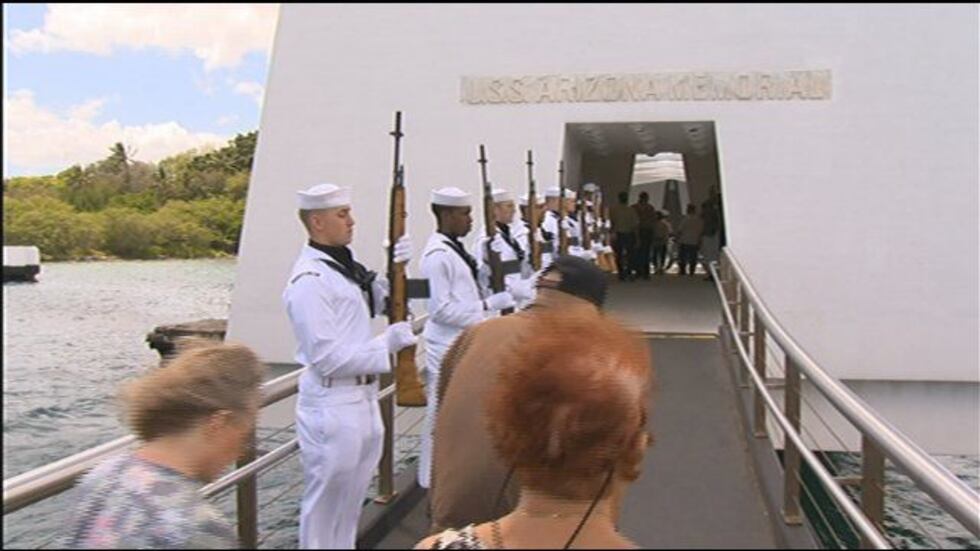 PEARL HARBOR (HawaiiNewsNow) - The 50th anniversary of the USS Arizona Memorial drew Pearl Harbor survivors to the monument Sunday.
The permanent tribute honors the more than 1,100 men killed during the attack.
The Arizona Memorial was dedicated on May 30, 1962, and 50 years later, it's one of the most recognizable and most visited places in Hawaii.
200 invited guests, including Pearl Harbor survivors, braved the strong winds on the memorial, which straddles the USS Arizona like a bridge.
"Those who were there wanted to be sure that Pearl Harbor was not forgotten. That the men who died on the Arizona now lie entombed here will be honored", said former Governor George Ariyoshi.
But Ariyoshi also said it was the intent of architect Alfred Pries to make the memorial a monument of peace.
When it was designed in the early 1960s, some people criticized its design, being too abstract and too modern for a war memorial. But it's timeless now.
"It's a classic, isn't it? Part of the mid-century modernism period, and it's very impressionistic, and I can't think of a more fitting tribute to those who lost their lives on December 7th and in the entire war", said World War II Valor National Monument Superintendent Paul Deprey.
"The memorial's classic beauty is no coincidence. A splash of brightness on the darkened waters. It is the embodiment of dignity and hope", said U.S. Representative Colleen Hanabusa.
It is hard to imagine anything else being here, standing over the USS Arizona, and honoring the crew members who lost their lives here at Pearl Harbor.
A place where those who died have their names inscribed.
Where thousands of people, every day, have the chance to reflect, and where solemn ceremonies, like this one, are held.
It costs about $500,000 to build the memorial back in 1962.
It now draws 1.8 million visitors every year.
Like anything else 50 years old, it needs some work.
"And that's things like refinishing some of the walls and some of the floor surfaces, taking a look at the electrical systems. There's a lot of conduits that go all over the place that we're not using any more and weren't part of the original memorial construction, said Deprey.
The National Park Service, which oversees the memorial, hopes to get that work done in the next year or two to restore the memorial, and make it look like it was 50 years ago.
Copyright 2012 Hawaii News Now. All rights reserved.