Hawaii's fallen heroes remembered in medal of honor ceremony
Published: Mar. 28, 2012 at 9:53 PM HST
|
Updated: Mar. 29, 2012 at 12:29 AM HST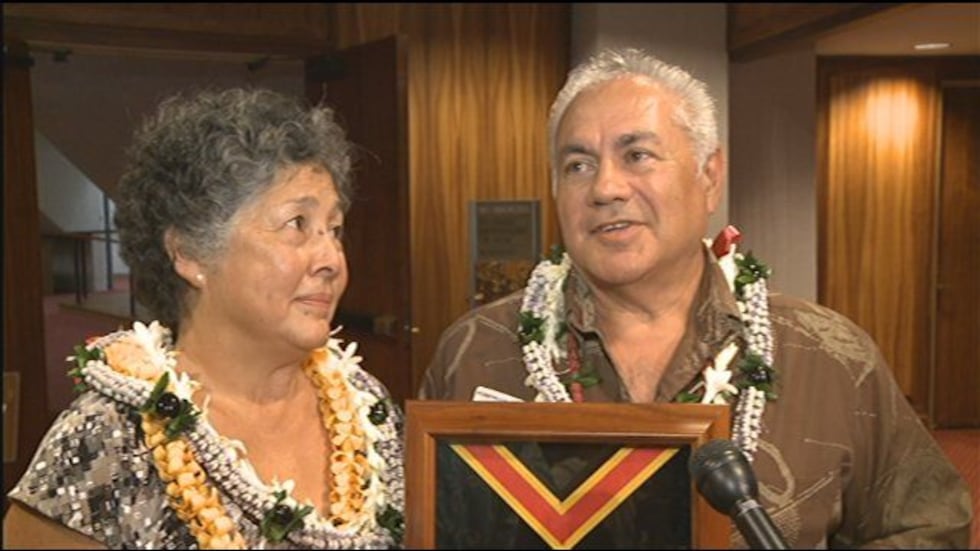 HONOLULU (HawaiiNewsNow) – Hundreds of people gathered at the State Capitol Wednesday to remember 24 servicemen with Hawaii ties who died during the past year in Iraq and Afghanistan.
Two men who grew up in Hawaii were among those fallen heroes honored.
The State House chambers were packed as lawmakers joined family, friends and fellow service members of fallen heroes for Hawaii Medal of Honor ceremonies.
One-by-one, their names were read as their friends and families came forward to receive medals.
A sailor rang a bell twice for each of the fallen people as an announcer read the information about each war casualty.
"United States Marine Corps Lance Corporal Christopher l. Camero," said the announcer.  Corporal Camero was 19. He was from Kailua-Kona, Hawaii."
Camero -- a 2010 graduate of Honoka'a High School -- was the youngest person remembered Wednesday.  He died in a combat operation in Helmand province, Afghanistan July 15.
Also honored the memory of Navy bomb disposal expert Kraig Vickers, a Native of Maui.
Vickers, a Navy senior chief petty officer, 36, was a father of three who died in Afghanistan in August when the SEAL team he served with was shot down in a helicopter.
"Craig and many men like him and women are still out there.  Keep them in mind, in your prayers," said Mary Vickers, Kraig's mother, who lives in Haiku, Maui.
Kraig Vickers' wife Nani has just moved back to Wailuku, Maui from Virginia Beach, Virginia.
She accepted the medal Wednesday, along with her eight-year-old son Kalai and daughter Malie, 5, as well as the Vickers' five-month old daughter, Kalei, whose father died before she was born.
"I thank god for a very grateful nation.  People from every avenue have been very supportive, from across the nation.  We never expected something like this to happen, but when it does, we all pull together," said Mary Vickers, with tears welling in her eyes.
Kraig's father, Bob Vickers, said, "For us, we know where he's at and that is what gives us the peace and comfort, knowing that he's in the presence of the lord Jesus."
State Senate President Shan Tsutsui said, "To the family and friends of our honorees: thank you for sharing America's heroes with the rest of us."
This is the seventh year that the State Legislature has honored people with Hawaii ties who died in wars overseas. Those honored included 20 soldiers, three marines and one sailor.
Copyright 2012 Hawaii News Now. All rights reserved.