Occupy protesters pushed out of Thomas Square
Published: Dec. 30, 2011 at 9:51 AM HST
|
Updated: Dec. 30, 2011 at 11:13 PM HST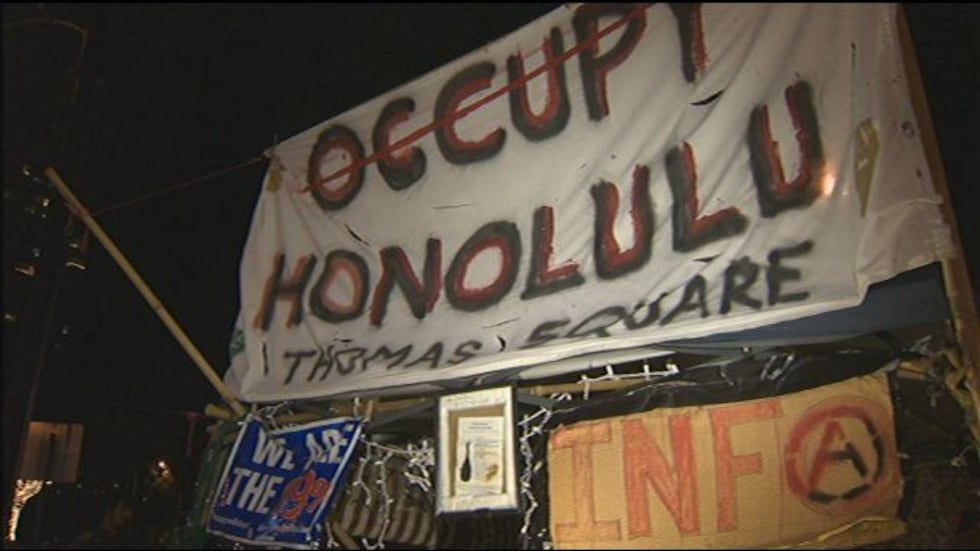 By Ramsay Wharton – bio | email
HONOLULU (HawaiiNewsNow) - Gone are the large tents, signs and structures of Occupy Honolulu at Thomas Square located at the intersection of Beretania Street and Ward Avenue. This morning, only a small row of tents and some property remain after last night's shake up that forced the group, literally, to the curb.
The activists had to move or lose their property after city officials say they determined that the Occupy campsite fell within the park's "true" boundary, determined yesterday. Then around 10 o'clock last night police civil affairs officers showed up to enforce park closure rules which keep people out of the park from 10 at night until 5 in the morning.
"The park boundaries are designated with the white dots. Anybody on this side of the park, please comply and leave," said a Honolulu police officer addressing the group.
"We had to confirm that this was being done on our property. We had a survey being done by another department, so once the survey was completed we got the go ahead to go in there and do this, said Gary Cabato, director of city's department of Parks and Recreation. Cabato added that he wanted to remove the overnight campout back in November, but the confirmation of park boundaries took time.
During the process, a 25 year old man, Dangalo McIntyre was arrested on four outstanding warrants, while 51 year old Stephanie Keenan was arrested for violating park rules and for two outstanding warrants.
Occupy protesters complained that police had previously told them they were not considered to be within park limits.
"Apparently these dots on the sidewalk now constitute the park boundaries, even though we've been here for a month and a half, even though we've been told this concrete is not part of the park," said Occupy Honolulu protester Megan Brooker. "Apparently now it's changed, and it is and so they've threatened us and told us that we had to leave. At which point, people moved to the sidewalk and complied with the request."
"They pushed us out to the sidewalk and made it even more uncomfortable for the people who's walking by, made more of a mess of their precious park that has a lot of historic value. So, I mean, it's just really just distasteful for everyone," said protester Chris Smith.
After last night's push back, about a dozen tents were relocated to the sidewalk. Now the movement is in violation of the new so called sidewalk law, Bill 54. This means once police notify them, they'll be given 24 hours to move their property, or it could be confiscated.
Smith said Occupy Honolulu will stay along the sidewalk for as long as possible, then move and show up somewhere else, perhaps even less desirable.
He added that the group has tried to make their voices heard legally.
"The city offers a permit for first amendment rights within its park. And they just keep strong holding saying no, we're not going to deal with that with you," said Smith.  "Well if you don't want to allow us to be legal then you want to create laws to make it so it's illegal when we find a legal way of doing it, that's not fair for anyone. You just made a mess."
Public reaction was mixed to the shake-up. Some residents were sympathetic to the group and their efforts to express their first amendment rights. Others paid them no mind and considered them harmless. Most of the people we spoke with admitted to not fully understanding what the Occupy message was, nor what the group was trying to accomplish.
Others, like one unidentified area resident, expressed her pleasure at the down sized camp site and her strong desire for see the Occupy protesters leave Thomas Square. She became emotionally upset when she recanted seeing hammocks hanging from three trees at the site. The woman claimed they were planted on behalf of arborist and September 11th victim, Christine Synder, and that the group had desecrated her memory.
Smith said he wasn't aware of the trees' local significance, but added that the hammocks weren't originally put up by members of the movement.
"They were up there for about a week. Some of the individuals who was using them wasn't people of the movement and we had other ways of having people lay down, with the tents we were providing so they were taken down," said Smith.
In the meantime, Occupy Honolulu awaits the city's next move which will seek to boot them off the sidewalk. And then, it could turn into a cat and mouse game with authorities where Occupy protesters set up, break down, and stay on the move.
Copyright 2011 Hawaii News Now. All rights reserved.