5 dead after tour helicopter crashes on Molokai
Published: Nov. 10, 2011 at 5:41 PM HST
|
Updated: Nov. 11, 2011 at 8:26 AM HST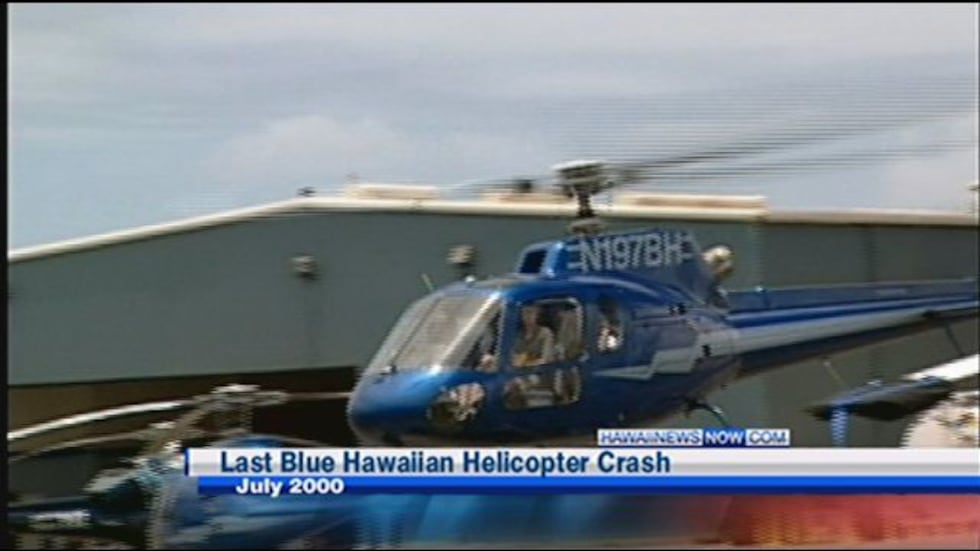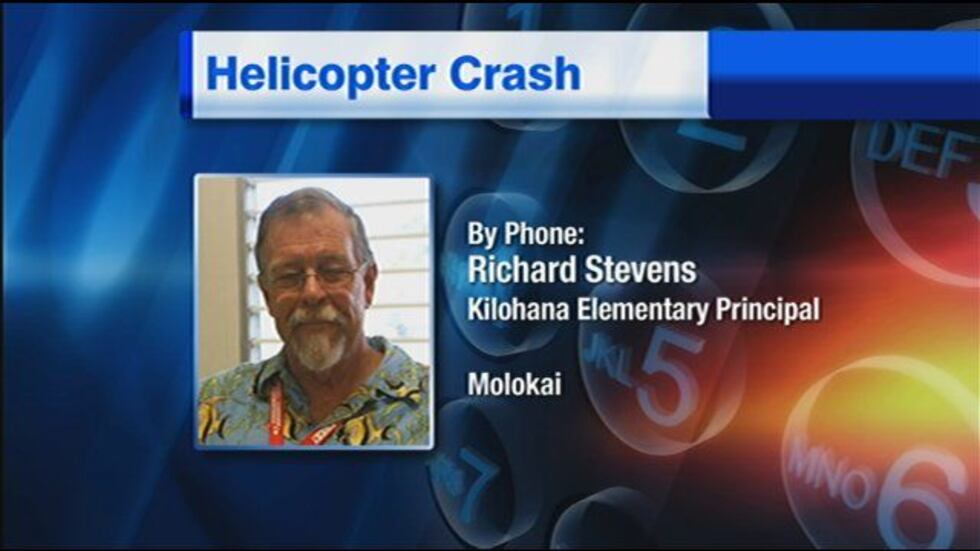 By Minna Sugimoto - bio | email
MOLOKAI (HawaiiNewsNow) - A 30-year-old pilot from Kihei, Maui and four passengers are dead after a tour helicopter slammed into a hillside on the east end of Molokai at about 12:15 p.m. Thursday.
Maui county fire officials say the weather in the area consisted of rain and a lot of wind.
The crash, involving a Blue Hawaiian tour helicopter, happened about a quarter-mile behind Kilohana Elementary. A newlywed couple from Pennsylvania and two people from Ontario, Canada were on the flight.
"On behalf of everyone here at Blue Hawaiian, we're devastated and we're going to do everything we can to cooperate with the authorities," Patti Chevalier, company president, said. "We are heart-broken."
School administrators say they heard a loud boom, which they initially thought was thunder since it had been raining. But they soon saw the chopper, which was engulfed in flames.
"The school health aid, whose office is in the back side of the campus, actually saw the helicopter run into the ridgeline behind the school," Richard Stevens, Kilohana Elementary principal, said.
One of the classrooms on campus served as a command post for emergency personnel.
"The rescue personnel got there very quickly," Stevens said. "I have more manpower at the school than I could have imagined for Molokai, so the kids are well taken care of."
The pilot was identified as Nathan Cline, 30. Two male passengers and two female passengers were also on the flight, which originated in Kahului, Maui.
Maui Mayor Alan Arakawa received the tragic news while participating in APEC events on Oahu.
"We truly want to express our sorrow to all of those whose families are involved," Arakawa said. "Blue Hawaiian, this is only the second accident they've had in the history of the company, so generally a very, very safe company."
In July 2000, all seven people on board were killed when a Blue Hawaiian helicopter went down near Iao Needle on Maui.
Arakawa says he knew the pilot on a personal level.
"He's taken us around when we had the tsunami problems," the mayor said. "We went around and we actually got to see all of the details, taking us real close. (He was) very experienced. We're just really sad that this has happened."
Workers at the company's Oahu location said they were grieving, but trying their best to reassure customers.
The Maui Visitors Bureau is working with the families of the passengers.
The Federal Aviation Administration and the National Transportation Safety Board will be investigating.
Copyright 2011 Hawaii News Now. All rights reserved.