Occupy Wall Street movement moves to Magic Island
Published: Oct. 11, 2011 at 2:18 AM HST
|
Updated: Oct. 11, 2011 at 2:51 AM HST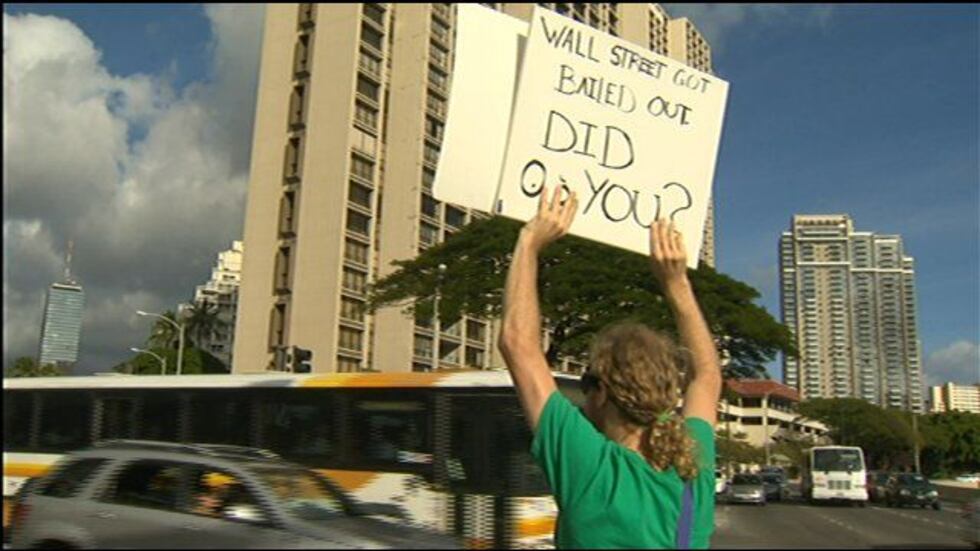 HONOLULU (HawaiiNewsNow) - The Occupy Wall Street movement moved to Magic Island on Monday. After gathering in Honolulu for three straight days, the various demonstrators are still trying to figure out their group's identity. They're all frustrated and they want to see change. They said there is no leader, however, since it's a direct democracy, and everything must be agreed to by consensus.
The protestors have different agendas. They're loosely organized and staying connected through the internet. They're all inspired by the Occupy Wall Street movement that began nearly a month ago.
"When I found out about Occupy Wall Street I got really excited and was kind of antsy about getting out in the streets and demonstrating to do the same thing that they're doing which is raise awareness," said protestor Lucas Miller.
The group's latest name is Occupy Honolulu, but some in the Native Hawaiian sovereignty movement find the word "occupy" offensive.
"It's just an emotionally-charged word with the natives of the islands. I no really care. It's up to you guys. Whatever you guys decide to use the name, but try think about the people, too," said protestor Kelii Aipia.
The demonstrators are fighting what they call corporate greed and financial inequality. The group is gaining followers, but others are criticizing the campaign.
"Wall Street, sure there's rich people who take money and get big salaries, but the solution is not standing in the street saying take it all away from you," said California visitor Dorothy Ralphs.
Honolulu police officers from the Civil Affairs unit monitor all of the group's gatherings. Authorities said they're making sure the rallies are peaceful and that the demonstrators are protected. The protestors are still working on goals and a plan of action. Critics have said the demonstrators lack a cohesive message.
"I would say that there's some truth to that. We are still in the process of forming our message and you can definitely look forward to us agreeing on our actual official message," said protestor Michael Broady Jr.
"There is nothing for nothing. We all have to pay. I'm sorry. I totally disapprove of this. They don't understand what they're talking about," said Ralphs.
The group at the general assembly at Magic Island decided to support drafting a solidarity statement with indigenous peoples.
Protests have also been taking place on the neighbor islands. Global demonstrations are planned on October 15.
Copyright 2011 Hawaii News Now. All rights reserved.