Dramatic shark encounter off Big Island caught on tape
Published: Jul. 24, 2011 at 10:07 PM HST
|
Updated: Jul. 25, 2011 at 1:53 PM HST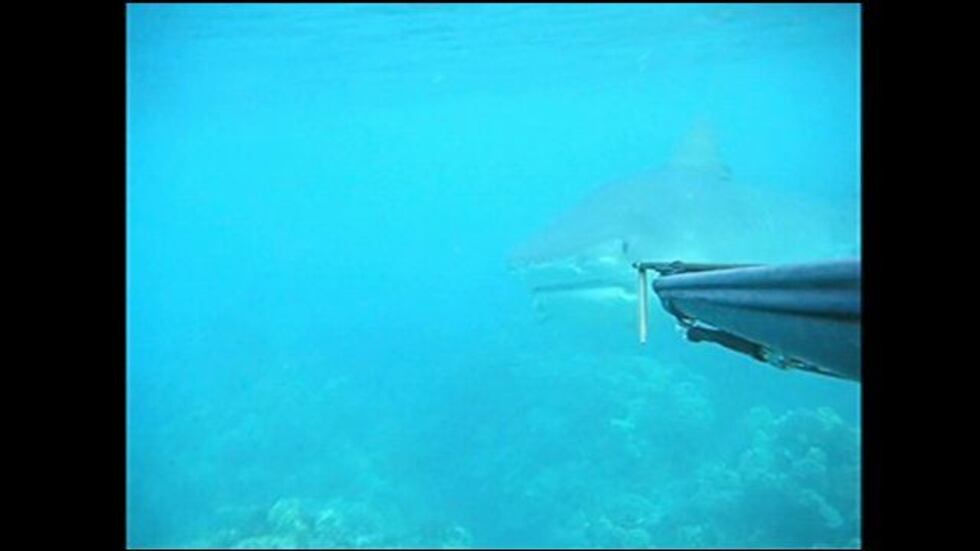 By Minna Sugimoto - bio | email
HONOLULU (HawaiiNewsNow) - A father and son from Oahu have a dramatic fishing tale to tell and video to prove it. They came face to face with a tiger shark while spearfishing on the Big Island Sunday.
The shark sighting triggered the closure of Hapuna Beach. Beachgoers saw as many as three sharks cruising right off-shore.
Hawaii Kai resident Mike Uyehara unloaded his spearfishing equipment, after returning from a spine-tingling excursion to the Big Island. He says he and his 15-year-old son, Eric, were about 20 yards off-shore near Hapuna Beach at about 6:15 AM Sunday, when they came face to face with a shark.
"What the video doesn't show is we're back peddling," Mike Uyehara said. "We're going backwards as fast as humanly possible."
He says the estimated eight- to 10-foot tiger shark made three passes at them before losing interest.
"In person, it looks larger," the 49-year-old said. "Actually, it looks small on video. When you're eye to eye, it looks much larger."
"Every time it turned closer, it was kind of scary," Eric Uyehara said.
Father and son jumped in the water just five minutes earlier, and had not yet speared any fish. They're thanking their lucky stars for that.
"Actually, the shark seemed calm," the elder Uyehara said. "So I felt pretty calm, as we were back peddling."
The Uyeharas notified authorities. Shark warning signs were posted and Hapuna Beach was closed.
The fire department conducted an aerial search, and confirmed the presence of three sharks in that area.
Mike Uyehara has been spearfishing for as long as he can remember. He travels to Hapuna Beach twice a year. So if the shark had become aggressive, was there a plan?
"Swim faster than him," he said while pointing to his son and laughing.
No one was injured. No word yet on whether the beach will re-open Monday.
Copyright 2011 Hawaii News Now. All rights reserved.