Website accuses State Lawmaker of cover up
Published: Jul. 13, 2011 at 7:15 PM HST
|
Updated: Jul. 14, 2011 at 11:02 AM HST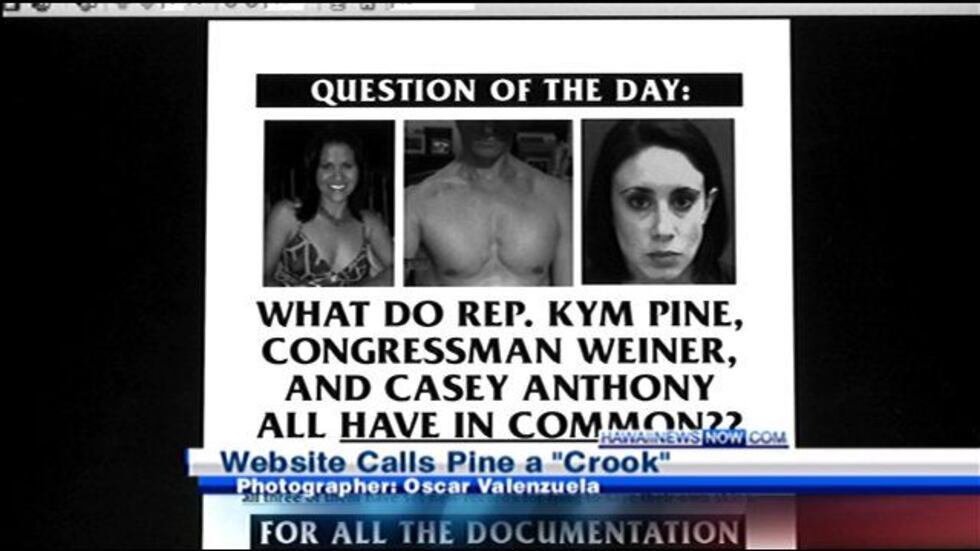 HONOLULU (HawaiiNewsNow) - An inflammatory website has hit the Internet that claims State Rep. Kymberly Pine stole money from a constituent then tried to cover it up.
The site shows a picture of Pine next to photos of disgraced ex-congressman Anthony Weiner and Casey Anthony.  It promises proof Pine "stole thousands from a constituent then filed false police reports and made false public allegations as part of an elaborate cover up."
Pine said it's all lies. She said the man behind the site is web designer Eric Ryan.
"He's trying to hurt my family and my family name," she said.
Pine hired Ryan to manage her campaign website in her 2010 bid for re-election to her Ewa Beach seat.
Ryan has said Pine owes him money for work he did and was never paid for.
She insists she paid him in full.
"He and his business partner, between them, I have paid over $10,000 for basic websites. And they kept asking for more money," she said.
The website said Pine lied about being a victim of hacking.
But she accuses Ryan of hijacking her campaign and legislative websites, locking her out, and holding her passwords hostage.
"He wanted to force me to keep him on as my web designer until 2012. And he wanted to force me to endorse him so he can get more clients," she said.
Ryan owns a company called Studio Ryan, a graphic .design and advertising firm. He worked with the group Stop Rail Now. He is the chief of staff for Honolulu City Councilman Thomas Berg.
Ryan turned down Hawaii News Now's offer to tell his side of the story. He said he will have more to say after the next phase of the website launches on Friday.
Meantime, Pine is getting her evidence in order.
"I have all my documentation," she said. "I'll be happy to go to court in a civil, respectful way. But he doesn't want to do that."
Pine said Ryan threatened to destroy her career so she would never be able to run for office again. She told police he tried to break into her bank records.
"If I can stop him by trying to be strong in reporting these crimes to the police, then hopefully no one else will suffer from this man," she said.
Copyright 2011 Hawaii News Now. All rights reserved.