Should we re-vote on the rail project?
Published: Jun. 16, 2011 at 1:32 AM HST
|
Updated: Jun. 16, 2011 at 4:46 AM HST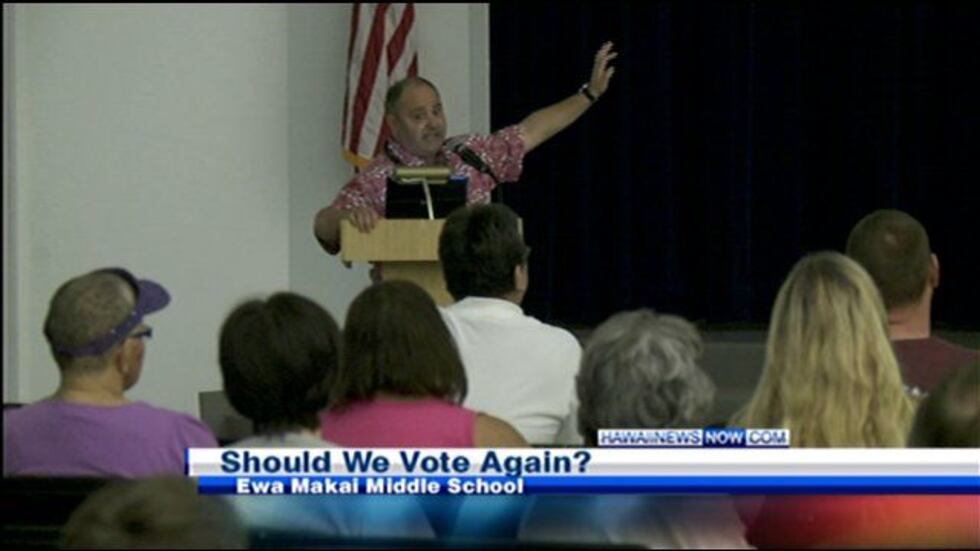 EWA BEACH (HawaiiNewsNow) - How would you like a do-over on the rail vote? That's what some critics are pushing for. City Councilman Tom Berg called a town hall meeting tonight to rally support for a re-vote.
A packed house debated the most expensive construction project in Hawaii history.
Wednesday's meeting was the first in a series of special Leeward Town Hall Meetings. Dr. Panos Prevedouros explained that several changes have been made to the city's rail plan, since the public authorized the project in 2008. Back then, voters approved the transit system by a slim margin and polls continue to show the same thing.
But the University of Hawaii professor says the rail project will cost much more than the proposed $5.3 billion. Prevedouros also says the route has changed since the public voted.
Plus, Cinnie Firth, a Kailua resident, alleges there are several other problems with the current rail plan. The concerned taxpayer expressed, "Will it decrease traffic congestion? No, and the crime here is that the city already knows this. People will be put to work, but that doesn't mean people who live here will be put to work.
On the contrary, Peter Iriarte, who's the field spokesperson for the Mason's Union, says, "You know what? We voted on it. We need to move on. If the gas goes up to $6, you know what, if this rail was up, I'd catch the rail."
Dr. Prevedouros offered alternate solutions to the rail, saying something certainly needs to be done about traffic congestion here on Oahu. He proposes to expand roadways, and build tunnels, using skills that Oahu workers already have.
The city is continuing to push for the transit system, saying there's growing public support for the project, even though the controversy still remains.
Copyright Hawaii News Now 2011. All rights reserved.