Bike sharing rolls into Kailua
Published: Apr. 28, 2011 at 2:39 AM HST
|
Updated: Apr. 28, 2011 at 11:27 AM HST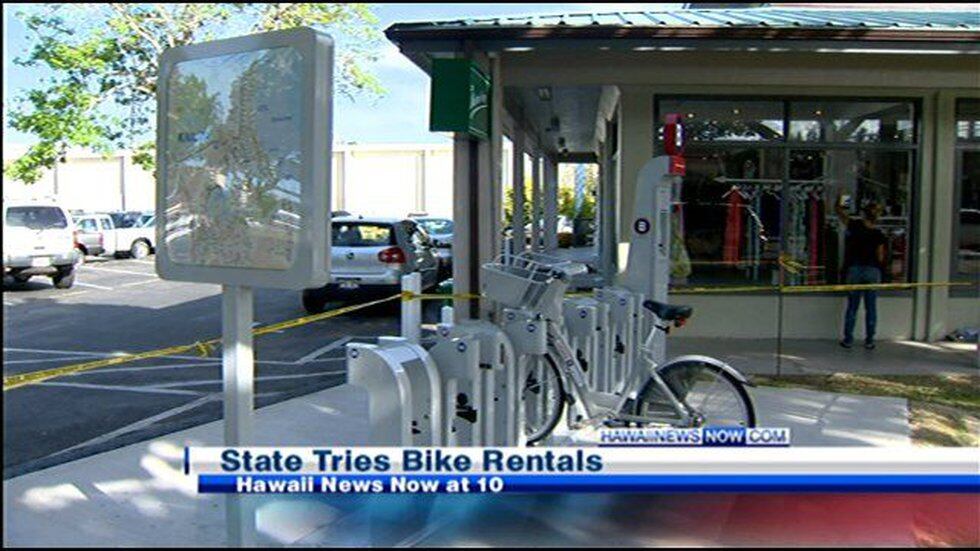 KAILUA (HawaiiNewsNow) - A new experiment in pedal power is about to launch in Kailua. It is called Hawaii B Cycle, a shared bicycle program designed to give anyone 18 and older the opportunity to make short term bike rentals at an affordable price.
The state's first two bike sharing stations have been built in Kailua, one on Kailua Road in front of Muumuu Heaven and the other on Kailua Road across the street from Times Supermarket.
"So you just walk up to the station and wake up the station by just tapping it. Then you check out a bike," said Nguyen Le, Hawaii B Cycle principal, while explaining the rental process to Hawaii News Now.
Nguyen was introduced to the concept of shared bikes when he lived in Paris, a city with more than 26,000 shared bicycles. Other cities including Rome, Oslo, Barcelona, Montreal, and Denver also have bike sharing programs.
In Kailua it will cost $50 dollars for a one year bike-share membership and $5 for a one day pass. Anyone with a valid membership or pass can take a bike for up to a half hour without paying an additional fee. Every half hour after that will cost $2.50. Multiple trips within a day are allowed, and as long as a bike is returned to a station within the allotted 30 minutes there will be no additional charges.
"Say they come here to shop at Muumuu Heaven. They can just take a bike and go around the corner maybe go to Lanikai Juice or Fat Boys and get lunch or something and just leave their cars here. And get a little exercise, a little walking, without having to get back in their cars," Nguyen said.
Bike sharing is for people making short cross-town trips. Take a bike. Run an errand. And get the bike back in the rack within half an hour.
"You don't ride the bike and then park it and prevent other people from using it. You ride the bike. You bring it back to the station so that someone else in the public can use it," Nguyen said. He added that it is more economical for people who need long term rentals to acquire a bike elsewhere.
Bicycles are environmentally friendly. They promote good health. That is why the $100,000 for the program came from the state's Healthy Hawaii Initiative, a program funded with money the state got in a settlement with Tobacco companies.
The Hawaii B Cycle bikes are sturdy and tamper resistant. They have three speeds and puncture resistant tires.
When we explained the ride share program to people on the streets of Kailua, most said they think it is a great idea. But some questioned whether it will be effective here.
"I think having this here is a good thing for visitors and it's convenient. But for most of the locals that live here, we already have it. We already have our own bikes," said Kailua resident Michelle Koholua.
Beginning Saturday people will be able to use any of the 12 bikes that will be parked in Kailua's two bike sharing stations.
The goal is to eventually build more stations in Kailua, and if successful, install stations around the state.
For more information visit the Hawaii B Cycle web site at the following address.
Copyright 2011 Hawaii News Now. All rights reserved.