President Obama's birth certificate delivers news to doctor's family
Published: Apr. 27, 2011 at 10:35 PM HST
|
Updated: Apr. 27, 2011 at 10:49 PM HST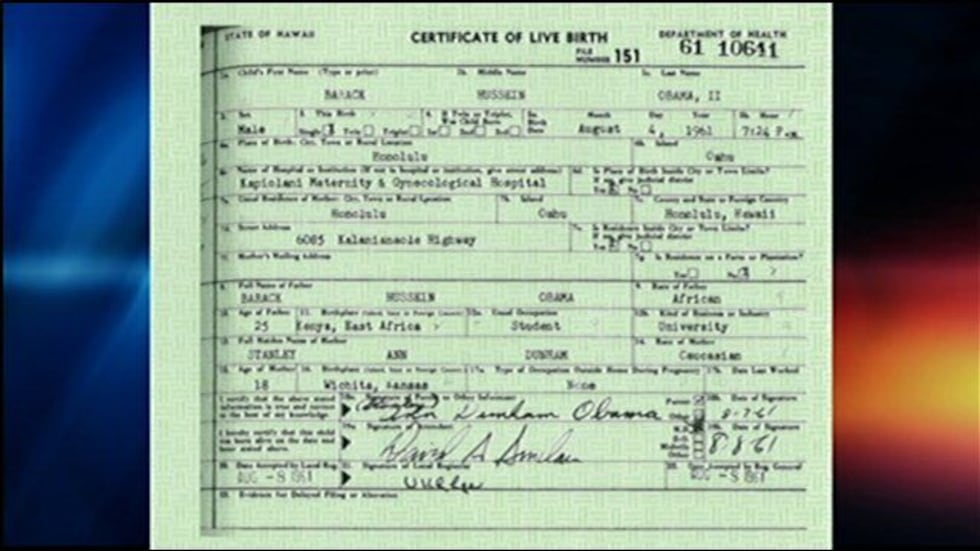 HONOLULU (HawaiiNewsNow) - The debate over the president's birthplace began two and a half years ago.  While the Hawaii Department of Health had the certificate all along they had to wait for the president's request to release it.
In a letter from the White House dated on Good Friday President Barack Obama officially asked the Director of Health in Hawaii for two certified copies of his "original certificate of live birth."  The letter was signed Barack Obama.
On Monday April 25, Loretta Fuddy, Health Director, responded to the President saying she personally witnessed the copying of the certificate and attests to the authenticity.
That day President Obama's personal lawyer Judith Corley flew to Hawaii and picked up the birth certificate copies.  She paid ten dollars for the first copy and four dollars for the second. The fees were paid in cash.  Corley then flew back to Washington DC to deliver the copies.
Wednesday the President released the certificate of live birth for the world to see and then went on Oprah to talk about it.
"When it first came up were you thinking, I hope I was born here?" asked Oprah.
"Can I just say? I was there, so I knew (laughter). I knew I had been born. I remembered it," laughed President Obama in his response.
That episode of Oprah will air in its entirety Monday May 2.
The long form original certificate of live birth reveals several new details about Barack Obama's first days in Hawaii. It lists his mom's address at the time of birth at 6085 Kalanianaole Highway, now the site of a gated home in Hawaii Kai.  It also says his mom, Stanley Ann Dunham was 18 at the time. His dad, Barack Hussein Obama was 25 and lists his birth place as Kenya, East Africa.  It does not make any mention of religious affiliation of either parent.
"We're not going to be able to solve our problems if we get distracted by side shows and carnival barkers," said President Obama, during a press conference.
In an attempt to put the birther conspiracy to bed Ivalee Sinclair woke up as Hawaii's newest celebrity as her husband's signature is on the most famous birth certificate around.
"At 6:00 this morning my daughter in law Dawn Sinclair called and said mom you've got to go on TV, President Obama released his live birth certificate and dad delivered him.  It was great news. A big big surprise for all of us," said Ivalee Sinclair, Dr. David A Sinclair's wife.
The Sinclair family has made quite an impact in Hawaii. Ivalee Sinclair came to Hawaii on the very first civilian ship to the islands.  She is a Jefferson Award winner for her work advocating for special needs children and co-authored the Felix Consent Decree.  Dr. David Sinclair's dad built Hawaii's first airport.  Now delivering a president can be added to the Sinclair family's list of accomplishments.
David A Sinclair was a fighter pilot in World War II.  After the war he returned to Hawaii. He fell in love and married Ivalee in 1947.
"I know he was beloved by many people," said Sinclair.
He was an Obgyn in Hawaii from 1960 to 1988 and delivered thousands of babies in that time but he and his family had no idea one of them would go on to be president.
"Rather awesome," laughed Sinclair. "Amazing, I knew he was a good physician and I knew he took good care of his people, but I had no idea he delivered someone of such fame."
She says President Obama's mom was likely Dr. Sinclair's patient because he worked in a solo practice and did not respond to deliveries for anyone but his own patients.
Dr. Sinclair passed away in 2003 but Mrs. Sinclair has no doubt it's her husband signature and says there is no way it's faked or forged.
"That is his signature and I have many pieces of paper with his signature on it and I'd be happy to show them to anyone who questions it but that is his signature," said Sinclair.
Even still she's guessing this won't be the end of the issue.
"I think if you choose to believe it's not true, you will always find a way not to believe it. I hope that people that are reasonable and rationale and believe in facts will put the rumors to rest and we move on," said Sinclair.
Today Governor Neil Abercrombie said, "No rational person can question the president's citizenship."  He also says, "It is an insult to the President, his parents and the office to suggest he was not born in Hawaii."
Click here to view the full birth certificate.
Letters from President Obama and Ms. Corley.
Copyright 2011 Hawaii News Now. All rights reserved.